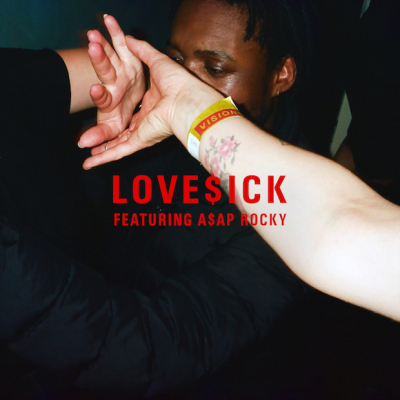 Mura Masa shares video for "Love$ick" (featuring A$AP Rocky)
"The man of the moment" i-D
"A cut above" Guardian
"Terrifyingly talented" Mixmag
"It's not difficult to imagine Mura Masa being one of our country's next great artists" Noisey
Mura Masa has premiered the video for new single "Love$ick" (featuring A$AP Rocky), which is out now. Having just finished a sold-out US tour, the track has already surpassed 6 million streams, been remixed by Four Tet and lauded by Pitchfork, Complex, The Fader, Hypetrak, Highsnobriety, and more. Further live plans will be announced.
'Love$ick' explodes the glorious contradictions underpinning Mura Masa: bringing together steel drums, swooning sax and juddering, left-field electronica one on hand, and teaming the bedroom-producer up with one of hip-hop's biggest names on the other. Describing the collaboration, Alex writes: "Lovesick has always been a favorite of mine, and Rocky is somebody who I've loved from the minute I heard his first mixtape, so the pairing of those two things is super exciting for me. London is like a second home to him too, so it's a privilege for me to be able to bring him closer to the UK music scene. I love what he did with the track; it brings totally new life and light to the song without losing its original theme of lovelorn frustration."
Watch "Love$ick": https://www.youtube.com/watch?v=ZJM4AQSbZDk
Pushing him past a staggering 100 million streams, "Love$sick" is the latest extreme, fish-out-of-water experience for Mura Masa: a still-just-20-year-old artist and producer whose story is a reminder that there's still room for optimism about the internet generation. He grew up on the everybody-knows-everybody island of Guernsey off the coast of the UK, where his mom's Joni Mitchell records and his dad's years spent playing in hard rock bands around Scotland offered a dual influence of classic and experimental songwriting. With the nearest gig hotspot a 5-hour ferry journey away in the mainland UK, culture tended to be DIY out of necessity. But at the age of 15, Mura Masa discovered that electronic music was "a thing," before stumbling into James Blake taught him "just how far you can go with it." Then, the digging began. Inhaling entire discographies across YouTube and Soundcloud of songwriters and beat makers in these circles, he became immersed not just in the subcultures of electronic music but saw the bigger picture through which bedroom producers could shake the world.
Mura Masa began uploading early recordings to the internet a couple of years ago, and started building a fan-base which soon stretched far beyond the confines of his Channel Islands bedroom. Quickly finessing his sound, collaborations with Nao, Jay Prince and Bonzai formed a series of early releases, and fed into rapturously-received shows at the likes of London's Village Underground and Oval Space. He has since established his own label, Anchor Point, to help launch new artists such as Bonzai and Jadu Heart, in-between a mixtape series (AP Sound) and radio show for Beats 1 (in which he's premiered exclusive music from the likes of AK Paul). Mura Masa is currently finishing up his debut album, which is expected to be released early 2017 and will further seek to twist popular music into a mirror of youth culture, blurring the underground with the orthodox.