Musician, Writer, And Advocate Milck To Appear At TIME Magazine's "Voices Of The Future" Women's Summit
MILCK'S Grammy Museum Mini Masterclass Out Now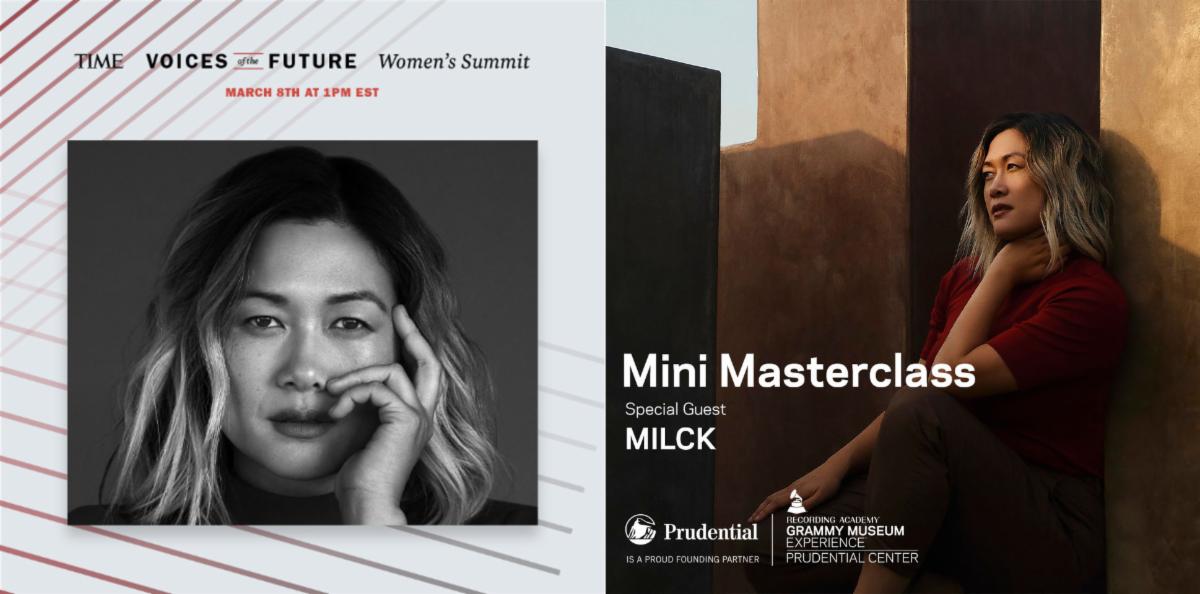 March 8, 2021-Today acclaimed musician, writer, and advocate MILCK joins female activists Cate Blanchett, Jane Goodall, Alicia Keys, Amanda Gorman and more for TIME Magazine's first annual "Voices of the Future" Women's Summit, which aims to highlight empowering women leaders from around the world.
Presented in partnership with P&G and in celebration of International Women's Day, TIME Magazine's "Voices of the Future" Women's Summit spotlights leaders in the movements for women's rights, equality and justice who are working to build a better future. Streaming live on TIME.com and across TIME's social platforms beginning at 1 p.m. ET, MILCK joins the lineup of all-star women from various fields on how to build a better, more equal future. MILCK will also perform a gorgeous acoustic rendition of her song "Gold," which V Magazine calls "as personal and reflective as it is relatable and inclusive."
To RSVP, tune in live, or learn more about the TIME "Voices of the Future" Women's Summit, visit: time.com/womenssummit.
The summit closely follows the release of MILCK's episode with the GRAMMY Museum's Mini Masterclass series, available now. Last Friday, the GRAMMY Museum presented a new installment of the twice-weekly video series Mini Masterclass, a regular series where guests cover an array of topics including musical process and inspiration, tips for young musicians and more. MILCK sits down with Mark Conklin, the GRAMMY Museum's Director of Artist Relations & Programming, to discuss a range of topics including pro tips for rising musicians, MILCK's favorite pre-2000s record and where she turns for inspiration. WATCH MILCK'S GRAMMY MUSEUM MINI-MASTERCLASS HERE.
On March 15th, MILCK will also join The Little Market's first-ever "Conversations With Changemakers" with journalist Melissa Magsaysay, civil rights activist/CEO + Founder of Rise Amanda Nguyen and Head of Fashion Partnerships at Instagram Eva Chen to discuss Asian American Representation.
The conversation comes at a time of widespread racially-motivated attacks on the Asian American community, specifically elders. During the roundtable, MILCK, Magsaysay, Nguyen and Chen will discuss the purpose and need for the #StopAsianHate movement, how to achieve racial equity in business and entertainment, the importance of Asian American representation and more. Other speakers featured at The Little Market's virtual "Conversations With Changemakers" series include Amy Schumer, Jane Fonda, Kelly Ripa, Sofía Vergara, Activist Mónica Ramírez, Angela Doyinsola Aina and Melissa McCarthy to name a few. Click HERE to sign up.
ABOUT MILCK:
Having "cemented her status as one of music's voices for the women's movement," LA-based artist and activist, MILCK continues to use her art as a means to work towards social justice. Her hit song "Quiet" sparked a revolution during the women's march and has been translated into multiple languages by choirs all over the world, been featured as part of NPR's American Anthem series and was Billboard's No. 1 protest song of 2017.
MILCK's most recent song "Somebody's Beloved" came out last October during the Black Lives Matter protests and chronicles the life-shattering effects of systemic racism in America. The song is complimented by a fundraising campaign helping seven different organizations building power around racial justice, feminism, LGBTQ rights, criminal justice reform and mental health. In January, MILCK was invited to participate in The Kellogg Foundation's National Day of Racial Healing and performed a powerful duet of "Somebody's Beloved" with acclaimed poet Amanda Gorman. MILCK's essay on bravery was just published in the book Hungry Hearts which came out via Penguin Random House on February 9. Hungry Hearts is a collection of essays on courage, desire and belonging.
ABOUT TIME:
TIME is a global media brand that reaches a combined audience of more than 100 million around the world, including over 40 million digital visitors each month and 45 million social followers. A trusted destination for reporting and insight, TIME's mission is to tell the stories that matter most, to lead conversations that change the world and to deepen understanding of the ideas and events that define our time. With unparalleled access to the world's most influential people, the immeasurable trust of consumers globally, an unrivaled power to convene, TIME is one of the world's most recognizable media brands with renowned franchises that include the TIME 100 Most Influential People, Person of the Year, Firsts, Best Inventions, World's Greatest Places and premium events including the TIME 100 Summit and Gala, TIME 100 Health Summit, TIME 100 Next and more.
ABOUT THE GRAMMY MUSEUM:
Established in 2008, the GRAMMY Museum is a nonprofit organization dedicated to cultivating a greater understanding of the history and significance of music through exhibits, education, grants, preservation initiatives and public programming. Paying tribute to our collective musical heritage, the Museum explores and celebrates all aspects of the art form—from the technology of the recording process to the legends who've made lasting marks on our cultural identity. For more information, visit www.grammymuseum.org, "like" the GRAMMY Museum on Facebook and follow @GRAMMYMuseum on Twitter and Instagram.
For more information on MILCK please contact:
Allison Elbl, Shore Fire Media, aelbl@shorefire.com