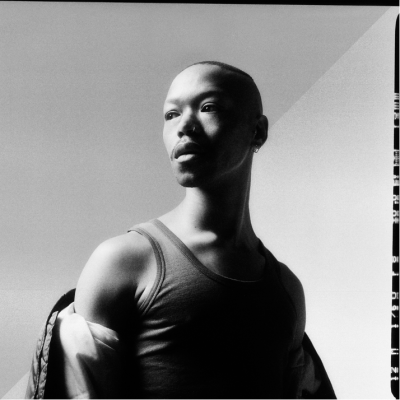 Nakhane Announces New EP 'Leading Lines'
Flirts With Villainry On New Song "My Ma Was Good"
"If my ma was good and she still got a raw deal, then why should I be good? Why should I behave?"
— Nakhane
Today, Nakhane (they/them), the multi-disciplinary artist and musician from South Africa, has announced their new EP 'Leading Lines,' out December 16 via BMG. Ever true to Nakhane's artistry, 'Leading Lines' is a revelatory and thought-provoking effort that waxes poetic on sex, morality, politics, identity and familial heritage. Encompassing 4-tracks, the EP spans sounds and influences from the worlds of pop, disco, funk and electronica in addition to native influences from Nakhane's home of South Africa. "In the art world, leading lines are used in compositions to point to the subject; To the main concern of the piece" says Nakhane on the project's concept and title. "This EP is doing exactly that. It's a baton. The thing that connects what came before and what's to come next"
Alongside the EP announcement, Nakhane unveils their new single "My Ma Was Good," a defiant disco rife with Freudian imagery and pulsing with vengeance. The track's coda is pure Haçienda: Whistles, handclaps, house piano, and a rousing dancefloor-filling refrain.
Says Nakhane:
""My Ma Was Good" is the 3rd in a trilogy (after "Fog" and "The Plague") of songs whose subject matter is influenced by my mother. Although she is no demure wallflower, she was still fucked over by a problematic masculinity. Here I was asking myself the question: If my ma was good and she still got a raw deal, then why should I be good? Why should I behave? This was at a point in my life when I was toying with the villain in me."
Listen to "My Ma Was Good" here.
Nakhane released "Do You Well" (feat. Perfume Genius) late last month, and it was met with high praise. Pitchfork says it "offers ecstasy in the form of a four-on-the-floor beat and taut harmonies," while The NY Times described it as "an immersive evocation of the mystery, romance and kinetic sweatiness of the club." Billboard deemed it "a bright-eyed, sex-positive anthem of hedonism and wish-fullfillment," Consequence called it "glorious and beautiful," and Stereogum simply marked it as "an absolute jam."
Watch the video for "Do You Well" here.
"Do You Well" marked Nakhane's first piece of new material since the July release of "Tell Me Your Politik" featuring Moonchild Sanelly and Nile Rodgers. Nowness called it "Mutually political and erotic…a call to action demanding that prospective lovers be ideologically aligned before partaking in sexual trysts. Fierce, urgent and defiantly lacking subtlety, Nakhane is resolute in the idea that sex is a political act."
Nakhane's 2019 album You Will Not Die was deemed "unforgettable" (FADER), and was released to global acclaim. In a profile story, The New York Times said that You Will Not Die "ponders faith, pleasure, exile and belonging as they traverse hymns, neo-soul, South African pop and electronic dance music."
'LEADING LINES' TRACKLIST
Tell Me Your Politik
Do You Well
My Ma Was Good
You've Got Me (Living Again)
Download High-Res Press Shots Here
Follow Nakhane: