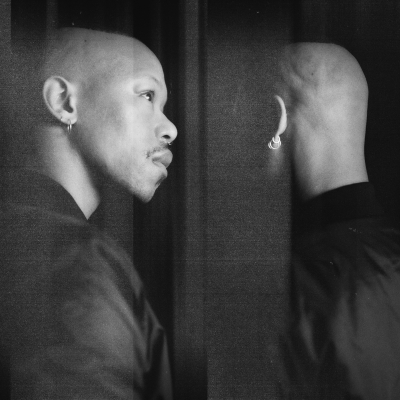 Nakhane Explores Balladic Funk On "Hold Me Down" 
New Album Bastard Jargon (Out March 31) Is "A Sensual, Sweat-Flecked Celebration Of Desire" (Vogue)
"F***, I feel I've been here before." So begins "Hold Me Down," the latest preview from South African multi-disciplinary artist and musician Nakhane's (they/them) new album Bastard Jargon out March 31. "Hold Me Down" is an icy and spare ballad that finds Nakhane yearning breathily before a funky rhythmic switch-up on the chorus that splits the difference between prime Prince and modern South African pop.
Having escaped a conservative Christian upbringing that forced them to deny their sexuality and identity, Nakhane is centering pleasure on their new album Bastard Jargon. Executive produced by Nile Rodgers and featuring cameos from Perfume Genius, Raphael Saadiq, and more, the record is powered by a potent mix of dancefloor sounds: "stomping disco beats, jangling funk guitars, and nods to the seductive syncopation of South African kwaito" (Vogue) combine with Nakhane's formidable and operatic falsetto to create a statement that Nakhane describes as"an existential sex record."
Many of the songs on Nakhane's acclaimed breakthrough album You Will Not Diehad been written while Nakhane was still living in South Africa, where the artist had grown up gay in an increasingly fundamentalist Christian family. Given the trauma it drew on, Nakhane says, it wasn't exactly a party album — a fact underlined when the time came to play festivals. Nakhane was playing the 2pm slot, just as the crowd were warming up with a few beers, "the sun is blaring on us and I'm singing these sad songs to people who just want to dance and I thought 'I can't keep crying for people. I want to write an album that has movement in it, you know?'"
The result is Bastard Jargon, a pounding, physical, hot-blooded third album which sounds like grit sprayed over shiny pop. Says Nakhane: "Almost every song on it has some kind of wink towards sex. It's not necessarily a seductive, come to me, bedroom eyes kind of sex - it's much more inquisitive, psychological sex. When I wrote You Will Not Die it was at the end of my relationship with Christianity, and then when I wrote Bastard Jargon I'd moved to London and I threw myself into just wanting to feel good."
The early music — including 2022 singles "Tell Me Your Politik" feat Moonchild Sanelly and Nile Rodgers, "Do You Well" featuring Perfume Genius, and "My Ma Was Good" — has received critical praise from Pitchfork ("offers ecstasy in the form of a four-on-the-floor beat and taut harmonies"), The NY Times ("an immersive evocation of the mystery, romance and kinetic sweatiness of the club"), Billboard("a bright-eyed, sex-positive anthem of hedonism and wish-fullfillment"), Stereogum("an absolute jam…they sound awesome together"), and Consequence ("glorious and beautiful"), among many others.
Over at The Quietus, Nakhane discusses the challenges of "balancing necessary rage and dancefloor euphoria" on Bastard Jargon. Read here.
And at Vogue, Nakhane shares more background on the "sensual, sweat-flecked celebration of desire" (Vogue). Read here.
Nakhane's 2019 album You Will Not Die was deemed "unforgettable" (FADER), and was released to global acclaim. In a profile story, The New York Times said thatYou Will Not Die "ponders faith, pleasure, exile and belonging as they traverse hymns, neo-soul, South African pop and electronic dance music."
Bastard Jargon Tracklist
1. The Caring
2. Tell Me Your Politik (feat. Moonchild Sanelly & Nile Rodgers)
3. The Conjecture
4. Hold Me Down
5. Hear Me Moan
6. Do You Well (feat. Perfume Genius)
7. My Ma Was Good
8. You've Got Me (Living Again)
9. Standing in Our Way
10. If You Were to Complain
Follow Nakhane:
Instagram / YouTube / Facebook / Twitter / Website