Natalie Bergman Adds Pitchfork London & More Headlining Shows to Fall 2021 Tour
Billboard Names Mercy One of The Best Albums of 2021 So Far
With the addition of several new international shows set for fall 2021, Natalie Bergmanhas just extended her debut solo tour to include a performance at Pitchfork's first-ever Music Festival London, headlining dates in Bristol, Milan, Berlin and beyond. Before embarking across Europe and the UK this November, Bergman and her band kick off their run at California's Ohana Festival, and will reveal more concerts and cities soon. Find the full list of newly announced appearances below, and purchase tickets here.
As one half of brother-sister duo Wild Belle, Natalie Bergman has shared stages with Beck, Cage The Elephant, and Toro y Moi, played Coachella, Lollapalooza, The Tonight Show and more. This fall, she'll be bringing the music of her brand new album Mercy on the road for the very first time. Out now on Third Man Records, Mercy marks Natalie Bergman's debut, self-produced solo project, which Billboard recently named one of the Best Albums of 2021 So Far and SPIN hails as "a moving tour-de-force."
Today, Natalie Bergman shares a new rendition of Mercy highlight "Paint The Rain,"remixed by ATO Records reggae artist Pachyman. Blending the sounds of Jamaican dub with the song's "sun-dappled psychedelia" (Bandcamp), Pachyman transforms the track into a hazy groove that's further heightened by Bergman's "hypnotizing view of gospel" (NYLON).
Listen to "Paint The Rain" (Pachyman Remix) here:
https://orcd.co/painttherainpachyman
On collaborating with her friend Pachyman, Bergman says, "Pachy is making some of the best dub music of our generation. With his own melodic offerings, he brings us back to our favorite early Jamaican sounds."
Natalie Bergman will have more new music to share later this summer. In the meantime, see her on the cover of FOXES Magazine, learn more about the inspiring story behind Mercy in conversations with NPR Weekend Edition, Interview, NYLON and TEETH, or watch her perform songs live for NPR, FLOOD and GRAMMY.com.
Natalie Bergman 2021 Tour Dates
9/25 - Dana Point, CA - Ohana Festival
11/3 - Copenhagen, DK - Ideal Bar, Vega
11/5 - Aarhus, DK - Atlas
11/6 - Groningen, NL - Take Root
11/7 - Utrecht, NL - TivoliVredenburg (Club9)
11/9 - Bristol, UK - Rough Trade Bristol
11/10 - Manchester, UK - St. Michael's
11/11 - London, UK - Pitchfork Festival
11/14 - Lille, FR - Le Kiosk*
11/15 - Paris, FR - Les Femmes S'en Melent*
11/16 - La Rochelle, FR - La Sirene*
11/17 - Nantes, FR - Stereolux*
11/18 - Rouen, FR - 106
11/20 - Besançon, FR - La Rodia
11/21 - Clermont-Ferrand, FR - La Cooperative de Mai
11/25 - Vienna, AT - Bluebird Festival*
11/26 - Graz, AT - Autumn Leaves Festival*
11/27 - Milan, IT - Arci Bellezza
11/29 - Berlin, DE - Badehaus
*On Sale Soon
Newly Announced Dates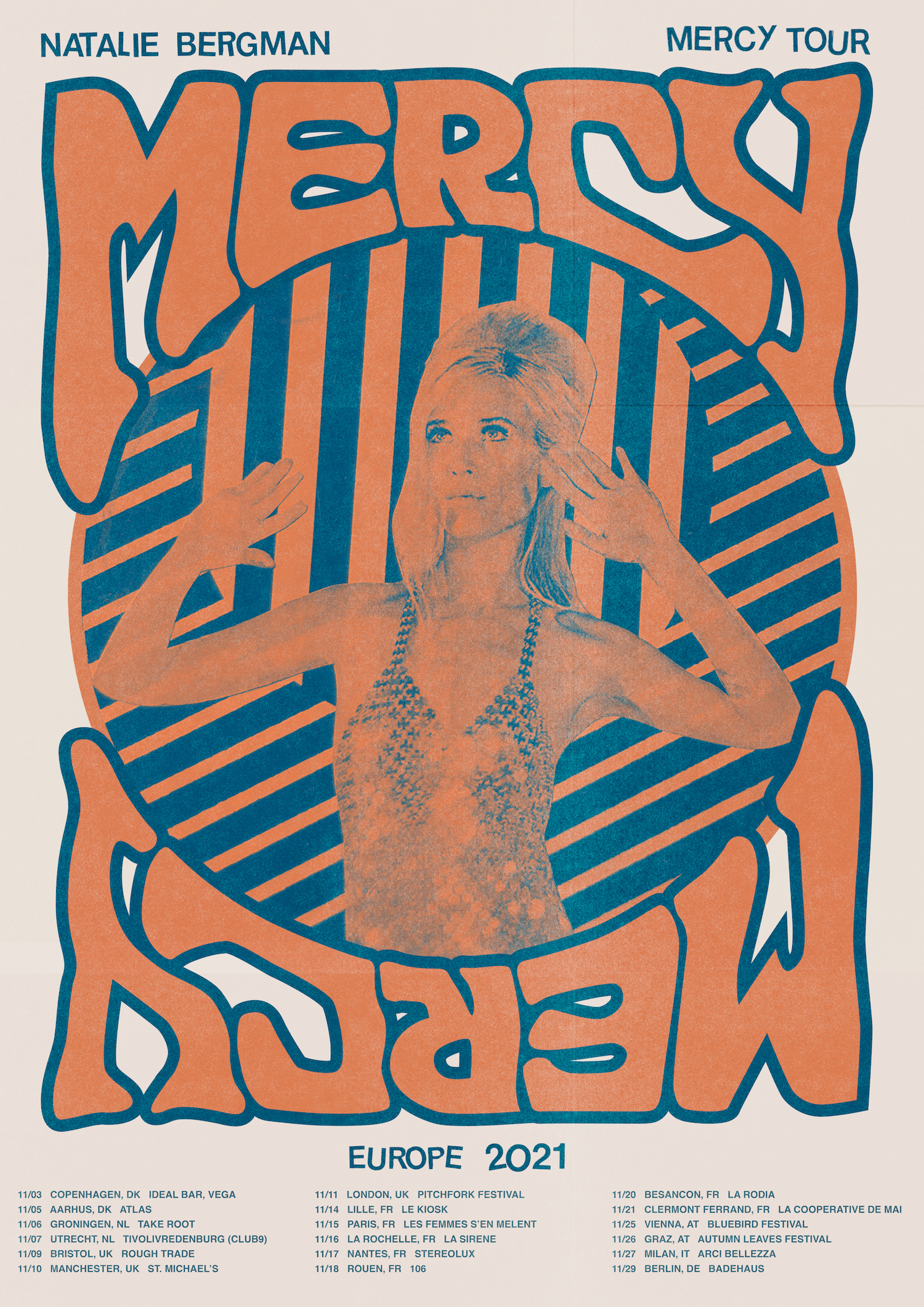 Praise for Mercy
"A stunning gospel album as focused on faith as it is on love...delivering swaying choruses for believers and non-believers"
Billboard
"Otherworldly...an example of the power of art to transform pain into something positive, even celebratory"
The Times
"This beautiful set of songs draws on her utterly hypnotizing view of gospel, one that is hazy, delirious, and glowing in the soul...a simultaneously peaceful and surreal experience"
NYLON
"Step inside Natalie Bergman's land of milk and honey, a place where there's more than enough salvation to go around"
The FADER
"A conceptual album, filled with hymn-like songs about the fragility and resilience of this experiment we call life"
Interview Magazine
"A moving tour-de-force, a modern gospel journey infused with exquisite melodies, a touch of psychedelia, and a lot of soul"
SPIN
"Powerful enough to turn even the staunchest of atheists toward the light"
Monster Children
"A remarkable act of spiritual resilience"
Uncut, 8/10
"Bergman's off-beam voice hits the same indefinable receptors as Joanna Newsom or Amy Winehouse"
MOJO, 4/5
"While Mercy began as a desperate prayer, the end result sounds like salvation"
BUST
"One of the year's best albums...as revelatory as anything Paul saw on the road to Damascus"
RELEVANT
"For once, modern songs about faith feel experimental and personable. What she has done to create her own form of worship music is truly groundbreaking"
TEETH
"[Bergman] has tapped into a deep well of creativity...the kind of authoritative and transformative power that can only come from reaching the final stage of grief"
AllMusic
"Her conviction allows her to find rainbows through her tears...Bergman's beliefs stimulate her music, but her debut album inspires whether one is a Christian or not"
PopMatters
Follow Natalie Bergman