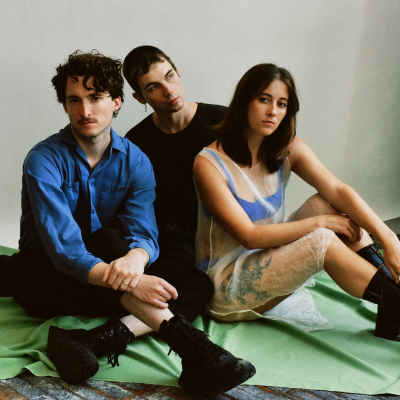 Nation of Language Channel Media Outrage Into Irresistible Single & Outlandish Music Video Starring Reggie Watts, Jimmi Simpson, Kevin Morby, Tomberlin, Adam Green & Many More
New Album Strange Disciple Out Sept 15th on [PIAS]
More US Dates Added To Fall Tour Following Triumphant Run at Pitchfork Festival, Primavera, Brooklyn Steel, Fonda Theatre & 50 Shows Still To Come
"It's a powerful thing to deny someone the ability to manipulate your most destructive emotions"
Today, Nation of Language invite you to join them as they declare "Too Much, Enough": with the latest single and unforgettable centerpiece of their forthcoming Strange Disciple – out September 15th on [PIAS] and named one of the most anticipated albums of the summer by Pitchfork – the band takes aim at the angering, addictive and anxiety-inducing TV news cycles that have so many viewers hopelessly devoted. Following the previous and more personal LP previews like "Sole Obsession" and "Weak In Your Light," hailed among the "best songs of 2023 so far" (LA Times), "Too Much, Enough" looks outward with an effect that is both immediate and irresistible. The chorus explodes like the revelation of a third eye opening, combining a ricocheting pattern of synths with an uninhibited bassline, leaping vocal melodies and an emphatic call-and-response. The unpredictable arrangement and exhilarating songcraft reveal even more of what makes the Brooklyn trio "the best synth-pop band in the world" (Paste), who just played for thousands of fans at Pitchfork Festival this past weekend.
Simultaneously surreal and hyper present, "Too Much, Enough" arrives with a music video starring Emmy-nominated actor Jimmi Simpson (Westworld, It's Always Sunny In Philadelphia), fellow musicians Reggie Watts, Kevin Morby, Tomberlin, Moldy Peaches' Adam Green, and LVL UP's Greg Rutkin, plus more than a dozen other close friends, familiar faces and even the hooded Strange Disciple itself. Directed by Robert Kolodny, the video satirizes the outrageous TV broadcasts that inspired the song, turning the hysteria and fear-mongering into a hilarious embrace of absurdity.
Listen to "Too Much, Enough" and watch the video here:
"Too Much, Enough" is a song born out of an exhaustion with the 24 hour news cycle and the outrage bait it uses to get everyone permanently wound up. It seems the only way to find an edge in the media business is to appeal to our most base instincts of disgust (see: the high ratings of Fox News, etc.), and we end up suffering both individually and collectively for it.
When it came to creating a visual to go alongside the song, we didn't want the music video to be its own form of outrage bait so we went with a more absurdist approach, gathering some friends of ours, and of our incredible director Robert Kolodny, to make something fun and outlandish to that effect. We also laced the video with as many NOL-related Easter eggs and iconography as possible to give anyone watching an opportunity to play along at home and be a part of that absurdity. It felt good to try to name a problem for ourselves without leaning on fear and rage.
It's a powerful thing to deny someone the ability to manipulate your most destructive emotions, and that's something we want to celebrate here.
The overarching theme of Strange Disciple is infatuation and how one's reality can be warped by it. We went a more romantic route with that on the previous video, but News is one of those less interpersonal activities it feels like everyone takes part in, so we wanted to show our disciple is just as susceptible to it as any other figure."
-Nation of Language (Ian Devaney, Aidan Noell, Alex MacKay)
On the heels of "Sole Obsession," "Weak In Your Light" and the frenetic "Stumbling Still," "Too Much, Enough" further embodies Strange Disciple's overarching focus on unhealthy infatuations, obsessions and the bigger idea that feeling something is better than nothing, even if the source is damaging. Produced by Nick Millhiser (Holy Ghost!, LCD Soundsystem), Strange Disciple is also the third album in a triptych that has unfolded over the past three years. As the band has evolved, the common denominator has been a restless urge to embrace progress, exploration and forward motion, and singer Ian Devaney imagines the sound of Nation of Language's three LPs as different ways of moving through and experiencing through the world. Whereas 2020's pandemic-era debut, Introduction, Presence, took place in a car, with a blurry euphoria reminiscent of road trips, and 2021's A Way Forward occurred on and as a locomotive, inspired by the minimal chug of krautrock, Strange Disciple is the band's wayfarer record. Informed by wondrous walks through New York and different cities they thought they'd never visit on tour, it sees the band expand their sound with newfound and visceral fervor.
After a triumphant series of shows at Brooklyn Steel, The Fonda Theatre and a sold-out audience of 1,400 in the UK, plus standout appearances at Pitchfork Festival and Primavera – where they drew the largest crowd of any artist that played their stage in Barcelona – Nation of Language's Strange Disciple tour is still just beginning. On top of nearly 50 dates coming up this year, the band has announced three more US shows for October, including Chicago's Metro, San Francisco's The Independent and LA's The Roxy Theatre. Find the full list below, and tickets at nationoflanguage.com/events.
Nation of Language Tour Dates

8/3 - Haldern, DE - Haldern Pop

8/4 - Diepholz, DE - Appletree Garden

8/5 - Katowice, PL - OFF Festival

8/11 - San Francisco, CA - Outside Lands

8/12 - Portland, OR - Revolution Hall^

8/13 - Seattle, WA - Day In Day Out

8/14 - Vancouver, BC - Rickshaw Theatre^

9/7 - Baltimore, MD - WTMD's First Thursday Festival

9/15 - Berlin, DE - Astra

9/16 - Hamburg, DE - Uebel & Gefährlich

9/17 - Malmo, SE - Plan B

9/18 - Copenhagen, DK - Pumpehuset

9/20 - Kӧln, DE - Gebäude9

9/21 - Amsterdam, NL - Paradiso

9/22 - Brussels, BE - Orangerie

9/23 - Paris, FR - Trabendo

9/25 - Tourcoing, FR - Le Grand Mix

9/27 - London, UK - Heaven

9/28 - Brighton, UK - Concorde 2

9/29 - Bristol, UK - Marble Factory

9/30 - Nottingham, UK - Rescue Rooms

10/4 - Manchester, UK - New Century

10/5 - Leeds, UK - Stylus

10/6 - Sheffield, UK - Foundry

10/7 - Newcastle, UK - Boiler Shop

10/13 - Pittsburgh, PA - Mr. Small's Theatre#

10/14 - Cleveland, OH - Grog Shop#

10/15 - Chicago, IL - Metro#

10/16 - Madison, WI - High Noon Saloon#

10/18 - Milwaukee, WI - Back Room @ Colectivo#

10/19 - St. Paul, MN - Amsterdam Bar & Hall#

10/20 - Kansas City, MO - RecordBar#

10/22 - Denver, CO - Gothic#

10/23 - Salt Lake City, UT - Urban Lounge#

10/25 - San Francisco, CA - The Independent#

10/26 - San Francisco, CA - The Independent#

10/28 - Los Angeles, CA - The Roxy Theatre#

10/29 - San Diego, CA - Belly Up Tavern#

10/30 - Phoenix, AZ - Crescent Ballroom#

11/2 - Austin, TX - Scoot Inn#

11/3 - Fort Worth, TX - Tulips FTX#

11/4 - Houston, TX - White Oak Music Hall - Upstairs#

11/7 - Nashville, TN - Basement East#

11/8 - Asheville, NC - Grey Eagle#

11/9 - Carrboro, NC - Cat's Cradle#

11/10 - Philadelphia, PA - Union Transfer#

11/11 - Washington, DC - The Atlantis#

11/30 - Boston, MA - The Sinclair#

12/1 - Montreal, QC - Studio TD#

12/2 - Toronto, ON - Phoenix#

^w/ Curling

# w/ Miss Grit

Follow Nation of Language

For more information, contact Matt Hanks, Greg Jakubik or Annie Mickum at

Shore Fire Media, (718) 522-7171