Nation of Language Release New Album Strange Disciple This Friday, Culminating an Exalting Week at Rockefeller Center, NY Fashion Week, SiriusXMU & More
Read The Band's Cover Story, Out Today at Paste:
Listen to "Sightseer," Final Single Previewing One of Fall's "Most Anticipated Albums" (Pitchfork):
International Tour of Nearly 50 US, UK & EU Dates Builds On Triumphant Performances at Brooklyn Steel, Fonda, Pitchfork Festival, Primavera, Outside Lands & Beyond
This Friday, September 15th, Nation of Language unveil Strange Disciple. In hailing it one of the most anticipated albums of fall, AV Club affirms that the band "have never released a bad song, and with this record, that streak remains blessedly unbroken." Pitchfork also just called Strange Disciple one of the most anticipated LPs of the season, and in the past several days Nation of Language have continued to expand the excitement. After celebrating the impending release with an exalting hometown show at Rockefeller Center on Saturday, where they headlined Rough Trade's second annual Indieplaza Festival, the Brooklyn trio appeared on the runway for New York Fashion Week, live-scoring Ulla Johnson's Spring/Summer 2024 show with music from Strange Disciple and more. Revisit the performance HERE, and watch the band's recent appearance on SiriusXMU, where they delivered stirring renditions of Aldous Harding's "Treasure" and their own "Weak In Your Light," which opens the album and has been named among the "Best Songs of 2023 So Far" (LA Times).
Listen to "Sightseer" via [PIAS], Strange Disciple's final preview available now:
In Paste's new September Cover Story, out today, Nation of Language discuss the making of Strange Disciple, and widening their new wave, post-punk and synth-powered sound with frenetic fervor. "As timeless as they are revolutionary…it's, in no minced words, the band's greatest document yet," says Paste. "What's most rewarding, however, about watching Nation of Language continue to outpace themselves on every record is getting such an intimate, meticulous view into a band building a body of work around their own name…what they are creating is a country of grandeur and electronic visage." Read the full piece HERE.
From the all-consuming adoration and hopeless devotion illustrated on "Sole Obsession"and "Weak In Your Light," to the outrage-baiting news cycles described throughout "Too Much, Enough" – the standout single and skewering, satirical music video starring Emmy-nominated actor Jimmi Simpson, Reggie Watts, Kevin Morby, Tomberlin, Adam Green and many others – Strange Disciple explores themes of toxic infatuation, agony versus ecstasy, and the idea that feeling something is better than nothing.
Produced by Nick Millhiser (Holy Ghost!, LCD Soundsystem), and completed during the time Nation of Language spent at home in between tireless runs of live shows, Strange Disciple sees the band incorporating the creative choices that would be most compelling to perform on-stage, using more live drums and guitar than ever before. Following A Way Forward – dubbed one of the Greatest Synth-Pop Albums of All Timeby Paste – Strange Disciple also marks the third album in an acclaimed, ascendant triptych that has unfolded over the past three years. As the band has evolved, the common denominator remains a restless urge to embrace exploration and forward motion, and singer Ian Devaney imagines Nation of Language's three LPs as different ways of moving through and experiencing through the world. 2020's pandemic-era debut, Introduction, Presence, took place in a car, with a blurry euphoria reminiscent of road trips, and 2021's A Way Forward occurred on and as a locomotive, inspired by the chug of krautrock. Strange Disciple is the band's visceral, wayfarer record, informed by walks on foot.
When Ian Devaney and his wife and bandmate Aidan Noell were asking friends and family to fund their debut album in lieu of wedding gifts, they never imagined they would emerge from COVID with two LPs and a cult following rabid enough to carry them across the globe multiple times over. Now they've played The Late Show with Stephen Colbert, Brooklyn Steel and LA's Fonda Theatre, climbed the lineups of Austin City Limits, Outside Lands, Pitchfork Fest and Primavera, charted #1 on KCRW, and are getting ready to embark on nearly 50 US, UK and EU dates in support of Strange Disciple.
Find the full list below and tickets HERE, and check out a new profile at Billboard, where the band talks about life on the road, moving up to much larger stages, and tackling the challenges of touring as independent artists who got their start in New York City's most DIY venues.
Filled with soaring melodies and towering vocal performances, propulsive grooves and bouncing basslines, Strange Disciple is a spiritual, searching record that follows the jumpy journey of self-exploration, and suggests that we shouldn't shy away from the brief pain necessary to make much-needed change in our lives. It is an invitation to both celebrate and mourn, to find oneself and lose oneself, to reflect on one's infatuations and form brand new ones.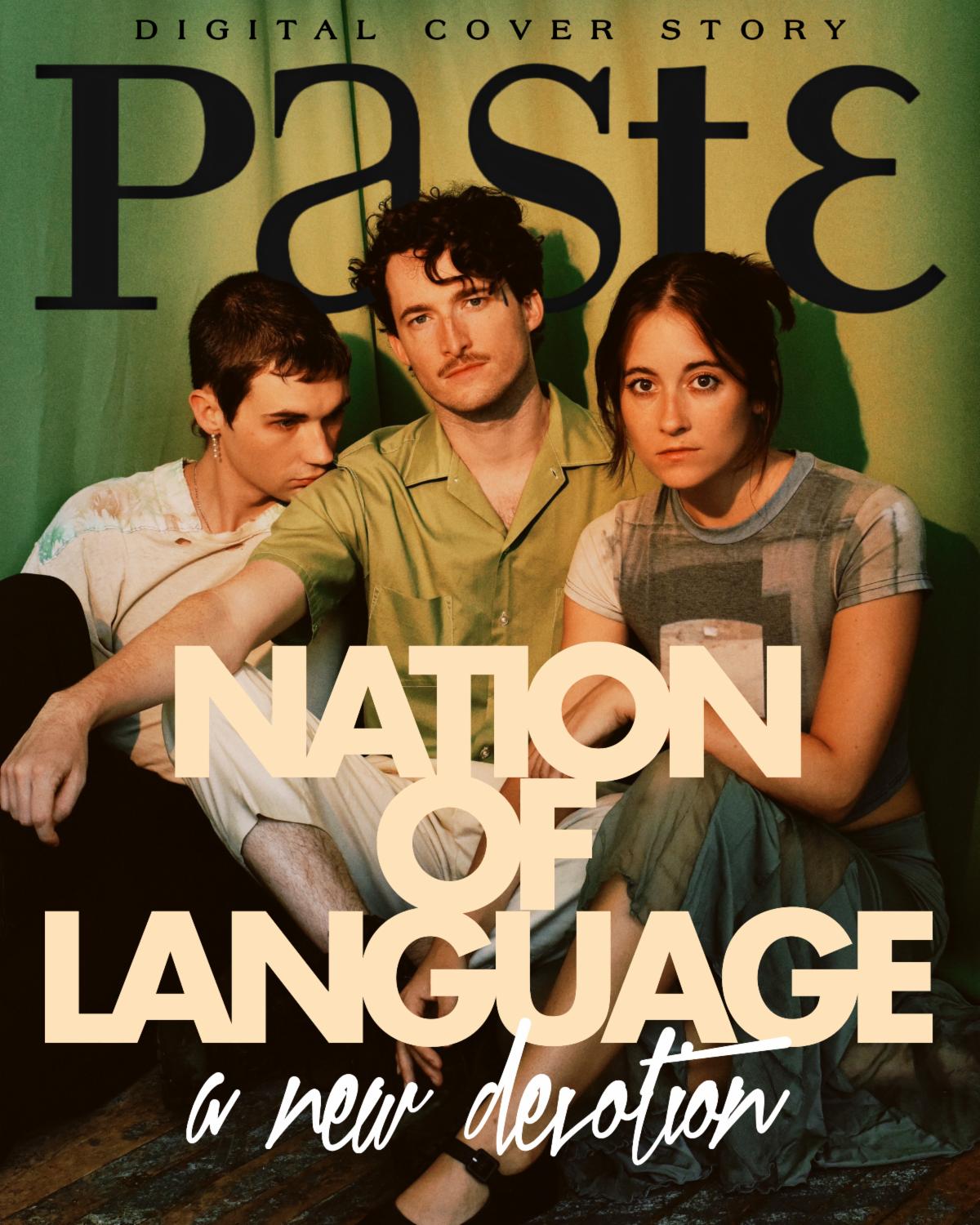 Praise For Nation of Language & Strange Disciple
"The Best Synth-Pop Band In The World"
Paste
"Devaney nimbly builds nostalgic hooks and loops from such synth-pop and post-punk masters as Kraftwerk, Depeche Mode, Human League, Flock of Seagulls and Talking Heads - into brand new songs that are as irresistible as their predecessors"
Billboard
"Nation of Language put star power on display"
Consequence
"We should all be obsessed with Nation of Language…the trio have honed a sound that is both nostalgic and timeless"
office
"Ian Richard Devaney has credited '80s British synth-pop pioneers Orchestral Manoeuvres in the Dark as having planted the seed for his band's inception; the trio swapped its forefathers' English dusk for a warm Brooklyn dayglow on this tender ballad"
LA Times, Best Songs of 2023 So Far
"The synth-pop time machine you didn't know you needed…songs that make you want to dance and cry at the same time"
Document Journal
Nation of Language Tour Dates
9/15 - Berlin, DE - Astra
9/16 - Hamburg, DE - Uebel & Gefährlich
9/17 - Malmo, SE - Plan B
9/18 - Copenhagen, DK - Pumpehuset
9/20 - Kӧln, DE - Gebäude9
9/21 - Amsterdam, NL - Paradiso
9/22 - Brussels, BE - Orangerie
9/23 - Paris, FR - Trabendo
9/25 - Tourcoing, FR - Le Grand Mix
9/27 - London, UK - Heaven
9/28 - Brighton, UK - Concorde 2
9/29 - Bristol, UK - Marble Factory
9/30 - Nottingham, UK - Rescue Rooms
10/4 - Manchester, UK - New Century
10/5 - Leeds, UK - Stylus
10/6 - Sheffield, UK - Foundry
10/7 - Newcastle, UK - Boiler Shop
10/13 - Pittsburgh, PA - Mr. Small's Theatre#
10/14 - Cleveland, OH - Grog Shop#
10/15 - Chicago, IL - Metro#
10/16 - Madison, WI - High Noon Saloon#
10/18 - Milwaukee, WI - Turner Hall#
10/19 - St. Paul, MN - Amsterdam Bar & Hall#
10/20 - Kansas City, MO - RecordBar#
10/22 - Denver, CO - Gothic#
10/23 - Salt Lake City, UT - Urban Lounge#
10/25 - San Francisco, CA - The Independent#
10/26 - San Francisco, CA - The Independent#
10/28 - Los Angeles, CA - The Roxy Theatre#
10/29 - San Diego, CA - Belly Up Tavern#
10/30 - Phoenix, AZ - Crescent Ballroom#
11/2 - Austin, TX - Scoot Inn#
11/3 - Fort Worth, TX - Tulips FTX#
11/4 - Houston, TX - White Oak Music Hall - Upstairs#
11/7 - Nashville, TN - Basement East#
11/8 - Asheville, NC - Grey Eagle#
11/9 - Carrboro, NC - Cat's Cradle#
11/10 - Philadelphia, PA - Union Transfer#
11/11 - Washington, DC - The Atlantis#
11/30 - Boston, MA - The Sinclair#
12/1 - Montreal, QC - Studio TD#
12/2 - Toronto, ON - Phoenix#
# w/ Miss Grit
Follow Nation of Language
For more information, contact Matt Hanks, Greg Jakubik or Annie Mickum at
Shore Fire Media, (718) 522-7171