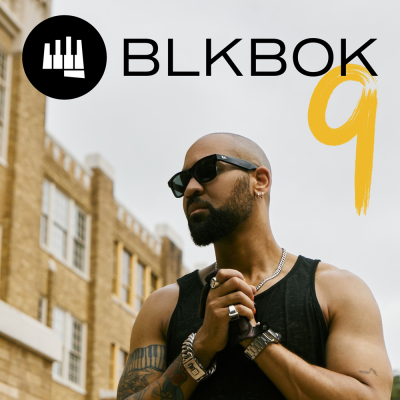 Neoclassical Piano Renegade and Culture Creator BLKBOK Announces Sophomore Album '9'
Single & Vignette "A Better Way, Racism" Out Today
PRE-SAVE ALBUM

HERE
LISTEN TO "A BETTER WAY, RACISM" HERE
Friday, September 8– Today, Neoclassical pianist and Detroit native BLKBOK (pronounced 'Black Bach') announces his sophomore album '9.' Arriving September 25th via icons+giants/downtown, '9' takes listeners on a profound journey, shedding light on racial and social disparities and injustices, while emphasizing the essential need for love in our world. The album's title pays tribute to The Little Rock Nine, a group of courageous teenagers who, 66 years ago, became the first African American students to enter Little Rock's all-white Central High School and would forever integrate schools in America. BLKBOK's album will be released on the same day the Little Rock Nine, escorted by the national guard, first walked through the doors of Central High School.
"After doing more research about the Little Rock Nine, and learning about their incredible resilience and bravery, I was inspired to travel to Little Rock, AR to visit Central High School, a place where the events of September 1957 shaped the landscape of public schools throughout America forever. There's a certain energy that exists when being present in a place where so much hatred was forcefully transformed into something beautiful, a gathering of all 'races' to equally share knowledge. In front of the school are 9 benches dedicated to The Little Rock Nine, I had the life altering honor of meeting Ms. Elizabeth Eckford, on the bench dedicated to her, we sat and conversed about life, equality, and the events of September 1957. The history books tell a very compelling story, but there's more to that story, it's the tale of a shy 15 year old girl who's noble grandfather, a respected shop owner, inspired her to have dreams of going to college, and the only path forward to fulfill that dream was to attend Little Rock Central High, and to face any and all adversity for the rights to obtain a quality education," states BLKBOK. "Their chant was '2, 4, 6, 8, we don't want to integrate,' our response was '8, 9, 10, the guards gone let us in,'' says Ms Eckford and the Rest of the Nine.
Today also marks the release of the first '9' single, "A Better Way, Racism." Narrated by BOK's personal life coach Dr. Felicia Thomas, the powerful vignette dives into the complex, tangled emotions that come with experiencing racism, underscored by steady arpeggiation and unexpected harmonic turns.
Watch the "A Better Way, Racism" visual here:
https://www.youtube.com/watch?v=uAjgSM6pUxo
In true BLKBOK fashion, '9' is a rewarding listening experience; expressive compositions are sprinkled with emotive spoken-word vignettes, providing a platform to reflect on the collective Black experience in America. "Heat Island" takes the listener on a history lesson to understand the greater implications of systematic oppression, looking at the long-lasting effects of redlining. Songs "In Just Us" and "RowVaughn, Wanda, & Gwen" are calls for justice and peace, with the latter being personally dedicated to RowVaughn Wells (mother of Tyre Nichols), Wanda Cooper-Jones (mother of Ahmaud Arbery), and Gwen Knight (mother of my BLKBOK's stepbrother Demi Knight) whose children were all victims of senseless violence.
The album title is also a reference to the Angel Number 9, which symbolizes universal love and humanitarianism. BLKBOK expresses this in tracks like "Magic's Apology to Isaiah," which highlights the power of black excellence and forgiveness, or "Toddlers Don't Care About Race," which serves as a reminder for adults to view the world with the wonderment and curiosity of children, leading life with compassion, empathy and kindness.
A piano prodigy from the time he was 8 years old, BLKBOK blends his love of hip-hop and classical music to craft original neoclassical compositions that reflect the world we live in today. BLKBOK toured the world as a pianist and musical director with the likes of Rihanna, Justin Timberlake, Demi Lovato, Timbaland and John Mayer before pivoting to developing his own body of work during 2020. BLKBOK's debut neoclassical album 'Black Book' was released in 2021, featuring songs such as "Michelle's First Day at the White House" (Amazon's Best of 2021: Classical) and "George Floyd & The Struggle For Equality." Most recently, he released a deluxe version of 'Black Book' which was complemented by a string of live performances for MoMA's Black Arts Council Benefit, The Atlantic Festival and his return to the Juneteenth Freedom Festival in Washington DC. BLKBOK has also gone viral on TikTok for his unexpected neoclassical covers of Cardi B and Kendrick Lamar.
This fall BLKBOK will bring his Mixtapes X Counterpoint Tour across North America, with confirmed shows in New York, Seattle, Portland, Denver, Boston, Chicago, St. Louis, Atlanta, and more cities to be added soon. See below for routing and visit www.blkbok.com/events for tickets.
'9' Tracklist
1. 6:57 AM
2. Awareness, A New Reality
3. Buried Stories in F# minor
4. No Days Off in F minor
5. Grace Forgiveness
6. Magic's Apology to Isiah
7. Toddlers Don't Care About Race
8. A Better Way, Racism
9. In Just Us
10. RowVaughn, Wanda, & Gwen
11. Heat Island
12. The Dissolution of Kanye West
13. The Path To Self Love
14. Meditation for Moe
15. What is Truth
BLKBOK "MIXTAPES X COUNTERPOINT" TOUR DATES:
September 15 - Seattle, WA - Triple Door
September 16 - Portland, OR - The Old Church Concert Hall
September 20 - Denver, CO - Soiled Dove Underground
September 22 - Basalt, CO - The Arts Campus at Willits
September 28 - Harvard, MA - Fruitlands Museum
October 7 - Traverse City, MI - City Opera House
October 12- Chicago, IL - City Winery Chicago, Main Room
October 13 - St. Louis, MO - City Winery St. Louis, Main Room
October 19 - Atlanta, GA - Eddie's Attic
November 10 - Philadelphia, PA - City Winery, Loft
November 11 - New York, NY - Joe's Pub
About BLKBOK
Born and raised in Detroit's inner-city, BLKBOK (born Charles Wilson III), grew up in a music-filled house. While his parents and siblings were all musically inclined, little Charles could always be found walking his chubby fingers up and down the piano keys. His Mom had no choice but to nurture her baby's keyboard obsession and by the time he was 8, BLKBOK was an acclaimed piano prodigy, winning statewide accolades and college-level competitions. When it came to music, most of the kids he grew up with pursued hip-hop, adopting rap names. However, it's no coincidence that Charles chose the name BLKBOK, which echoes that of one of the greatest pianists and composers of all time. The tag is also an apt reflection of the elements that have contributed to the artist's identity and symbolizes his colorful journey from pop and hip-hop culture to his critically acclaimed, neo-classical debut album Black Book, and various Mixtape projects and collaborations. BLKBOK is no stranger to the industry grind, having hit the road throughout his career as a lead pianist or musical director with artists including Rihanna, Justin Timberlake, Demi Lovato, Cirque Du Soleil, John Mayer and more. BLKBOK's explosive and immersive live music performances engage his audience with his incredible talent and channel his experience from sharing the stage with the World's biggest performers. BLKBOK's critically-acclaimed debut album Black Book, served as a founding cornerstone at the Juneteenth Foundation's Freedom Concert. His Mixtape releases, 'CVRART,; 'Angels Watching Over Me,' with world-renowned tenor Lawrence Brownlee, and 'Chill Music Vol 1' illustrate the innovative and disruptive musical landscape that is BLKBOK.
MORE FROM BLKBOK
WEBSITE | INSTAGRAM | TIKTOK | YOUTUBE
For more information on BLKBOK, please contact
Rebecca Shapiro or Mike Jones or Haley Griffin at Shore Fire Media