New Additions to Aimi's Global, Generative Music Platform Include Berlin-Based Producer Hybrasil and Sydney DJ Royalston
Infinitely-Evolving Compositions Created in Collaboration with Aimi's Artificial Intelligence: LISTEN
Endless Experiences From DJ BORING, dBridge, Max Cooper, Seth Troxler's Lost Souls of Saturn, Shanti Celeste, Soul Clap, Steffi, Tensnake & Dozens More Now Available on Aimi+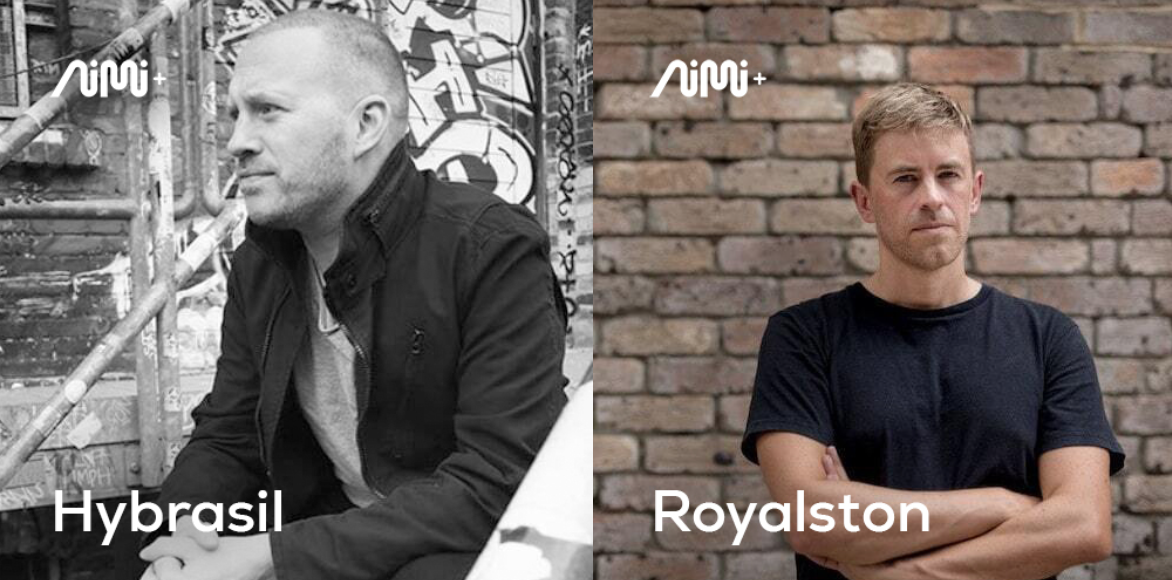 This week, the AI-powered, artist-empowering music platform Aimi unleashes new collaborations with the much-loved Berlin via Dublin producer Hybrasil (Monochromatic), and Sydney DJ Royalston (Dark World). Featuring more than an album's worth of previously unheard material, each Experience on Aimi offers a completely new, constantly evolving way to consume endless amounts of music. As Aimi molds each artist's style into an infinite world of sound, the platform delivers a bespoke alternative to traditional streaming in the form of a dynamic composition that changes whenever the user presses play, reanimating to one's real-time reactions.
A mosaic of underground house of the past mixed with driving dub basslines of the present, Hybrasil's Monochromatic is anything but what the name implies. Colored by uptempo rhythms and atmospheric harmonies, the Experience is a patchwork of Aimi's AI and Hybrasil's penchant for experimentation. "For a long time I've been fascinated by the work of Alan Turing and his quest to create a mechanical brain," explains Hybrasil. "For this reason I've been keen to explore the world of AI and the creative possibilities it offers. I am excited to be working with the AiMi platform to pursue that goal."
Learn more and listen to his Experience on platform's premium tier of Aimi+, available free on mobile app stores for a limited time: https://aimi.fm/artists/hybrasil
In Royalston's Dark World, lo-fi synths meet deep drum and bass, bringing listeners to a multidimensional space that showcases his affection for raw, analogue sound with a techy edge. At times experimental, at other moments melodic, he pulls from years of experience melding techno, trance, modern classical music and more on releases for labels such as Bad Taste, Black Acre and Hospital Records. On making his Aimi experience, Royalston says:
"When asked to write some music for Aimi, I approached it as I would any time I normally write music: I built up layers of sound using a bunch of synths and guitar pedals, trying to create a few different moods and places the music could go. Where it got really interesting (for me) was when Aimi processed my sounds and started sending me demos of what the app could do with them. It's exciting hearing the original ideas recombined endlessly into weird new combinations I would never have thought of."
Listen to Dark World here: https://aimi.fm/artists/royalston
Explore the Experiences of dozens of other artists embracing Aimi's new possibilities, including Cassy, DJ BORING, dBridge, Max Cooper, Roska, Seth Troxler's Lost Souls of Saturn, Shanti Celeste, Soul Clap, Steffi, Tensnake and many more, with new artists introduced every week: https://www.aimi.fm/artists
About Aimi
Aimi is a revolutionary breakthrough in generative music that will fundamentally change the way the art form is created, consumed and ultimately monetized. The platform delivers endless, immersive compositions that are crafted by artists, powered by artificial intelligence and molded by the mood of each individual user. For fans of electronic music, Aimi offers a new form of listening - one that is adaptable and ever-evolving.
Follow Aimi