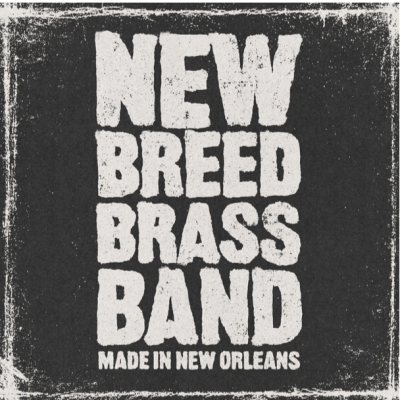 New Breed Brass Band Brings A Storied New Orleans Tradition Into The Future With Debut Album Made In New Orleans Out Today
Listen HERE
Produced by / Feat. Trombone Shorty Also Feat. Jeff Coffin & Nicholas Payton
Performing at Trombone Shorty's Treme Threauxdown Tomorrow (April 29) And New Orleans Jazz and Heritage Festival Friday May 5
April 28, 2023 - New Orleans' New Breed Brass Band has released their debut album today, called Made In New Orleans. The dynamic and electrifying collection of songs pays tribute to the city's rich second-line tradition while pushing it into the future with a mix of funk, rock, hip-hop, R&B, and bounce music. It was mixed and mastered by Count (The Rolling Stones, Run the Jewels, Radiohead) and produced by Trombone Shorty aka Troy Andrews and recorded at his own Buckjump Studios in New Orleans. Troy is not only bandleader and snare-drummer Jenard Andrews' uncle but a New Orleans music scene lynchpin and one of its most visible ambassadors.
The album arrives just in time for New Breed's performance at Trombone Shorty & Orleans Avenue's Treme Threauxdown taking place at the Saenger Theater in New Orleans tomorrow, April 29. The band is a special guest on the 7th annual edition of this concert, and the lineup also includes Eric Church, Mavis Staples and Robert Glasper. Shortly following, on May 5, New Breed will perform at the Jazz and Heritage Festival at 3:50pm on the Jazz & Heritage stage.
Using the instrumental conventions of second line music, New Breed Brass Band delivers a heady swirl of influences into listeners' ears. The album features the band's signature high-energy brass sound, infectious grooves, and a bold musical vision that captures the spirit of New Orleans and its vibrant music scene. It features guest appearances by saxophonist Jeff Coffin of The Dave Matthews Band, Kango Slim (of Partners-N-Crime) and hometown bounce music legend Big Choo. With their latest release, New Breed Brass Band is poised to take their place among the most innovative and exciting brass bands working today.
Along with the album announcement earlier this month, the band released "Drop It How You Feel It." The song recruits local legends Wild Wayne and the late great 5th Ward Weebie for a joyous bout of toasting that reaches peak street party vibes when they rhyme "Judge Judy" with "booty." The band also released "Give It To Me" feat. bounce legends Big Choo and Kango Slim. The single is a testament to the band's versatility and musicianship, combining sophisticated brass chord voicings with a sleek pop-forward bounce.
New Breed's signature sound is influenced by a multitude of artists with traces of expected local antecedents like Rebirth Brass Band and Soul Rebels Brass Band, but also funk arrangements inspired by Earth, Wind & Fire and Tower Of Power as well as rhythmic twists pulled from Cuban jazz, New Orleans bounce beats, and even rock drummers like Dave Grohl. This is second line music in conversation with everything from Caribbean music to No Limit Records to modern R&B in the vein of Bruno Mars and Anderson Paak's Silk Sonic. Second line music for and by the next generation.
New Breed Brass Band is Jenard Andrews (bandleader and snare-drummer), Revon Andrews (trombone), Mike Brooks (sousaphone), Yirma Yisrael and Orlando Gilbert (saxophone), Emanuel Mitchell and Chris Cotton (trumpet), and Tyreek Andrews and George Brown (bass drum). Jenard himself was born into second-line music: his father is the great New Orleans trumpeter James Andrews, who has played at jazz festivals around the world.
The band made their street debut in November 2013 at the Nine Times Second Line. Since then, they have showcased their originality touring in North America and Europe as well as opening for such diverse bands as The Fray, Red Baraat, Blackalicious, Dr. John, The Waterboys, and Trombone Shorty & Orleans Avenue. With Made In New Orleans, they've forged a new path for 21st century second lines — it's just up to listeners to follow their lead down the parade route.
Listen to Made In New Orleans here: https://distrokid.com/hyperfollow/newbreedbrassband/made-in-new-orleans-2
Made In New Orleans Tracklist
Come On Out
Drop It How You Feel It
Can't Let Go
Move Something
Give It To Me
Tender Fender
Have Some Fun
Treme Island
All On Me
St. Philip Street
Won't Bow Down