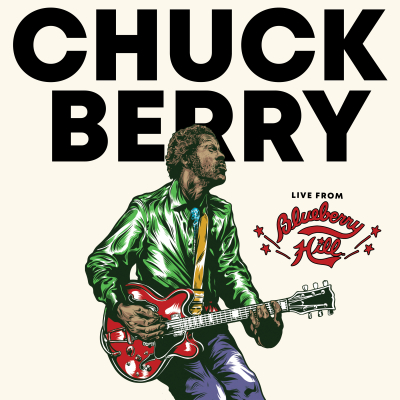 New Chuck Berry Album Live From Blueberry Hill To Be Released December 17 on Dualtone Records
A Snapshot Of The Late Rock & Roll Icon - Who Would Have Turned 95 Today - At Home in Legendary St. Louis Venue
Listen To "Carol / Little Queenie" Here
Today — on Chuck Berry's 95th birthday — Dualtone Records announces the December 17 release of Live From Blueberry Hill, an indelible document of the rock & roll icon's legendary hometown shows at St. Louis' Blueberry Hill. Taken from performances recorded between July 2005 and January 2006, Live From Blueberry Hill features Berry tearing through classics like "Roll Over Beethoven," "Sweet Little Sixteen," and "Johnny B. Goode" on the stage that he played more than any other in the latter decades of his life.
Listen to the raucous "Carol / Little Queenie" from Live From Blueberry Hill here.
By 1996, Chuck Berry had conquered the world and, after his seminal "Johnny B. Goode" was included on the Voyager Gold Record and sent into space, the stars. But one evening, in a conversation with Joe Edwards - longtime confidante and owner of the beloved St. Louis restaurant Blueberry Hill - Berry commented "You know, Joe, I'd like to play a place the size of the ones I played when I first started out."
A lightbulb went off and a scheme was hatched. "Let's do it at Blueberry Hill," they decided. On a new stage that Edwards had christened The Duck Room after Chuck's signature onstage move, Berry would give 209 performances over seventeen years. Chuck Berry shows at Blueberry Hill became a rock & roll talisman, inspiring pilgrimages from all sorts of luminaries: the Band's Robbie Robertson, Motorhead's Lemmy, Lorde, fellow St. Louisans Nelly and Bob Costas, to name just a few.
Berry's hand-picked backing group for the Duck Room shows evolved over time, but eventually became codified as the "Blueberry Hill Band," a combination of family members, longtime Berry collaborators, and stars of the St. Louis scene, including daughter Ingrid Berry on harmonica, son Charles Berry, Jr. on guitar, bassist and band leader Jimmy Marsala, pianist Robert Lohr, and drummer Keith Robinson. Together they formed the longest-running band of Berry's 60+ year career.
It's this lineup that crystallizes the free and spontaneous atmosphere of The Duck Room on Live From Blueberry Hill. Whether Chuck and the Blueberry Hill Band are retracing his musical lineage on his cover of the slow-burning blues "Mean Old World," spinning an origin myth on "Bio," or reaffirming the vitality of the singular "Johnny B. Goode," Live From Blueberry Hill is an exhilarating opportunity to hear one of the true giants of 20th century music onstage and unfiltered.
Pre-order Live From Blueberry Hill here.
In conjunction with today's 95th birthday celebration, Gibson has announced the release of the limited-edition Chuck Berry 1970s ES-355 in Wine Red. It's a meticulous re-creation of Chuck's favorite go-to guitar, a 1978 Gibson ES-355. The Chuck Berry 1970s ES-355 is now available worldwide atwww.gibson.com.
Chuck Berry's accomplishments hardly need elaboration: He was the first member inducted into the Rock and Roll Hall of Fame, a member of the Songwriters Hall of Fame, a recipient of a Grammy Lifetime Achievement Award and a Kennedy Center Honor. John Lennon declared that Berry's name was synonymous with rock and roll itself, while Bob Dylan called Berry the "Shakespeare of rock and roll."
On Chuck Berry's 90th birthday, he announced the release of final studio release Chuck, also released on Dualtone Records. NPR's Fresh Air described it as "wonderful...fresh and forward-looking," while Rolling Stone said it "finds Berry raging against the dying of the light, but in a vulnerable and tender way his earlier music had not prepared us for." The New Yorker said that "After all those years of duck-walking, crisscrossing the United States on tour, and giving his disciples and imitators hell, the man still had it."
Track List:
Roll Over Beethoven
Rock And Roll Music
Let It Rock
Carol / Little Queenie
Sweet Little Sixteen
Around And Around
Nadine
Bio
Mean Old World
Johnny B. Goode
Chuck Berry On The Web:
http://shorefire.com/client/chuck-berry