Next Jazz Legacy Announces Inaugural Group of Seven Women & Non-Binary Awardees
First Edition of Three-Year Program From New Music USA & Berklee Institute of Jazz & Gender Justice Pairs Emerging Artists with Esperanza Spalding, Lizz Wright, Marcus Miller, Mary Halvorson, Tia Fuller, Linda May Han Oh & Chris Potter For Apprenticeships
Wayne Shorter, Bobby McFerrin, Georgia Anne Muldrow, Brandon Ross, Bill Stewart, Kris Davis & Jen Shyu Participate as Mentors
Comprehensive Package of Support Aims to Increase Opportunities for Those Who Have Lacked Access to Resources, Building a More Inclusive Jazz Future for All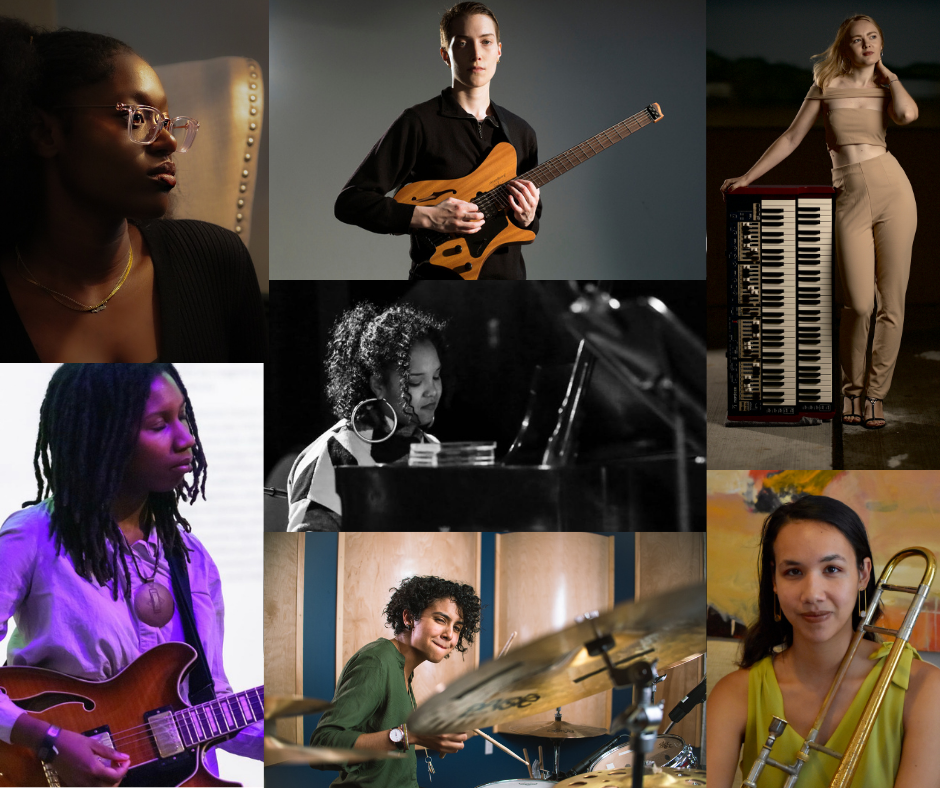 Top Row (L-R): Lexi Hamner, Loke Risberg, Anastassiya Petrova; Center: Alexis Lombre;
Bottom Row (L-R): Keyanna Hutchinson, Ivanna Cuesta, Kalia Vandever
Today, Next Jazz Legacy is proud to announce the first list of seven emerging women and non-binary awardees selected for this new program, engaging the music community with another crucial step closer to a more inclusive future. Focused on increasing opportunities for musicians most underrepresented in the art form, the three-year, national program launched by New Music USA and the Berklee Institute of Jazz and Gender Justice - with major funding from The Andrew W. Mellon Foundation - will invest in each of these seven awardees through personalized apprenticeships, financial support, and a mission to inspire waves of lasting change.
Combining individual and group learning opportunities with a comprehensive support package designed to deliver deep impacts on every candidate's career, Next Jazz Legacy champions those whose access to resources has been limited. With gender and racial justice as guiding principles, this inaugural group of Next Jazz Legacy awardees was chosen through an open call process and a meticulous, months-long review process by a distinguished and diverse panel of jazz trailblazers, chaired by NEA Jazz Master and Next Jazz Legacy's Artistic Director, Terri Lyne Carrington. Once the seven awardees were selected, Carrington and the Next Jazz Legacy team worked closely with each of the seven musicians to match them with a pair of master bandleaders for a year-long performance apprenticeship, as well as an additional creative mentorship, both aligned with the awardees' unique interests.
See the full list of Next Jazz Legacy artists, their respective instruments and bandleader pairings below, and watch a brief introduction to each in the video here: https://youtu.be/4HHkHVqBQL8
Ivanna Cuesta
Drums
Apprenticeship with Esperanza Spalding
Creative Mentorship with Wayne Shorter
Lexi Hamner
Voice & Trombone
Apprenticeship with Tia Fuller
Creative Mentorship with Bobby McFerrin
Keyanna Hutchinson
Guitar
Apprenticeship with Lizz Wright
Creative Mentorship with Brandon Ross
Alexis Lombre
Piano
Apprenticeship with Marcus Miller
Creative Mentorship with Georgia Anne Muldrow
Anastassiya Petrova
Piano & Organ
Apprenticeship with Chris Potter
Creative Mentorship with Kris Davis
Loke Risberg
Guitar
Apprenticeship with Linda May Han Oh
Creative Mentorship with Bill Stewart
Kalia Vandever
Trombone
Apprenticeship with Mary Halvorson
Creative Mentorship with Jen Shyu
In addition to the performance apprenticeships and creative mentorships with the bandleaders listed above, the seven Next Jazz Legacy artists will participate in business mentorships with experts in the field. Each awardee will also join quarterly learning cohorts led by Terri Lyne Carrington, receive a small scholarship to enroll in a Berklee Online course of their choice for the purposes of continued education, and present their music through empowerment and promotional opportunities such as media interviews, short films, and showcases with partner presenters. A $10,000 grant will be awarded per apprentice, to use as an investment into the next steps in their career. Learn more about the program's complete list of offerings HERE.
"The rich legacy of jazz can only get better when we are inclusive," says Terri Lyne Carrington, Artistic Director of Next Jazz Legacy and founder of the Berklee Institute of Jazz and Gender Justice. "We are at a time in history where varying communities are having to rethink their social and political positions. This generation is demanding that we open our minds and hearts to consider a future with greater distance from the customs and standards of the past. As educators and mentors, it is our job to listen to them and work together to make needed change."
Vanessa Reed, President and CEO of New Music USA says, "This line-up - and the high demand for our call - demonstrates the sheer talent of the next generation in jazz which is poised, with the right kind of help, to move forward to the next level of their careers. I hope that our annual lists of Next Jazz Legacy awardees and nominees will make it impossible for anyone to say that they're not booking women and non-binary artists because they can't find them. They're here and they will strengthen the future of jazz, when given the chance to thrive."
Alongside Terri Lyne Carrington, the selection committee for the inaugural class of seven Next Jazz Legacy artists included Cassandra Wilson, Nicole Mitchell, Ambrose Akinmusire, Sean Jones, Miguel Zenón and more. Over the next three years, Next Jazz Legacy will be guided by an advisory board which includes artists Sean Jones and Kris Davis, and representatives from institutions such as NPR, WBGO, Jazz at Lincoln Center, The Kennedy Center, New York Winter Jazz Festival and beyond.
"When I was getting started in the jazz and improvised music world I had very few female mentors or peers, and always wished I had more," says Mary Halvorson. "That's one of many reasons I feel it's important to support and nurture a younger generation of female and non-binary musicians and composers. I've always felt strongly about cross-generational collaborations as well, and about shifting the momentum to a more inclusive and diverse community overall. I'm thrilled to be a part of the Next Jazz Legacy program — a great new initiative which will help foster these relationships and keep the momentum going."
While the inaugural class of seven Next Jazz Legacy artists spans a wide spectrum of genres, instruments and trajectories, each has shared experiences confronting the challenges of sexism, socio-economic status and opportunity, even at their early career stages. Originally from Kazakhstan and currently based in Boston, Anastassiya Petrovahas played international festivals, earned significant awards and shared stages with preeminent jazz musicians. Having supported herself since the age of 16, she writes about issues such as female homelessness, and hopes her work can move people to realize and address the problems we live in. Through her compositions, Alexis Lombre has paid homage to the heritage of her native Southside Chicago, she's toured South Africa and other parts of the world. But with a singular blend of avant-garde, hip-hop, R&B and gospel, she seeks to grow and achieve.
From Santo Domingo to her current home of Boston, Ivanna Cuesta has drummed in notable groups in the Dominican Republic and has performed at festivals around the globe, but aims to use her fusion of jazz, avant-garde, free improvisation and electronic music to inspire social change across her communities. Though Kalia Vandever has performed regularly as a bandleader and side-person, the Brooklyn-based trombonist, composer and educator has developed her own voice throughout her jazz career.
Born and raised in Brooklyn, guitarist Keyanna Hutchinson uses their music to shed light on the inner voice that's been compromised. Tracing influences from their Caribbean upbringing, they navigate artistry with courage and intellect, and strive to gain the leadership skills to help other women and non-binary artists to harness their own potential. Lexi Hamner is presently teaching Black American Music to 4th and 5th graders in Cincinnati, OH, and strives to create work that encourages herself and others to explore areas of uninhabited innovation. Originally from Sweden, Loke Risberg has become a celebrated, award-winning guitarist and composer in the United States. Music is the one place where they feel completely free.
Next Jazz Legacy will reopen applications to women and non-binary musicians annually for the duration of its initial three-year run. To accompany the inaugural group of seven awardees, the program has also revealed 16 nominees who were put forward to the final stage of the selection process by the Next Jazz Legacy panelists. They will be receiving a one-on-one mentoring session with a creative professional of their choice, a cohort gathering, and promotion on the Next Jazz Legacy channels. The list includes:
Adi Meyerson – Bass, Ailey Verdelle – Piano, Alden Hellmuth – Saxophone, Alex Hamburger – Voice/Flute, Arcoiris Sandoval – Piano, Estar Cohen – Voice, Kavita Shah – Vocalist, Liany Mateo – Bass, Miki Yamanaka – Piano, Minnie Jordan – Violin, Naomi Nakanishi – Piano, Nikara Warren – Vibraphone, Sequoia Snyder Redwood – Piano, Summer Kodama – Bass, Yvonne Rogers – Piano, Zoh Amba – Saxophone
Linda May Han Oh says, "I am proud to be a part of Next Jazz Legacy, offering guidance and hands-on professional performance opportunities to gifted emerging artists. I have been fortunate enough throughout my career to have worked with many outstanding bandleaders and mentors, from whom I have learned priceless lessons, through experiences with them on gigs and on the road. I am so glad to be a part of this, to contribute back by working with this next generation of musicians."
ABOUT NEW MUSIC USA
New Music USA supports the sounds of tomorrow by nurturing the creation, performance, and appreciation of new music for adventurous listeners around the world. We empower and connect US-based music makers, organizations, and audiences by providing funding; fostering new connections; deepening knowledge and working as an advocate for the field. New Music USA works in collaboration with its community in response to pressing needs and to amplify the diverse voices of music creators. New Music USA envisions a thriving and equitable ecosystem for new music. newmusicusa.org
ABOUT BERKLEE INSTITUTE OF JAZZ & GENDER JUSTICE
The Berklee Institute of Jazz and Gender Justice's mission is to recruit, teach, mentor, and advocate for young musicians desiring to study jazz in a safe, egalitarian and nurturing environment, with gender justice and racial justice as guiding principles. We share in the collective work to challenge systemic forms of oppression embedded in the art form. We believe a cultural transformation is needed and that the music itself will not reach its full potential until these issues are meaningfully addressed. berklee.edu/jazz-gender-justice
For more information, contact Matt Hanks, Greg Jakubik or Jennifer Valentin at Shore Fire Media, (718) 522-7171
Any questions about the program should be addressed to the program manager Lolivone de la Rosa at nextjazzlegacy@newmusicusa.org