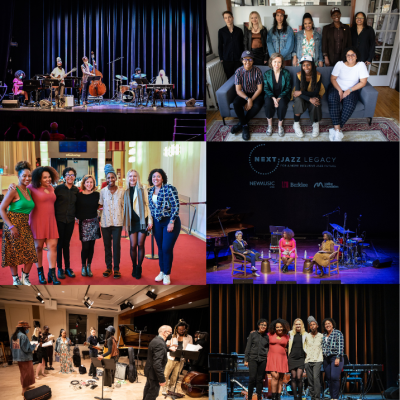 Next Jazz Legacy Embarks On Second Year Of Mentoring The Next Generation Of Emerging Women & Non-Binary Musicians
Trailblazing Program Created by New Music USA and Berklee Institute of Jazz and Gender Justice Extends 2023 Application Deadline Through October 31,
Apply HERE
2023 Class Will Be Selected By Panelists Including JD Allen, Tanya Darby, Caroline Davis, Brian Lynch, Rufus Reid, Matthew Stevens, Camille Thurman & More TBA
2022 Class Experienced Apprenticeships With Esperanza Spalding, Lizz Wright, Marcus Miller, Mary Halvorson, Tia Fuller, Linda May Han Oh, Chris Potter Plus Creative Mentorship From Wayne Shorter, Bobby McFerrin, Georgia Anne Muldrow, Brandon Ross, Bill Stewart, Kris Davis & Jen Shyu
Only 20% of artists nominated in jazz categories for the 2022 GRAMMYs were women. Next Jazz Legacy, a program created by New Music USA and the Berklee Institute of Jazz and Gender Justice, addresses this imbalance by upholding gender and racial justice as its guiding principles, and increasing opportunities for underserved talent.
Co-founded by GRAMMY-winning musician, NEA Jazz Master, and founder of the Berklee Institute of Jazz and Gender Justice Terri Lyne Carrington and New Music USA President & CEO Vanessa Reed (with funding from the Mellon Foundation), the trailblazing organization has just announced it will extend its current application deadline by two weeks to October 31st as it prepares for their second full year of providing mentorship to emerging women and non-binary artists. 2023 awardees will be chosen by an esteemed group of jazz musicians including tenor saxophonist and composer JD Allen; Tanya Darby, chair of the Brass Department at the Berklee College of Music; saxophonist, flutist, composer, and educator Caroline Davis; jazz bassist, educator and composer Rufus Reid; trumpeter and composer Brian Lynch; acclaimed guitarist Matthew Stevens; and saxophonist, singer and composer Camille Thurman. More panelist names will be announced in the coming weeks.
More information on applications for Next Jazz Legacy's 2023 class can be found here.
In its first year alone, NJL's inaugural cohort of awardees gained invaluable experiences to aid in their artistic development. The program arranged apprenticeships under distinguished jazz icons including Esperanza Spalding, Lizz Wright, Marcus Miller, Mary Halvorson, Tia Fuller, Linda May Han Oh and Chris Potter. Luminaries like Wayne Shorter, Bobby McFerrin, Georgia Anne Muldrow, Brandon Ross, Bill Stewart, Kris Davis and Jen Shyu were also brought in by NJL to provide creative mentorship. And throughout the year, awardees performed on prestigious stages at local and national jazz events throughout the country, including at the Kennedy Center's Mary Lou Williams Jazz Festival and as part of a special Livestream Concert produced by WBGO.
As a testimony to the program's impact, first year awardee Lexi Hamner states:
"The Next Jazz Legacy program has provided resources that I've needed to propel my confidence, musicianship, and sounds into a better and greater space in my music career."
Awardee Anastassiya Petrova enthusiastically added:
"Meeting other like-minded musicians that face the same exact challenges as you has really helped me to become stronger. This program was like an assuring scream in the darkness: 'You're not alone, we are all in this together' especially after coming out of the global pandemic, graduating college, and trying to define your spot in the fast-paced industry. Every meeting we had together with awardees, mentors, visiting artists, and Terri herself made me stronger and more accepting of who I am as a woman and as an artist. There is a place for every woman and non-binary artist in this world and a program like this not only helps you see that, but, also, gives you tools to thrive."
Watch a recent profile of Next Jazz Legacy on PBS NewsHour HERE.
Next Jazz Legacy launched with seven awardees from Boston, New York, Chicago, and Cincinnati representing a wide range of instrumentation and approach to performance and composition. The current awardees include Anastassiya Petrova(Piano/Organ), Ivanna Cuesta (Drums), Lexi Hamner (Voice/Trombone), Keyanna Hutchinson (Guitar), Alexis Lombre (Piano), Loke Risberg (Guitar) and Kalia Vandever (Trombone). The semi-finalists from across the US also received a cohort gathering and promotion on the Next Jazz Legacy channels. See more here: https://newmusicusa.org/newsroom/next-jazz-legacy-awardees/
Two Brooklyn-based awardees, Kalia Vandever and Keyanna Hutchinson, will perform at the annual BRIC JazzFest in Brooklyn, NY on October 20th. More information on that performance can be found here: https://www.bricartsmedia.org/bric-jazzfest.
Each Next Jazz Legacy artist will benefit from a comprehensive package designed to have a deep and lasting career impact. This includes a $10,000 grant, a one-year performance apprenticeship, a two-way mentorship program pairing them with artistic and business professionals, peer-learning cohorts led by Carrington, an online learning course from Berklee, and a variety of promotional opportunities, from a podcast series and NJL artist playlists developed with media partners, to live showcases with national presenters and more. The NJL program is managed by New York City-based emerging guitarist, composer and educator Lolivone de la Rosa. Any questions about the program should be addressed to de la Rosa at nextjazzlegacy@newmusicusa.org.
Applicants must be based in the US or a US territory, a woman or non-binary improviser in jazz, an emerging artist with substantial professional experience, 21-35 years old, available for full participation in the program between January 2023 and December 2023.
ABOUT NEW MUSIC USA
New Music USA supports the sounds of tomorrow by nurturing the creation, performance, and appreciation of new music for adventurous listeners around the world. We empower and connect US-based music makers, organizations, and audiences by providing funding; fostering new connections; deepening knowledge and working as an advocate for the field. New Music USA works in collaboration with its community in response to pressing needs and to amplify the diverse voices of music creators. New Music USA envisions a thriving and equitable ecosystem for new music.
ABOUT BERKLEE INSTITUTE OF JAZZ & GENDER JUSTICE
The Berklee Institute of Jazz and Gender Justice's mission is to recruit, teach, mentor, and advocate for young musicians desiring to study jazz in a safe, egalitarian and nurturing environment, with gender justice and racial justice as guiding principles. We share in the collective work to challenge systemic forms of oppression embedded in the art form. We believe a cultural transformation is needed and that the music itself will not reach its full potential until these issues are meaningfully addressed. berklee.edu/jazz-gender-justice
ABOUT THE MELLON FOUNDATION
The Mellon Foundation is the nation's largest supporter of the arts and humanities. Since 1969, the Foundation has been guided by its core belief that the humanities and arts are essential to human understanding. The Foundation believes that the arts and humanities are where we express our complex humanity, and that everyone deserves the beauty, transcendence, and freedom that can be found there. Through our grants, we seek to build just communities enriched by meaning and empowered by critical thinking, where ideas and imagination can thrive. Learn more at mellon.org.
###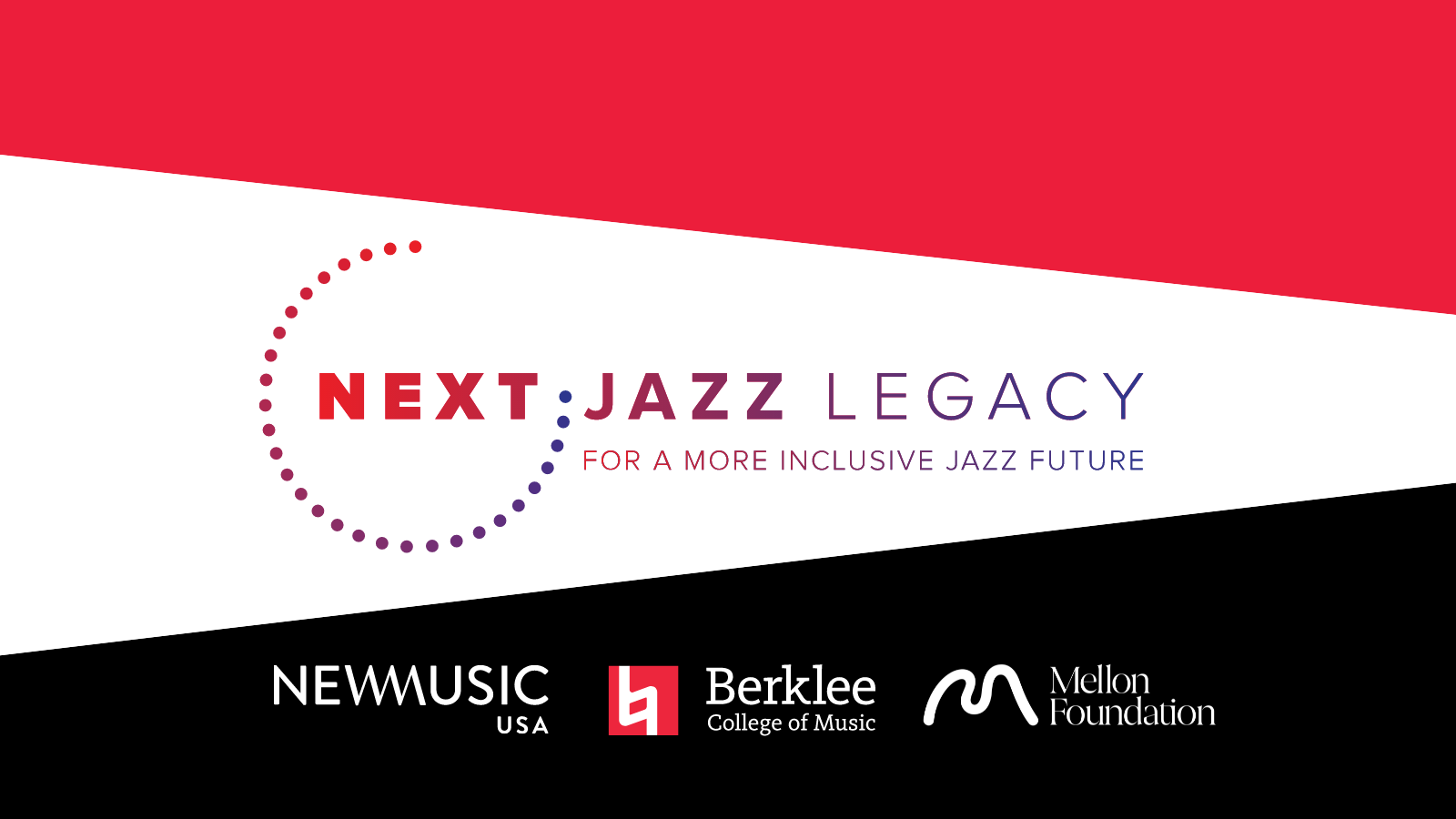 For more information, please contact:
Matt Hanks | Shore Fire Media | mhanks@shorefire.com
Jennifer Valentin | Shore Fire Media | jvalentin@shorefire.com
James Rainis | Shore Fire Media | jrainis@shorefire.com