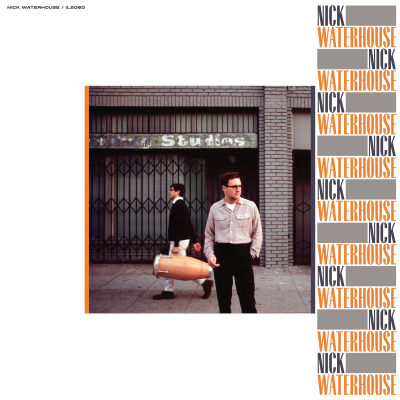 Nick Waterhouse's New Self-Titled Album Out Today via Innovative Leisure
Special KCRW Morning Becomes Eclectic Apogee Session + Interview Out Now
To Perform on Live From Here with Chris Thile (w/ Guest Host Jon Batiste) on March 16th
Kicks Off Europe and North America Tour Supporting New Music
(Los Angeles, CA): Nick Waterhouse, a fine purveyor of classic rhythm and blues, jazz and soul, has a new self-titled album out today via Innovative Leisure. The LA Times praises the California native's ability to connect "late 1950s rockabilly, 1960s R&B and contemporary, danceable garage rock" and says his upcoming collection "further taps that seemingly indestructible vault of sound."
A collection of urgent, catchy and soulful cuts from R&B hipster Nick Waterhouse, the LA-based musician howls with passion as his band makes like 1957. Nick says the socially conscious 11-track collection is about "getting ghosted, power dynamics, objectification, crushing debt, false media narratives, even falser concepts of identity given to us by technology, rotten and confounding bad faith 'politics,' and a true absence of ideology."
Billboard stokes excitement for Nick's intimate KCRW Morning Becomes Eclectic Apogee Session taped at the private studio of legendary producer/mixer Bob Clearmountain. The passionate rockabilly singer showcased four songs from his 50's and 60's inspired album while speaking on his producer, biggest influences, and SoCal upbringing, between previewing tracks.
Watch the Apogee Session here: kcrw.com/nickwaterhouse
Read more: https://www.billboard.com/articles/columns/rock/8500225/nick-waterhouse-kcrw-apogee-session-concert
Nick will also perform on a special episode of Live From Here with Chris Thile where Jon Batiste will guest host on March 16th. More info here: https://www.livefromhere.org/
Waterhouse, who "embodies the essence of '60s psychedelia and a touch of surf, soul, and blues," (KUTX) recorded his new album at LA's legendary Electro-Vox Recorders, and co-produced with Paul Butler (Michael Kiwanuka, St. Paul and the Broken Bones), with backing from a heavy bevy of friends and session players including Bart Davenport, percussionist Andres Renteria (Flying Lotus, Father John Misty), flutist Ricky Washington (Kamasi's dad), and saxophonists Paula Henderson (Gogol Bordello) and Mando Dorame (JD McPherson).
The album features songs like, "Wreck the Rod," a rocking retro cut, "Song For Winners," a "passionate conglomeration of influences from an outraged man" (Consequence of Sound) and "I Feel An Urge Coming On," originally written by Nick's friend and mentor Joshie Jo Armstead, who has previously written with Ray Charles and performed as both a Raelette and an Ikette in the 1960's and 70's.
There's a reason why Nick chose to name this, his fourth album, his self-titled release. The album is a deeper reflection of the cultural and emotional firmament that has made Nick the artist he is today: his passions and influences; his love and outrage. The music of Irma Thomas and Chico Hamilton; the films of Robert Siodmak and Adam Curtis. The good old bad days in San Francisco, Detroit, and Los Angeles.
"After it was all done, I realized that it was probably telling the strongest story about my own motives and perspectives," Waterhouse said about naming the album after himself.
Praise for Nick Waterhouse:
"indestructible vault of sound" - LA Times
"always a pure joy to encounter" - KCRW
"earnest, unfussy delivery" - TIME
"a confident album befit for the artist's name" - Billboard
"an edge to some of his subject matter that feels decidedly modern" - Associated Press
"soulful rocker" - Consequence of Sound
"Brisk, self-contained, a little mysterious, and catchy enough to revisit again and again" - Paste
Nick will head out for an extensive tour of Europe and North America. See below for a full list of dates.
TOUR DATES:
Monday, March 18th - Manchester, United Kingdom - Gorilla
Tuesday, March 19 - Nottingham, United Kingdom - Rough Trade Nottingham
Wednesday, March 20th - London, United Kingdom - Rough Trade East
Thursday, March 21st - London, United Kingdom - 229 The Venue
Friday, March 22nd - Roubaix, France - La Cave aux Poètes
Saturday, March 23rd - Hasselt, Belgium - Botanique
Sunday, March 24th - Paris, France - Petit Bain
Tuesday, March 26th - Hamburg, Germany - Mojo Club
Wednesday, March 27th - Berlin, Germany - Columbia Theater
Thursday, March 28th - Nieuw-amsterdam, Netherlands - Het Zonnehuis
Saturday, March 30th - Tavros, Greece - Fuzz Live Music Club
Sunday, March 31st - Thessaloniki, Greece - Fix Factory Of Sound
Thursday, April 25th - Tustin, CA - Marty's On Newport
Friday, April 26th - Los Angeles, CA - Regent Theater DTLA
Saturday, April 27th - San Francisco, CA - Great American Music Hall
Monday, April 29th - Portland, OR - Mississippi Studios and Bar
Tuesday, April 30th - Seattle, WA - The Crocodile
Wednesday, May 1st - Vancouver, Canada - Biltmore Cabaret
Friday, May 3rd - Salt Lake City, UT - Urban Lounge
Saturday, May 4th - Denver, CO - Bluebird Theater
Monday, May 6th - Minneapolis, MN - First Avenue
Wednesday, May 8th - Chicago, IL - Lincoln Hall
Thursday, May 9th - Detroit, MI - shelter
Friday, May 10 - Toronto, Canada - Horseshoe Tavern
Saturday, May 11th - Burlington, VT - Club Metronome
Monday, May 13th - Boston, MA - Brighton Music Hall
Tuesday, May 14th - Brooklyn, NY - Music Hall of Williamsburg
Thursday, May 16th - Philadelphia, PA - The Foundry
Friday, May 17th - Washington, DC - Rock & Roll Hotel
Saturday, May 18th - Charlottesville, VA - The Southern Café and Music Hall
Monday, May 20th - Atlanta, GA - Terminal West
Tuesday, May 21st - New Orleans, LA - One Eyed Jacks
Thursday, May 23rd - Houston, TX - Bronze Peacock
Friday, May 24th - Austin, TX - Parish
Saturday, May 25th - Dallas, TX - Dada Dallas
Nick Waterhouse on the web:
https://www.instagram.com/nickwaterhouse/
https://twitter.com/nickwaterhouse
https://www.facebook.com/nickwaterhousemusic