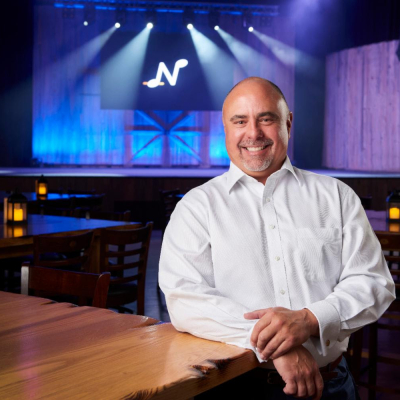 Notes Live Appoints Sam Voisin as President & Chief Operating Officer
Colorado Springs, CO – Notes Live, the rapidly expanding hospitality and live-entertainment company, announces the appointment of Sam Voisin as President & Chief Operating Officer. With 28 years of experience in the industry, Voisin brings dynamic leadership and a proven track record in driving growth and profitability.
As a former Regional Vice President for SMG (now ASM Global), Voisin successfully oversaw assets exceeding $1 billion, including 15 entertainment and meeting facilities, 7 Cultural Tenants, and a team of 1,000 members. With his strategic vision and exemplary execution, Voisin has forged successful corporate, stakeholder, and municipal partnerships while achieving remarkable revenue growth within his region.
Voisin, a graduate of the University of Louisiana at Lafayette, is a highly regarded veteran in the industry. He is an Honorary State Senator of Louisiana and a Past President of the International Venue Management School. In his role as President & COO at Notes Live, Voisin will establish strong relationships with venue managers, stakeholders, and industry leaders and will oversee all aspects of the business to ensure profitability across multiple market operations.
"We are thrilled to welcome Sam Voisin as our President & COO," said JW Roth, Founder of Notes Live. "His industry expertise and strategic vision will play a vital role given how fast our young company is growing and how much excitement we're seeing in the communities we're bringing live entertainment to. As we prepare to open even more new venues in cities around the country, I know Voisin's experience and relationships will prove invaluable to Notes Live's continued expansion."
"I am excited to join Notes Live and contribute to its rapid growth in the live-entertainment industry," said Voisin. "With a focus on delivering exceptional guest experiences, we will bring world-class entertainment to audiences across North America."
Notes Live, founded by JW Roth, addresses the need for high-quality music and entertainment venues in growing areas. With premium concert experiences and an emphasis on sound quality, sightlines, and elevated food and beverage options, Notes Live has gained recognition for its Colorado Springs entertainment campus and plans to expand to a half dozen markets by the end of 2024.
ABOUT NOTES LIVE, Inc.
Notes Live, founded by Colorado Springs-based entrepreneur JW Roth, is the rapidly growing live-entertainment company that by the end of 2024 will be operating a half dozen large and mid-sized premium music venues across the West and South. The company identifies areas with growing populations but a dearth of high-quality music and entertainment venues and offers world-class concert experiences, complete with unbeatable sound and sightlines as well as elevated food and beverage options. It currently boasts entertainment campuses in both Colorado Springs, Colorado and Gainesville, Georgia that combine the Boot Barn Hall concert venue, Bourbon Brothers restaurant, and Notes Live music and social bar (Colorado Springs only). Within the next 24 months, Notes Live will have launched additional locations in Oklahoma, Tennessee, Texas, and beyond, as well as the company's crown jewel: The Sunset, a technically advanced, 8,000-person open-air amphitheater in Colorado Springs that will host the largest touring acts in the country in partnership exclusively by AEG Presents. Learn more at noteslive.vip