NTWRK & BEYOND THE STREETS Announce Line-Up For Two-Day Virtual Art Fair: "BEYOND THE STREETS" 
Artists Include Action Bronson, Felipe Pantone, FUTURA2000, Guerrilla Girls, Kenny Scharf, Mister Cartoon, Pushead, Shantell Martin & Shepard Fairey
50+ Artists Confirmed To Date & More Will Be Announced Soon
Saturday, December 5th & Sunday, December 6th
"continuation of efforts to preserve the culture of street art and expand its appeal" —New York Times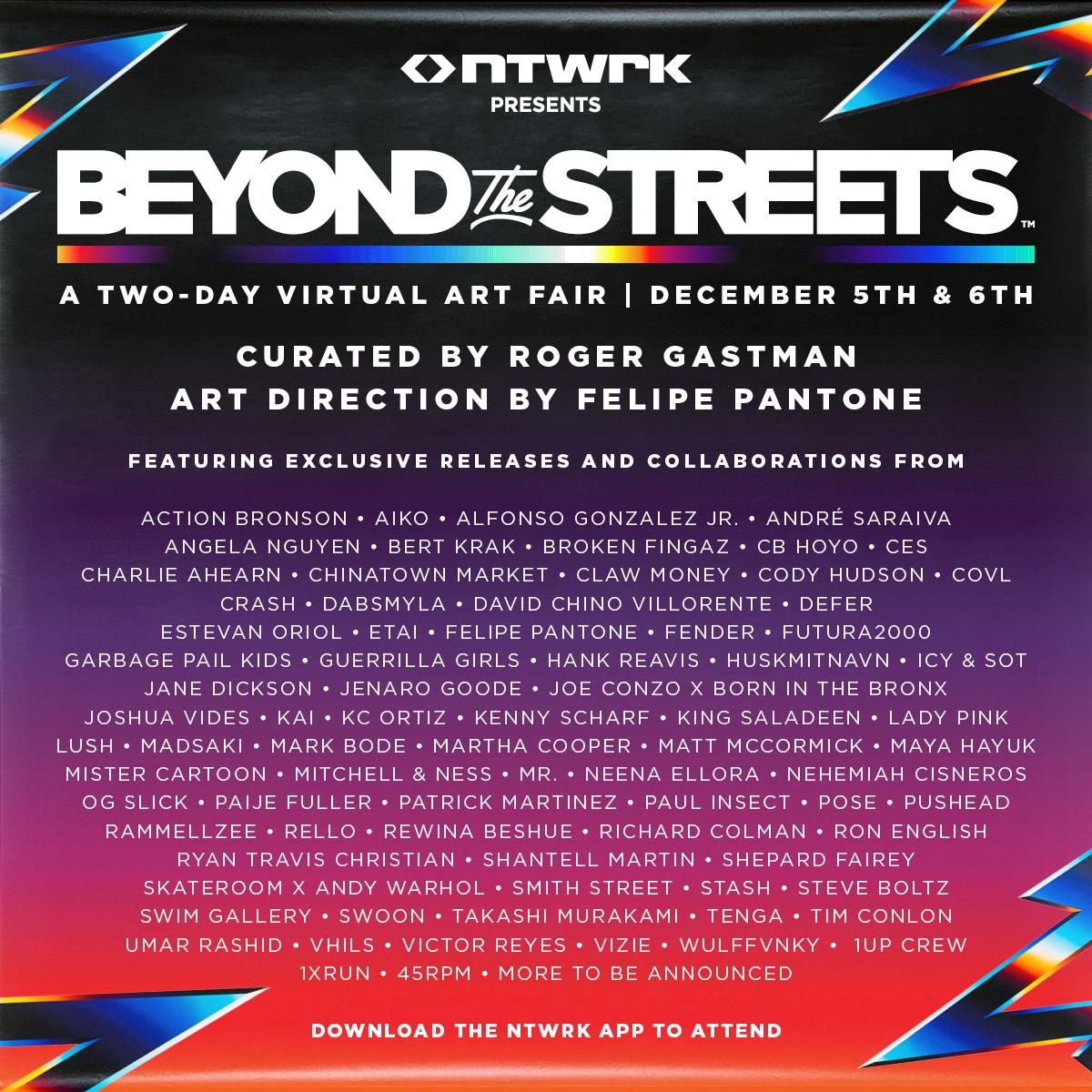 Today, NTWRK and BEYOND THE STREETS announce the line-up for their new virtual art fair, "BEYOND THE STREETS." The virtual art fair comes off the heels of TRANSFER, NTWRK's first virtual festival and its most successful initiative yet. "BEYOND THE STREETS," is a celebration of art, creativity and pop-culture and will feature exclusive paintings, sculptures, editioned prints, skate decks, drawings and more. The fair will also include exclusive drops, brand collaborations and thought-provoking discussions and panels though a series of videos curated by culture historian Roger Gastman.
The line-up includes industry luminaries like Action Bronson, Felipe Pantone, FUTURA2000, Guerrilla Girls, Kenny Scharf, Mister Cartoon, Pushead, Shantell Martin, and Shepard Fairey.
Full list of confirmed artists below. Many more to be announced soon.
"BEYOND THE STREETS" virtual art fair was created as a response to what's going on in the world currently and focuses on video content and commerce as it relates to contemporary art. There will be 100+ exclusive pieces for sale at "BEYOND THE STREETS" and prices will vary.
"BEYOND THE STREETS" will stream via the NTWRK app on Saturday, December 5th and Sunday, December 6th with 50+ brands and artists dropping exclusive products on the platform throughout the two days.
Read more about "BEYOND THE STREETS," via the New York Times: https://www.nytimes.com/2020/09/01/arts/design/roger-gastman-beyond-the-streets-art-fair.html
About NTWRK:
NTWRK is the definitive mobile-first video shopping platform that seamlessly blends entertainment and commerce, giving brands, artists, and personalities the ability to create original content and sell exclusive products to NTWRK's global audience. The innovative model of daily exclusive product drops, live videos, engaging hosts, native purchases and social distribution creates a high energy and wide-reaching experience for partners and users. NTWRK was founded in October 2018. Additional information about NTWRK may be found at thentwrk.com | Instagram: @NTWRK | App: iOS, Android
About Roger Gastman:
Roger Gastman, founder of the 2018 and 2019 exhibitions BEYOND THE STREETS (see NYT coverage), producer of the 2010 Academy Award nominated film, Exit Through the Gift Shop, and co-curator of the largest graffiti exhibition Art In the Streets (2011) at the MoCA in Los Angeles.
NTWRK on the web:
https://shorefire.com/roster/ntwrk
https://www.facebook.com/NTWRKLIVE/
https://www.instagram.com/ntwrk/
https://www.linkedin.com/company/thentwrk/
https://www.youtube.com/channel/UCRUw6FY6YXcxrJHnbswT50Q
Roger Gastman on the web:
http://www.beyondthestreets.com
https://www.instagram.com/rogergastman/?hl=en