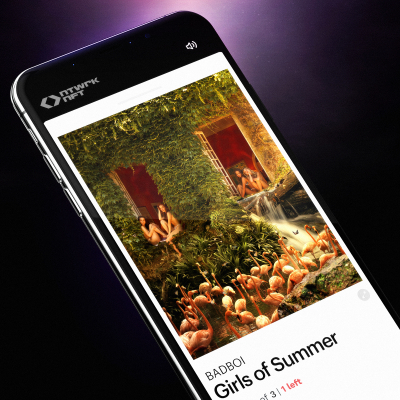 NTWRK Expands Into The World Of NFTs
SHOP THE EXCLUSIVE FIRST DROPS AT NFT.THENTWRK.COM
LEARN MORE VIA DIGIDAY
July 14, 2021 — Today, NTWRK, the premier North American livestream shopping platform, officially expands into the world of NFTs with the launch of NTWRK NFT, a curated marketplace for unique crypto artwork and objects from some of culture's most celebrated creators. Bridging the gap between content and commerce, each of NTWRK's NFT drops is experienced through a web-based platform which features video content that provides users a deeper look on the background of each creator and their creative process.
Through NTWRK, each creator launching NFTs will have instant access to NTWRK's global community of art and collectibles enthusiasts. NTWRK will feature one-of-a-kind NFT artwork from one to three world class creators per week. Among the first wave of featured creators to launch an NFT via NTWRK are BADBOI, Imaginary Foundation, MILKMAN, Young & Sick, Fafi, KidEight, MGOGLKTKO and Eddie Gangland.
This is NTWRK's first step towards the future of bridging digital and physical goods. In the near future, NTWRK users will be able to buy physical and digital goods together and redeem NFTs for limited edition physical collectibles and cultural artifacts.
On Thursday, July 15 at 5 pm ET, NTWRK is kicking off their NFT launch with a Clubhouse room hosted by Jeff Carvalho, a leading voice in fashion, digital assets and culture. It will feature some of NTWRK's first wave of creators talking about their upcoming drops and artistic processes.
Check out the upcoming NTWRK NFT drops at NFT.THENTWRK.COM and stay up to date on new drops via Twitter (@ntwrklive) and Instagram (@ntwrk).
ABOUT EACH PARTICIPATING ARTIST
Drop: GIRLS OF SUMMER - BADBOI X MARCEL VAN LUIT
Drop date: Friday, July 16
Mattheau Abad was born and raised in the Philippines but came to the States as a teenager. He is a creative director, photographer, philanthropist and the co-founder of charities Karmagawa, Save the Reef and Beyond the Pines. Abad's artistic trademark arises in his preference to shoot outdoors to capture the true beauty of nature. Working with established and up-and-coming models, Abad's style has become widely circulated both online and in print.
Drop date: Monday, July 19
The Imaginary Foundation is a think tank from Switzerland that does experimental research on new ways of thinking and the power of the imagination. The small clandestine team is helmed by the mysterious "Director," a meta-intellectual whose father founded the Dadaist movement. Avoiding direct publicity, the team works with a decentralized art collective in San Francisco to articulate and propagate its ideas beyond the academic realm and into the fringes of nascent culture everywhere.
Drop date: Wednesday, July 21
Nick van Hofwegen aka YOUNG & SICK has created art and music his whole life. He has made art for leading musicians and festivals, including Machine Gun Kelly, Young Thug, Foster the People, Maroon 5, Austin City Limits, BUKU, Camp Nowhere, M3F and many more. As a musician he has released music with B3SCI, Harvest/Capitol, Island UK, PMR and Neon Gold.
Drop date: Friday, July 23
Milk is a globally recognized creative, multi-hyphenate and entertainment entrepreneur born in Monterrey, Mexico and raised in Texas. He has quickly established a name for himself in the Latin and U.S. creative scene, leading to collaborations with J Balvin, Guess, Takashi Murakami, Coca-Cola, Topps and more. Future Tunnels is Milk's art platform which launched following the success of his exhibition "Smile Now, Cry Later," during NBA All-Star Weekend at SOHO House.
Drop date: Monday, July 26
Exploring stereotypes of femininity and using them to her advantage through her iconic paintings and animations, Fafi has landed high profile collaborations with Adidas, M.A.C, Chanel, Hennessy, Swatch, Samsung and Le SportSac. Along the way, she has closed toy manufacturing deals with Sony and Medicom and has been profiles in Commons & Sense, Vogue and Elle, in addition to countless solo and prestigious group shows in some of the the most respected galleries around the globe.
In April 2021, Fafi minted her first NFT entitled "La Première Demoiselle" which sold out in minutes. She is now leaning into this exciting new medium as an entirely new frontier of artistic expression opens up in front of her. Fafi currently lives and works between Paris and Biarritz and is working on the second volume of her comic and a forthcoming generative digital art project for release later this year.
Drop date: Monday, August 2
KidEight is a graphic designer and 3D digital artist. His work fuses street culture & style with brash saturated colours. He has worked with Atlantic Records, Def Jam, Sony Records, UMG & more.
Drop date: Wednesday, August 4
Eddie Gangland is a street and NFT artist best known for his Gangland Skulls NFT series. Eddie Gangland began making art in San Francisco, CA where he was drawn to the art world by way of the wheatpasting street art community. Since relocating to Miami, FL Eddie has established himself in the NFT community through his Gangland Skulls NFT series in which he has created and sold hundreds of unique and original skull illustrations as collectible NFTs.
Drop date: Friday, August 6
Carlos Luna James, aka MGOGLKTKO (pronounced ma'go gala'ktiko), is a multimedia artist from México currently based in LA. His work is inspired by sci-fi, fantasy, culture and technology and explores the perceptive nuances of the physical space through immersive digital installations. By merging sculpture, projection mapping, animation and sound design into nonlinear storytelling, in addition to incorporating digital screens, projectors, laser cutting and 3D printing in his creative process, MGOGLKTKO combines traditional workmanship techniques with technology and creative innovation, executing every detail with architectural precision.
MGOGLKTKO (meaning Galactic Wizard in English) is the artist's alter ego, a digital shaman who travels through multi-dimensional portals in the search to understand the mysteries of life. Carlos' body of work is about his story, his life and struggles to get out of his city for a better life and opportunities and the journey as an immigrant, coming to another country. Carlos wants to share these dreams that kept him pushing through the toughest times, those visions of utopian worlds, because those were the fuel that kept him pushing through his journey to create this body of work.
His physical and digital artwork has being exhibited in galleries, major art fairs and festivals such as A+D Museum, Los Angeles Center for Digital Art, Scope Art Show and Art Basel's CADAF Miami, The Other Art Fair in Santa Monica, Currents New Media Festival in Santa Fe New Mexico and Infinity Festival in LA. He has collaborated with modern visionaries like Meow Wolf and entertainment studios, such as FOX, Universal, Disney, DreamWorks, Relativity, TNT and more.
ABOUT NTWRK
Named one of Fast Company's Most Innovative Companies of 2021, NTWRK is the premier North American livestream shopping platform where "entertainment meets e-commerce" (Forbes). Built on a digitally-innovative model of daily product drops, virtual shopping festivals and exclusive partnerships with world-renowned brands and creators, NTWRK has fostered an organic global community of artists and fans since its launch in 2018. Under the motto "Shopping At The Speed of Culture," NTWRK provides a one-of-a-kind digital shopping experience for Gen-Z and millennial consumers.
NTWRK ON THE WEB
https://shorefire.com/roster/ntwrk
https://www.facebook.com/NTWRKLIVE/
https://www.instagram.com/ntwrk/
https://www.linkedin.com/company/thentwrk/