HubSpot Partners with Cristina Martinez to Celebrate Women's History Month
Cristina Martinez and HubSpot are partnering to create two unique products that highlight the importance of connection in developing a more sustainable and better path to growth.
100% of the purchase proceeds will be donated to the Y-WE Foundation.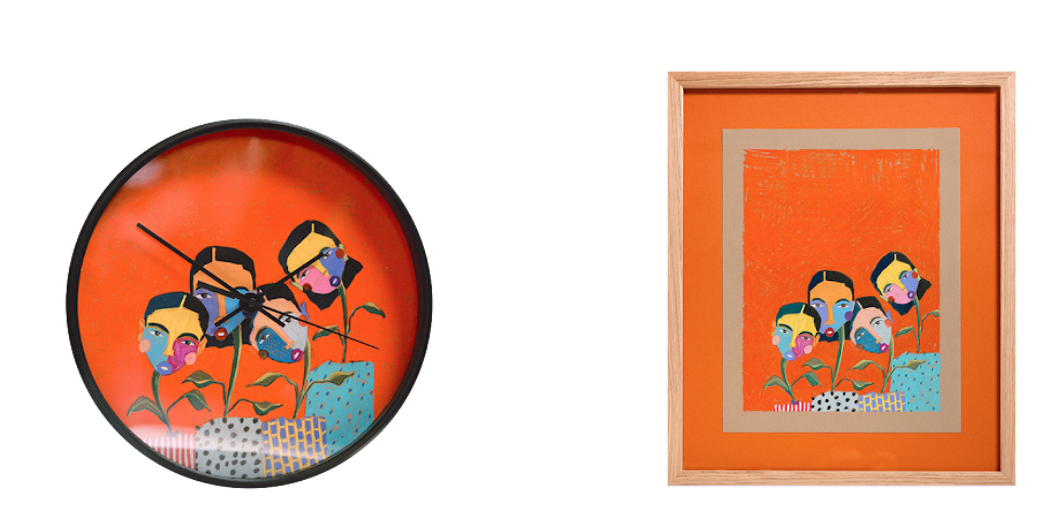 CAMBRIDGE, MA (MARCH 30, 2022) - In celebration of Women's History Month, HubSpot (NYSE: HUBS), the leading customer relationship management (CRM) platform for scaling companies, and NTWRK, North America's leading livestream platform, are teaming up to release two unique products with contemporary visual artist Cristina Martinez inspired by HubSpot's mission to help millions of organizations grow better.
Martinez's first piece, titled "Time to Bloom," is a one-of-one framed pastel original work of art that celebrates women in all their power and encourages growth. Her second piece is a limited run of wall clocks that serve as a reminder to carve out time for moments of connection during your day, for the purpose of recharging, seeking perspective, and fortifying relationships.
Cristina's interpretation of "Grow Better," embodied in two unique product drops, will be available for purchase exclusively on the NTWRK app on Thursday, March 31st.
"As part of HubSpot's efforts to celebrate Women's History Month, we have provided training, workshops, and discussions for colleagues that highlight womens' business achievements and teach how to break biases and cycles that can hold women back at work," said Amy Marino, Senior Director of Brand Marketing and Social at HubSpot. "In partnership with Cristina and NTWRK, we are focusing on personal growth, with pieces created to remind us to prioritize connection -- with others, with our communities, and with ourselves, -- to chart a better path to personal growth."
100% of the proceeds from this drop will be donated to the Y-WE Foundation, a community organization that helps young women find their voices, gain important life skills, develop self-confidence, and explore next steps in their college and professional careers.
"Y-WE provides a community of belonging for young women during this stage of life when they are moving toward adulthood, identifying college and career interests, and exploring ways to take action as community changemakers," Martinez says. "I wish I had an organization like Y-WE when I was growing up; they provide the tools and insight to help young women bloom.
This partnership reflects the natural alignment between Cristina's innovative approach to scaling and HubSpot's core values. This partnership showcases the need for professionals to have time and space to connect and build relationships with their customers, family, friends, and themselves to grow together and grow better.
About NTWRK:
Named one of Fast Company's Most Innovative Companies and Ad Age's Hottest Brands, NTWRK is the premier North American livestream shopping platform where "entertainment meets e-commerce" (Forbes). Built on a digitally-innovative model of daily product drops, livestream shopping festivals and exclusive partnerships with world-renowned brands and creators, NTWRK has fostered an organic global community of artists and fans since its launch in 2018, providing a curated digital shopping experience for Gen-Z and Millennial consumers.
About HubSpot:
HubSpot (NYSE: HUBS) is a leading customer relationship management (CRM) platform that provides software and support to help companies grow better. The platform includes marketing, sales, service, operations, and website management products that start free and scale to meet our customers' needs at any stage of growth. Today, more than 135,000 customers across more than 120 countries use HubSpot's powerful and easy-to-use tools and integrations to attract, engage, and delight customers.
Named Glassdoor's #2 Best Place to Work in 2022, HubSpot has been recognized for its award-winning culture by Great Place to Work, Comparably, Fortune, Entrepreneur, Inc., and more. HubSpot was founded in 2006 and is headquartered in Cambridge, Massachusetts. The company's thousands of employees work across the globe in HubSpot offices and remotely.
About Cristina Martinez:
Cristina Martinez is a contemporary visual artist based in Seattle, Washington. Cristina's art is the physical manifestation of her Black and Mexican heritage and is especially informed by the strong Mexican women (her mother, grandmother and great grandmother) in her family. Cristina's artwork can be found at the World Trade Center in a colorful 52" mural. She has been covered by The New York Times, Interview Magazine, Allure, Vogue and more and was featured as the first artist collaboration with womenswear designer Fe Noel.
###
For more on NTWRK, contact: