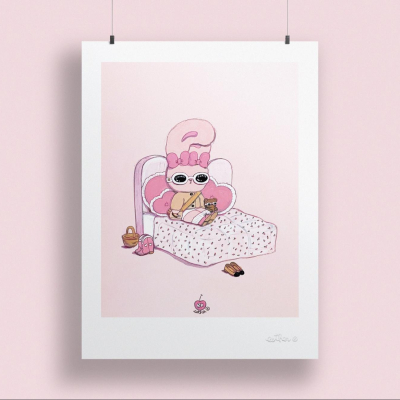 NTWRK Partners With Artist And Curator Esther Kim On Virtual Art Show Honoring Women's History Month
GRACE MICELI, VALFRÉ, NAILS BY MEI & MORE FEMALE CREATORS FEATURED IN 'ESTHER LOVES ARTISTS'
SERIES LAUNCHING ON NTWRK ON MARCH 22
LOS ANGELES (March 16, 2021) — NTWRK, North America's premiere livestream video shopping platform, has partnered with artist Esther Kim, presenting an all female artist series, 'Esther Loves Artists,' in recognition of Women's History Month. The curated show features an exclusive collection of prints by Kim and six additional artists: Dami Lee, Grace Miceli, So Youn Lee, Valfré, Fafi & Nails by Mei.
On this celebratory collaboration with NTWRK, Kim mused: "I had the huge privilege of curating 'Esther Loves Artists' for NTWRK. I think being a female artist is a revolutionary act in itself, and takes enormous willpower and determination. I think by default whatever these women I admire create ties back to Women's History Month, and I am thankful that NTWRK provides this space for all of us to come together."
Kim also reflects that, in curating each of the six artists, she sought those who share an equally dynamic artistic and commercial aesthetic in their work, and who have carved out their own universe and style. "Quick, sharp and sassy" she says of her choices, with both a "feminine and pop aesthetic." And with art galleries closed due to the pandemic, she applauds the accessibility of virtual shows, which offer artists an expanded freedom to create their own space, outside of what a traditional gallery may offer. 'Esther Loves Artists' harmoniously embodies Kim's vision of artistic representation for Women's History Month, delivering it to the fresh, eager audience that awaits, via this exclusive NTWRK partnership.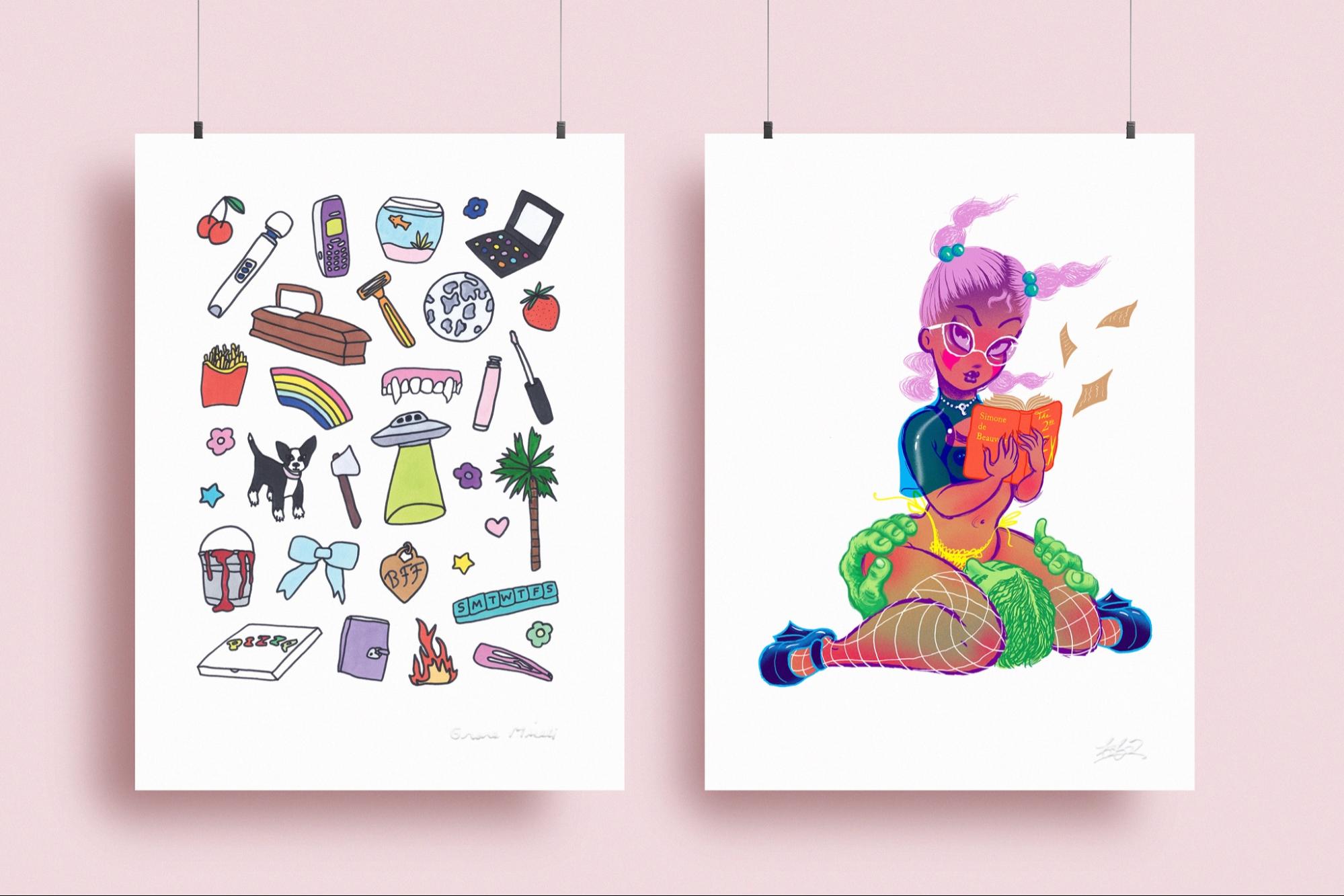 Grace Miceli & Fafi
Grace Miceli (@artbabygirl)
Grace Miceli is one of the "9 Funniest Cartoonists and Illustrators on Instagram'' (Vulture). She works across multiple mediums including illustration, animation, comics, product design and murals. Her playful and self-reflective artwork has been featured in more than 50 galleries and museums worldwide. She has created work for The New Yorker, The New York Times, Apple TV+, Urban Outfitters and Nike, and has been covered by i-D, Dazed, CNN and more. Grace lives in Brooklyn, NY. Her first book "How To Deal" published by Voracious/Little, Brown and Company comes out in May 2021.
Fafi (@therealfafi)
French street artist Fafi is recognizable for her colorful, curvy, cartoonish female characters, the 'Fafinettes.' Active for more than two decades, her cartoonish characters have graced the covers of brands like Chanel, Adidas, M.A.C, Hennessy and Swatch. Her murals depict women's beauty not only through their purity, naivety, gentleness and fragility, but through their curves, sassiness, arrogance, presence and selflessness. Fafi's 'Fafinettes' have been animated in music videos for artists including Mark Ronson, Azealia Banks and M.I.A.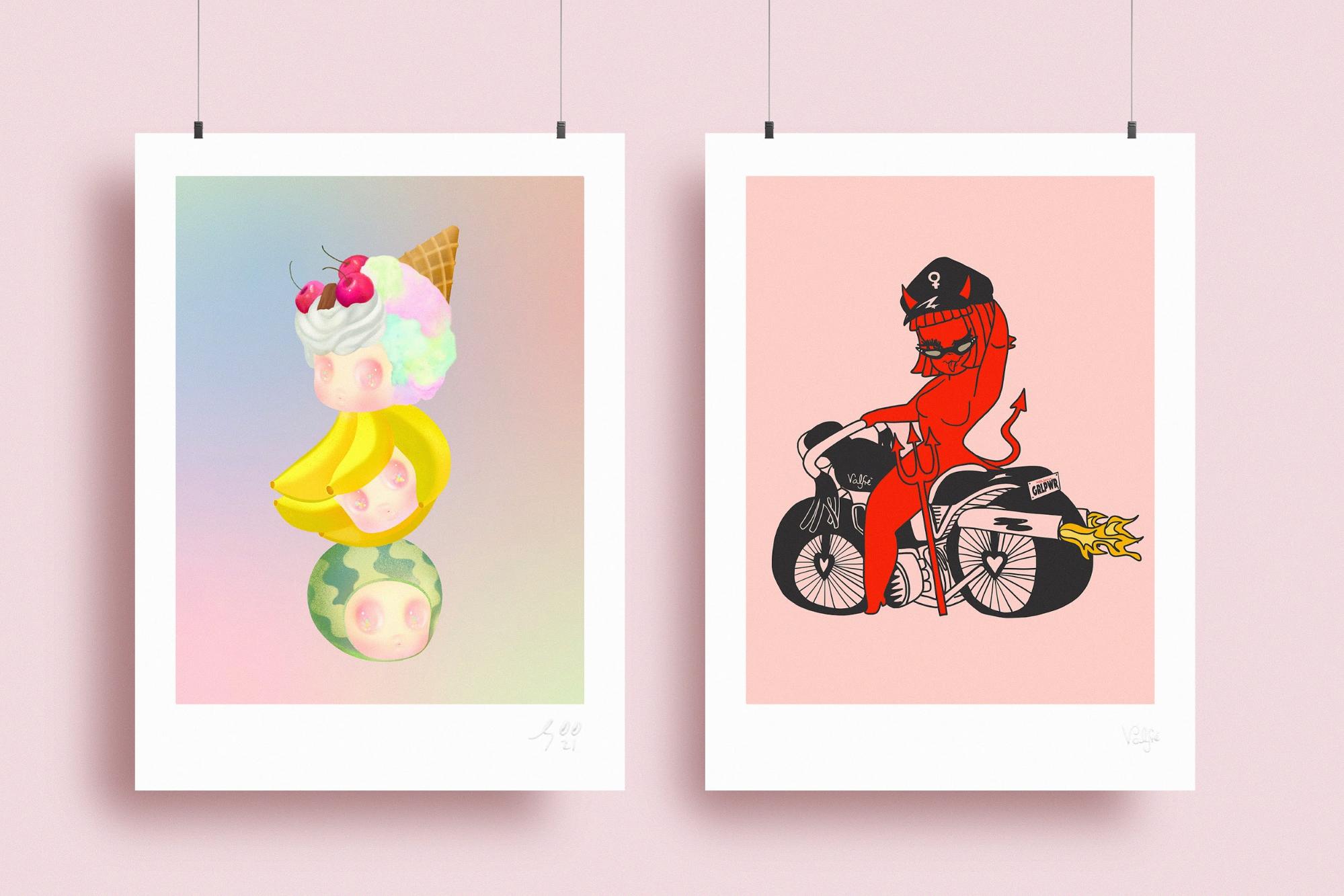 So Youn Lee & Ilse Valfré
So Youn Lee (@soyounlee)
Born in 1984 in Korea, So Youn Lee left her native country to pursue her art career in the United States, where she studied at the Art Center of Pasadena and received a BFA. Recognized for her ethereal, dream-like aesthetic, Lee's work evolved from figurative art into her signature style, which centers around an alien-like no-gender character named "Mango." Surrounded by explosions of color, Lee's vibrant mixed-media pieces have been showcased at galleries in the US and throughout the world, and she has also collaborated with global brands such as ALDO and Lancôme.
Ilse Valfré (@valfre)
Born and raised in Mexico, Ilse Valfré is an illustrator. She founded Valfré – an LA-based art, apparel, and accessories brand in late 2013. Valfré's mission is to bring her art to life by creating unique products that are a direct reflection of the psychedelic world that she has created. Her work explores the poignant tension between vulnerability and confidence as she transports her audience into the hearts and minds of the characters that she creates.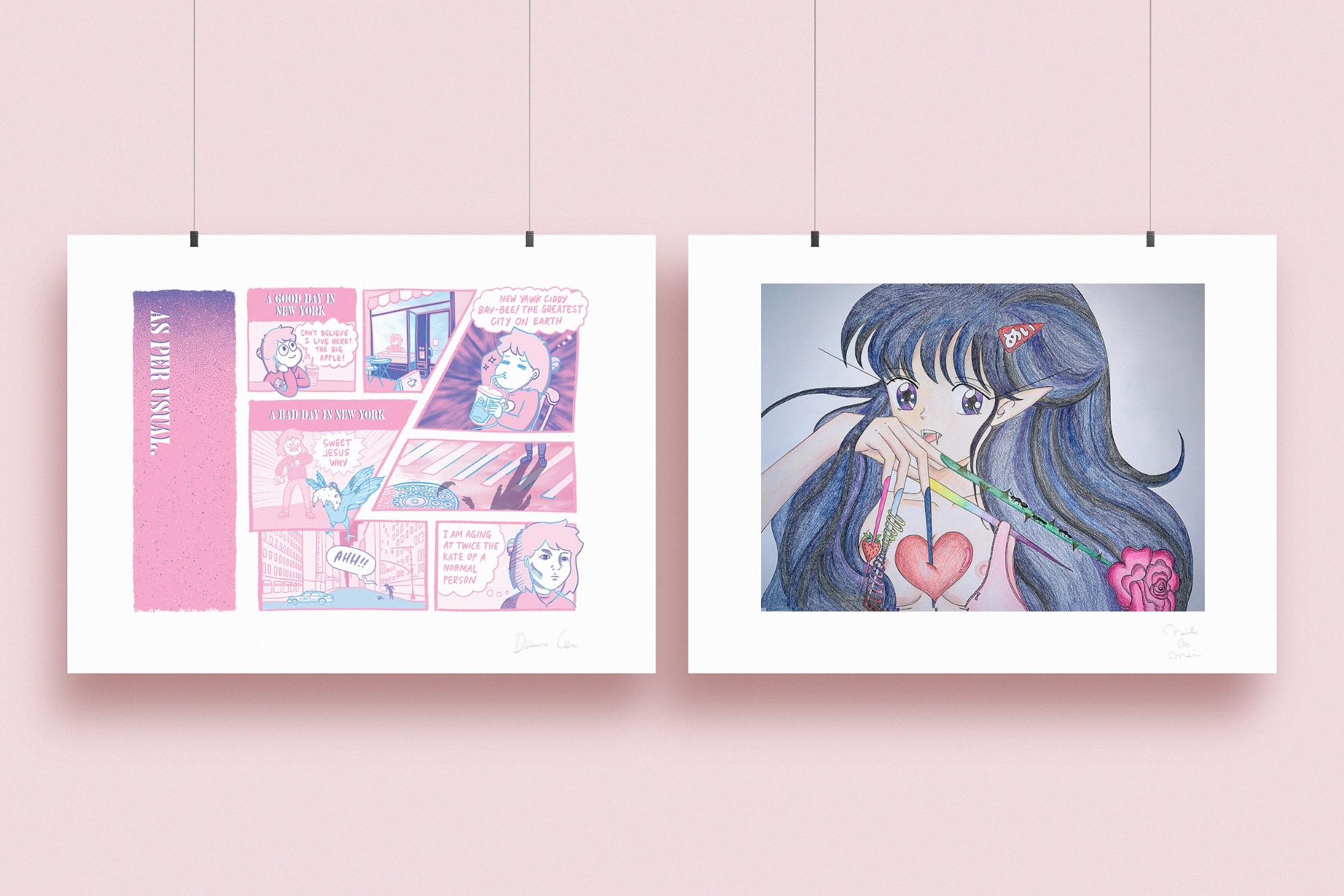 Dami Lee & Nails by Mei
Dami Lee (@dami_lee)
Dami Lee is a Seoul-born, New York-based artist and writer. She is the author of Be Everything At Once, a mini-memoir illustrating her experience navigating identity, relationships, pop culture and misunderstandings about basic human interactions. She draws the bi-weekly series "As Per Usual" on Webtoon, and has drawn comics for the Los Angeles Times, The New Yorker, Buzzfeed, Cosmopolitan and premium mustard brands.
Mei Kawajiri (@nailsbymei)
Mei Kawajiri AKA, Nails by Mei is the artist behind the most viral 3D and painted nails featured on your Instagram feed. Since moving to New York from Japan, she continues to redefine the meaning of nail art with her boundary pushing, one-of-a-kind creations for clients, including Dua Lipa, Rosalia, Bella Hadid, Jonathan Van Ness and Marc Jacobs.
ABOUT NTWRK
Named one of Fast Company's Most Innovative Companies of 2021, NTWRK is the premiere North American livestream shopping platform where "entertainment meets e-commerce" (Forbes). Built on a digitally-innovative model of daily product drops, virtual shopping festivals and exclusive partnerships with world-renowned brands and creators, NTWRK has forged an organic worldwide community of artists and millions of fans since its launch in 2018. Under the motto "Shopping At The Speed of Culture," NTWRK galvanizes the young and lucrative livestream shopping industry, helping usher in a new era of retail.
NTWRK ON THE WEB
https://shorefire.com/roster/ntwrk
https://www.facebook.com/NTWRKLIVE/
https://www.instagram.com/ntwrk/
https://www.linkedin.com/company/thentwrk/