Nu Deco Ensemble Announces 2021-2022 Miami Concert Season
Feat. Guests Anthony Hamilton, Masego, Robert Glasper, JP Saxe & Madison Cunningham
New Beach Boys Suite Out October 29
"Chamber orchestra for the 21st century" - The New York Times
"Sonically spellbinding" - Billboard
"A cool and different sound" - KNKX (NPR)
Today, pioneering hybrid orchestra Nu Deco Ensemble has announced its upcoming 2021-2022 concert season at The Bandshell and Adrienne Arsht Center in Miami, FL - including spectacular guests Anthony Hamilton, Masego, Robert Glasper, JP Saxe & Madison Cunningham. Kicking off on November 5 at The Bandshell with Anthony Hamilton, the season will conclude with a special show featuring Robert Glasper at the Adrienne Arsht Center for the Performing Arts of Miami-Dade County on April 30, 2022 - tickets & full list of shows here, as well as below.
On the heels of Nu Deco's collaborative album with roots-rock duo Larkin Poe, Paint the Roses: Live in Concert (#2 Classical Crossover, #5 Blues & #21 Classical on the Billboard Charts), the ensemble also just announced a new Beach Boys suite - Still Cruisin' - An Orchestral Tribute to The Beach Boys will be released on October 29, 2021. The suite will include reimagining of material from The Beach Boys' landmark album Pet Sounds, their unfinished SMiLE project, and older songs. Nu Deco Ensemble Co-Founder and Artistic Director Sam Hyken who arranged the music explains: "With always having the intention of bringing something fresh and new to this incredible music, the work creates new harmonic and groove environments, expands on and plays with famous melodies and motifs, and also pays tribute to the genius instrumentation and orchestration inherent in the original songs. Personally speaking, the music of The Beach Boys is some of my absolute favorite, and has musically impacted me since childhood."
Jacomo Bairos - Nu Deco's other Co-Founder and Artistic Director - continues: "What is lesser known about this transformative and innovative group, is not just the impact they had on the American vernacular, but how they incorporated Classical, Jazz, R&B, as well as innovative recording techniques and unique non-traditional instruments such as the Theremin into their wild, yet creative music. The wide pallets of colors, techniques and inspiration they drew from truly made them a genre-bending band who dared to create highly-curated, diverse and avant-garde music, while also producing some of the most memorable and melodic driven songs that have left numerous imprints on generations of music lovers for decades. We intentionally are highlighting the diverse and unique output of this transformational American band."
The Miami-based contemporary hybrid orchestra has previously collaborated with Wyclef Jean, Tune-Yards, PJ Morton, Macy Gray, Jacob Collier, Ben Folds and others, reimagining the music of Daft Punk, Outkast & beyond. The ensemble was founded by conductor Jacomo Bairos (Juilliard, Boston Pops, San Francisco and St. Louis Symphonies) and composer/arranger/producer Sam Hyken (commissioned by Bad Bunny, Angelique Kidjo, Tank and the Bangas). Through youth orchestra initiative Nu Deco NXT, the founders also foster the artistry and development of Miami's young musicians.
2021-2022 Season:
North Beach Bandshell - November 5, 2021
ft. Anthony Hamilton
Tessellations by Gabriella Smith
Portrait of a Queen by Carlos Simon
Isley Brothers Symphonic Suite
Adrienne Arsht Center - December 10, 2021
ft. Masego
This performance is presented in partnership w/ YoungArts and Adrienne Arsht Center
Nu Nutcracker Selections
Sacred Earth by Chris Rogerson ft. J'Nai Bridges and projections by Keith Ladzinski
Ray Charles Symphonic Suite
North Beach Bandshell - January 22, 2022
ft. JP Saxe
Dance Suite Mvmt. III by Bela Bartok
Much Ado About Nothing by Erich Korngold
Radiohead 2 Symphonic Suite
North Beach Bandshell - March 12, 2022
ft. Madison Cunningham
Symphony No. 10, Mvmt. II by Dmitri Shostakovich
Past Tundra by Valgeir Sigurðsson
Nu Deco Original Work
Pink Floyd Symphonic Suite
Adrienne Arsht Center - April 30, 2022
ft. Robert Glasper
Presented in partnership w/ Adrienne Arsht Center
Lyric for Strings by George Walker
New Work by Robert Glasper
Afro-Cuban Concerto by Valerie Coleman
James Brown Symphonic Suite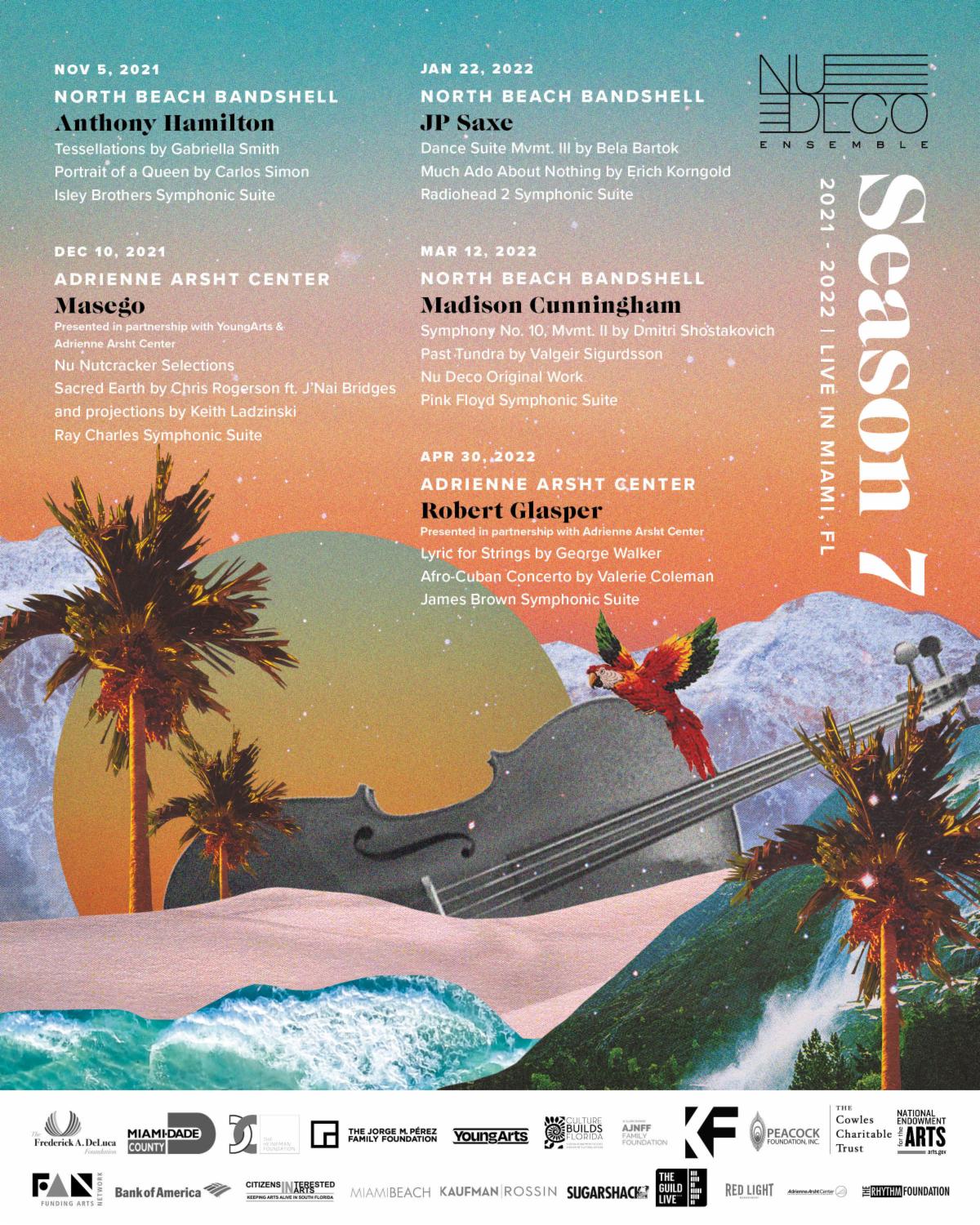 About Nu Deco Ensemble
Nu Deco Ensemble is a Miami-based, contemporary hybrid orchestra (called "a chamber orchestra for the 21st century by The New York Times) whose work has included collaborations with Wyclef Jean, Tune-Yards, PJ Morton, Macy Gray, Jacob Collier, Ben Folds, Larkin Poe and others. The Ensemble has reimagined versions of tracks by artists including Daft Punk, Outkast and classic rock artists as well as new music from some of today's most exciting living composers. Nu Deco was founded by conductor Jacomo Bairos (who has led orchestras including the Boston Pops, San Francisco and St. Louis Symphonies) and composer/arranger/producer Sam Hyken (a composer commissioned by orchestras and artists including Angelique Kidjo, Bad Bunny, Tank and the Bangas, and many others) — two of classical music's most in-demand and adventurous figures.
Since its inception in 2015, Nu Deco Ensemble has exploded onto Miami's eclectic musical scene, captivating audiences in both traditional concert venues and alternative local venues, and fusing innovative, genre-bending orchestral performances and collaborations with the highest levels of musical artistry — leading Billboard to call their music "sonically spellbinding." The Ensemble released a self-titled debut album in 2019, and Humans vs Robots – An Orchestral Tribute to Daft Punk in 2020. Nu Deco is reimagining what an orchestra can achieve today. It is a flexible and innovative hybrid orchestra that celebrates living composers, reimagines all genres of music, provides education programs for Miami's young people, and collaborates with a wide range of diverse musical guests, composers, choreographers, dancers, and mixed media artists.