Numero Group Adds Four-Day LA Stop To EU & US Pop-Up Tour Spanning September/October
In Celebration of The Record Label's 20th Anniversary, Free Events Will Feature Thousands of LPs, 45s, Cassettes, CDs, Test Pressings, Box Sets & Precious Lost Sounds
Additional Activity Includes LEVITATION Showcase Reuniting Unwound, Codeine, Karate & Chisel: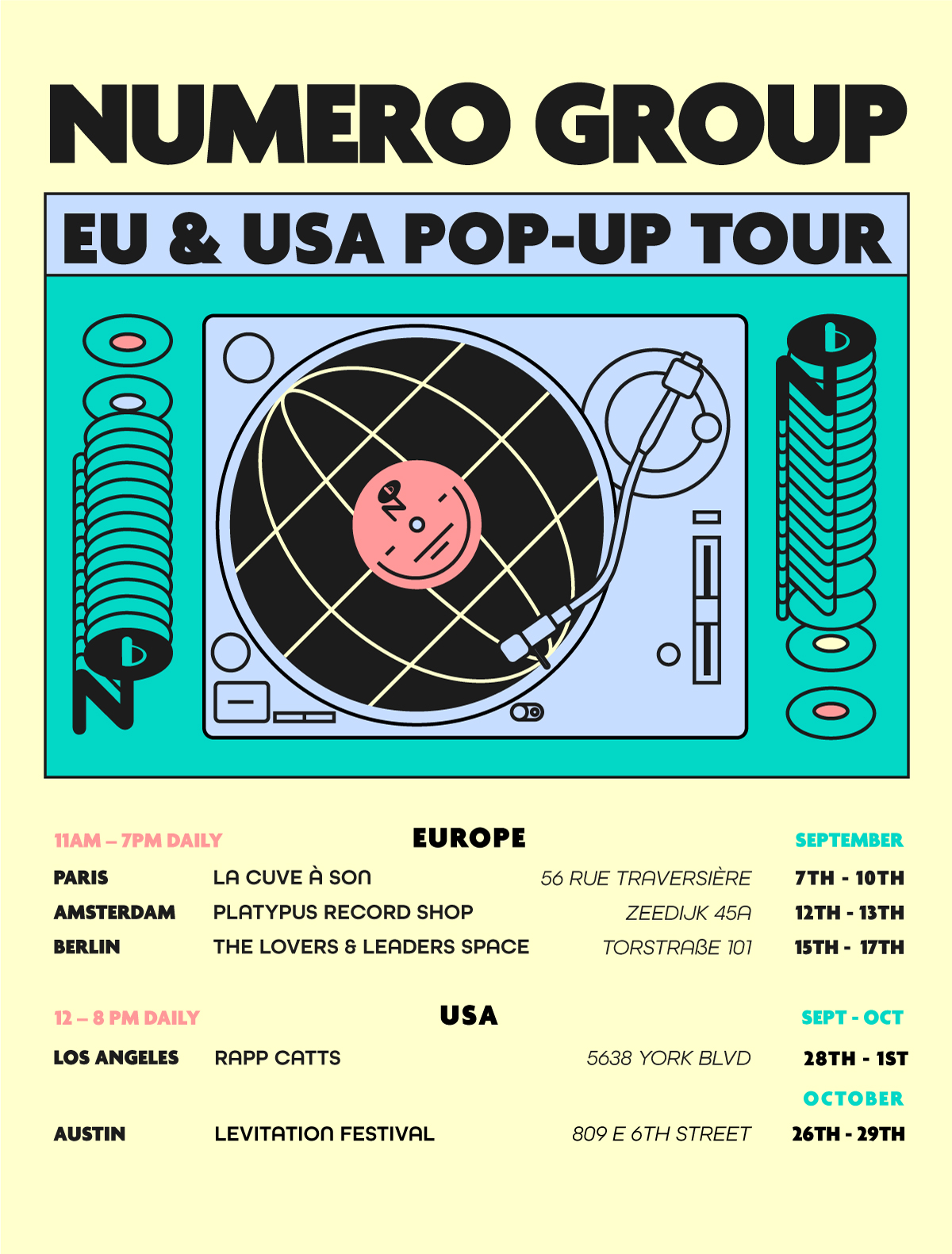 "The Cult Record Label That Brings Forgotten Music Back from the Dead"
GQ
"Numero 20 promised a reconnection with a certain era, but ultimately offered a reconnection to yourself"
The Washington Post
"Thanks to the label's persistence, obscure but influential artists are finding new life -- and new listeners"
SPIN
Today, with the brand new addition of a Los Angeles event from Sept 28th-Oct 1st, Numero Group rounds out an unprecedented Pop-Up Tour for Fall 2023. Coinciding with the Chicago-based record label and rights management organization's 20th Anniversary, next week will see company co-founders Rob Sevier and Ken Shipley return to Europefor the first time in five years. Over the course of a ten-day run, they will set up shop and bring thousands of LPs, 45s, cassettes, CDs, magazines, exclusive t-shirts, hats, test pressings, lavishly packaged box sets and decades worth of precious lost sounds to Paris' La Duve à Son, Amsterdam's Platypus Record Shop and Berlin's Lovers & Leaders Space.
The free-to-enter events follow the unforgettable Numero Twenty festival that happened at LA's Palace Theatre earlier this year, which "promised a reconnection with a certain era, but ultimately offered a reconnection to yourself – to your memories, to your musculature, to your community, to your potentiality" (The Washington Post). Los Angeles fans and music lovers will now be able to relive some of the magic at Numero Group's just-announced Rappcatts Pop-Up Shop, open 12pm-8pm every day from Sept 28th-Oct 1st.
Additionally, Numero Twenty bands Unwound, Codeine, Karate and Chisel will reunite once again for the Numero-curated stage at Austin, TX's LEVITATION. At The Far Out Lounge from 4pm-10pm on October 26th, the special showcase offers another rare and exhilarating celebration of '90s hardcore, indie rock, and musical rediscovery. From Oct 26th-29th, Numero Group will also present its final Pop-Up of the year at Austin's 809 E 6th St.
RSVP to All Upcoming Stops of Numero Group's EU & US Pop-Up Here:
https://ffm.live/numerogrouppop-ups
Ken Shipley and Rob Sevier will be on-site at all five series of events, offering deeply-researched, expertly-resuscitated selections, recommendations and knowledge to attendees. As GQ described in a recent profile, "The fact that Numero has survived for twenty years – weathering everything from the rise of streaming to a supply-chain-glutting 'vinyl revival' that ironically made it harder to press new records on vinyl – is no surprise…Numero co-founders Ken Shipley and Rob Sevier were crate-diggers as cold-case detectives, unearthing legacies of greatness long-buried in attics and storage units, as well as the stories of the people who made that music."
After twenty years spent researching and reintroducing unsung heroes and historic music from the 1950s to today, Numero Group enters its second decade doing its most adventurous work. Evolving far beyond the eccentric soul records that define its roots, and shifting from reissue label into a holistic rights management organization, Numero is giving lost sounds even newer life. In addition to producing box sets, streaming hits, TV and film placements, TikTok trends, samples in hip-hop hits and more for legends like pioneering, transgender R&B singer Jackie Shane, gospel god T.L. Barrett, Chicago blues forefather Syl Johnson, and Indian disco-jazz visionary Rupa, Numero has resurrected a boundless array of overlooked styles and scenes. The company is shining much-needed light on regional music of remote islands, cosmic country, electro-samba, privately issued folk, the punk and hardcore of Numero Twenty and much more.
"Numero Twenty is a reissue of a feeling, of an era," says Shipley and Sevier. "Those beforetimes when we weren't connected electronically and found out about cool shit through Letraset flyers and word of mouth. Of mix tapes, and letters, and beat up atlases in the glove box."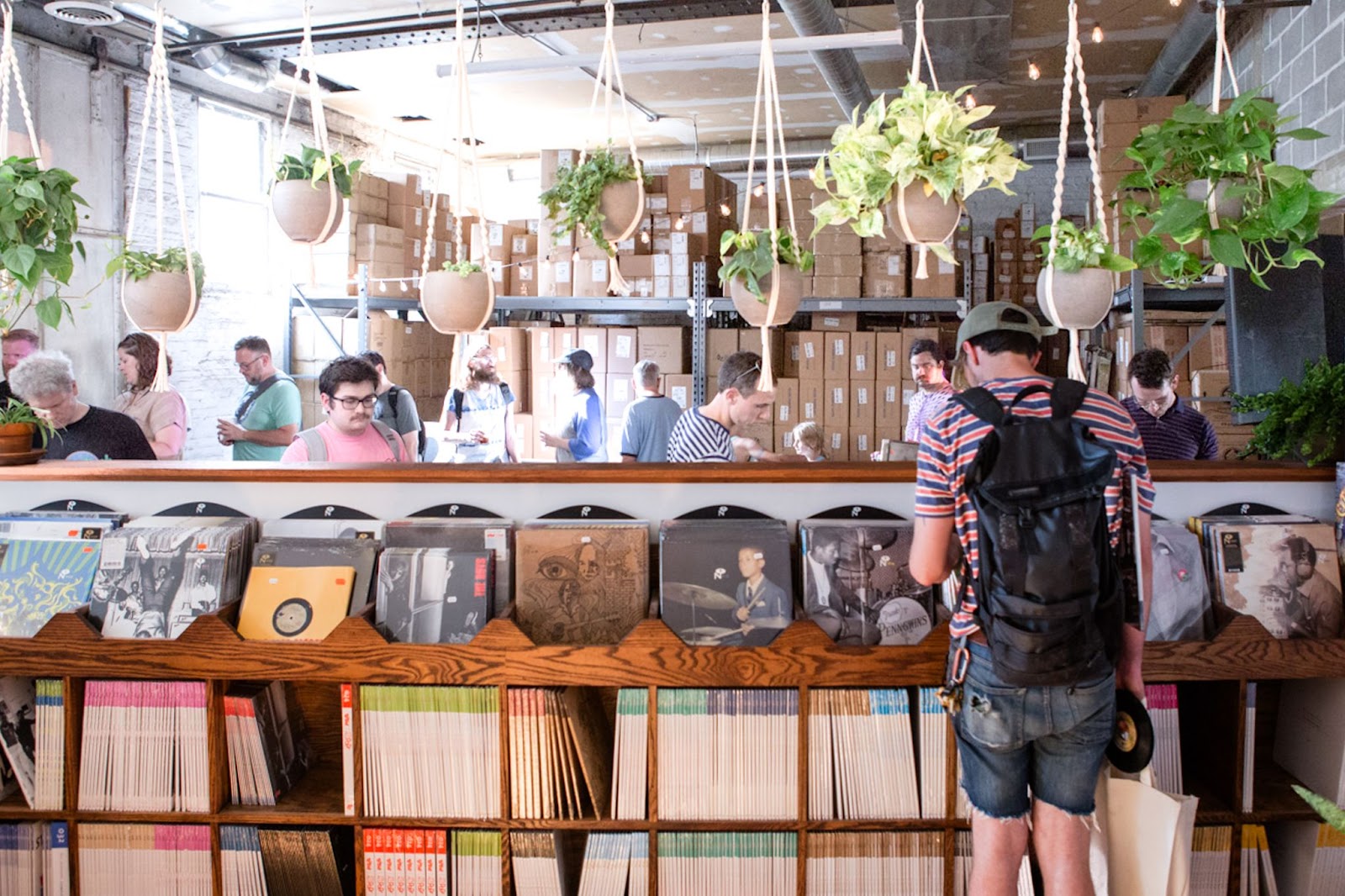 Numero Group Pop-Up Tour Dates
Sept 7th-10th - Paris - La Cuve à Son, 11am-7pm
Sept 12th-13th - Amsterdam - Platypus Record Shop, 11am-7pm
Sept 15th-17th - Berlin - The Lovers & Leaders Space, 11am-7pm
Sept 28th-Oct 1st - Los Angeles - Rappcatts, 12pm-8pm
Oct 26th-29th - Austin - 809 E 6th St, 12pm-8pm
About Numero Group
Founded in Chicago in 2003, for two decades Numero has committed itself to unearthing precious lost sounds for new audiences, with an unparalleled ear for potential and spirited eye for detail. In the growing noise of the so-called reissue field, The Numero Group remains distinct in its quality: deeply researched, expertly resuscitated and lavishly packaged box sets, playlists and ephemera of historic music from the 1950s to today.
Follow Numero Group