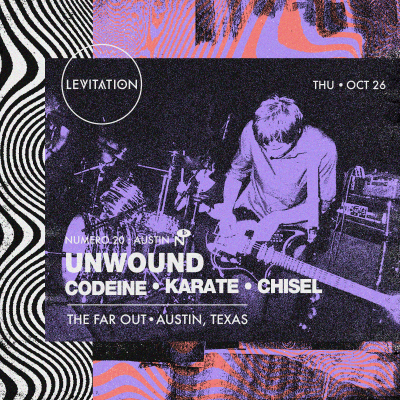 Numero Group Announces Second Series of 20th Anniversary Events at LEVITATION
Numero Twenty Showcase Reunites Unwound, Codeine, Karate & Chisel at Austin's Far Out Lounge on October 26th
Free Pop-Up Shop Brings Thousands of LPs, 45s, Cassettes, CDs, Test Pressings, Box Sets & Precious Lost Sounds to 809 E 6th Street, October 26th-29th
"The Cult Record Label That Brings Forgotten Music Back from the Dead"
GQ
"Numero 20 promised a reconnection with a certain era, but ultimately offered a reconnection to yourself"
The Washington Post
"Thanks to the label's persistence, obscure but influential artists are finding new life -- and new listeners"
SPIN
This October, Numero Group brings its 20th Anniversary to Austin, TX, presenting both a four-band showcase and exclusive pop-up in partnership with LEVITATION. On the heels of throwing an unforgettable two-night festival at Los Angeles' Palace Theatre earlier this year, the Chicago-based record label will once again reunite Unwound, Codeine, Karate and Chisel for a rare celebration of '90s hardcore, indie rock, and revelatory rediscovery. Taking place at The Far Out Lounge from 4PM-10PM on Thursday, October 26th, this special Austin edition will deliver an experience of exhilaration similar to the first Numero Twenty, which "promised a reconnection with a certain era, but ultimately offered a reconnection to yourself – to your memories, to your musculature, to your community, to your potentiality" (The Washington Post).
In addition to curating their own show at LEVITATION, Numero Group has also just announced a free-to-enter Numero Twenty Pop-Up. From 12PM-8PM on October 26th-29th, the label will fill downtown Austin's 809 E 6th Street with thousands of LPs, 45s, cassettes and CDs, special t-shirts and hats, test pressings, lavishly packaged box sets and decades' worth of precious lost sounds. Numero co-founders Ken Shipley and Rob Sevier will be on-site at the event, offering deeply-researched, expertly-resuscitated selections, recommendations and knowledge to attendees. As GQ described in a recent profile, "The fact that Numero has survived for twenty years – weathering everything from the rise of streaming to a supply-chain-glutting 'vinyl revival' that ironically made it harder to press new records on vinyl – is no surprise…Numero co-founders Ken Shipley and Rob Sevier were crate-diggers as cold-case detectives, unearthing legacies of greatness long-buried in attics and storage units, as well as the stories of the people who made that music."
TWENTY YEARS OF NUMERO GROUP
After twenty years spent researching and reintroducing unsung heroes and historic music from the 1950s to today, Numero Group enters its second decade doing its most adventurous work. Evolving far beyond the eccentric soul records that define its roots, and shifting from reissue label into a holistic rights management organization, Numero is giving lost sounds even newer life. In addition to producing box sets, streaming hits, TV and film placements, TikTok trends, samples in hip-hop hits and more for legends like pioneering, transgender R&B singer Jackie Shane, gospel god T.L. Barrett, Chicago blues forefather Syl Johnson, and Indian disco-jazz visionary Rupa, Numero has resurrected a boundless array of overlooked styles and scenes. The company is shining much-needed light on regional music of remote islands, cosmic country, electro-samba, privately issued folk, the punk and hardcore of Numero Twenty and much more.
"Numero Twenty is a reissue of a feeling, of an era," says Shipley and Sevier. "Those beforetimes when we weren't connected electronically and found out about cool shit through Letraset flyers and word of mouth. Of mix tapes, and letters, and beat up atlases in the glove box."
Ahead of LEVITATION, for the first time in five years, Numero Group will head to Paris, Amsterdam and Berlin for a ten-day run of pop-up stores from September 7th-17th. Find the full list of EU dates/locations and RSVP here.
ABOUT NUMERO GROUP
Founded in Chicago in 2003, for two decades Numero has committed itself to unearthing precious lost sounds for new audiences, with an unparalleled ear for potential and spirited eye for detail. In the growing noise of the so-called reissue field, The Numero Group remains distinct in its quality: deeply researched, expertly resuscitated and lavishly packaged box sets, playlists and ephemera of historic music from the 1950s to today.
Follow The Numero Group
ABOUT LEVITATION
For over a decade, LEVITATION has delivered lineups that span psych, dream pop, punk, indie, metal, darkwave and electronic music – helping carry the spirit of 1960's sonic experimentation into modern times. It's a beloved record collection manifested into a 4 day weekend, with lineups that span continents and generations: a heady amalgamation of vintage gear, immersive light shows and visuals, buzzing amps, moody synths, leather jackets, and good times in Austin, Texas.
This year's lineup features this stellar Numero 20 lineup plus: Unknown Mortal Orchestra, Badbadnotgood, Flying Lotus, Unwound, Amyl & The Sniffers, The Brian Jonestown Massacre, Oneohtrix Point Never, Panda Bear + Sonic Boom, Durand Jones, The Black Angels, Uncle Acid & The Deadbeats, Ty Segall & Freedom Band, Beach Fossils, Blonde Redhead, Hannibal Buress / Eshu Tune, Shannon & The Clams, High On Fire, Altin Gün, The Dandy Warhols, The Church, Jockstrap, Codeine, Water From Your Eyes - and many more across over 30 shows in Austin this Halloween weekend.
Follow LEVITATION