ODESZA And Death Cab For Cutie To Headline Hometown Performance In Bellingham, Washington On May 18, 2019
The Western Washington University Alums Join Forces For "Double Major" Scholarship Benefit Show
LEARN MORE: https://doublemajorbellingham.com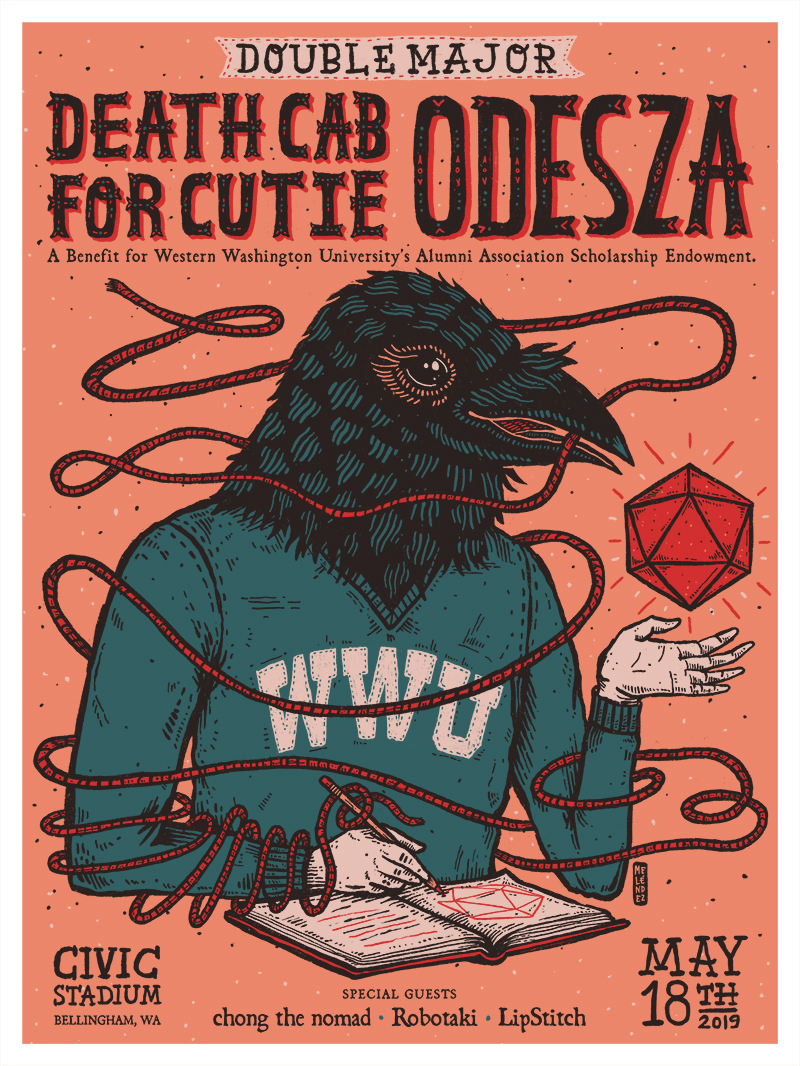 ODESZA and Death Cab for Cutie have announced Double Major, a co-headline benefit show at Bellingham, Washington's Civic Stadium. The show is a homecoming for both bands, having formed in Bellingham when their members were students of Western Washington University. In appreciation for the school and the city of Bellingham, net proceeds from the show will be donated to WWU's Alumni Association Scholarship Endowment.
The bands will transform Civic Stadium for Double Major, building festival-level stage production for the event. Prior to full headline sets from each Death Cab for Cutie and ODESZA, supporting artists chong the nomad, Robotaki, and LipStitch will open the show.
Advance registration for pre-sale tickets is available now at https://doublemajorbellingham.com. Pre-sale tickets are available starting Tuesday, March 5th at 10am PT. Additional tickets will go on sale Friday, March 8th at 10am PT.
For both bands, Double Major is a celebration of the University community and the city of Bellingham. "Bellingham and WWU is where it all began," says Death Cab for Cutie's Nick Harmer. "And as we have continued on, it's been amazing to see and hear so much music continue to flow out of Bellingham too. So when we met ODESZA our bond of being "from Bellingham" was an instant connection."
ODESZA's Harrison Mills and Clayton Knight added in a statement, "We had some amazing times in that town and at that school. We are super excited to come back and do a special benefit show with our friends and fellow alumni Death Cab for Cutie."
Death Cab for Cutie has spent much of the past year on the road celebrating Thank You For Today, their epic schedule highlighted by intimate theatre performances, sold out headline shows, benefit concerts, and top billed sets at festivals across both North and South America. The band also made a series of high profile TV appearances, including performances of "Gold Rush" on CBS's The Late Show with Stephen Colbert, The Late Late Show with James Corden, ABC's Jimmy Kimmel Live!, and the nationally syndicated Ellen DeGeneres Show, alongside performances of "Northern Lights" on Late Night with Seth Meyers, The Late Late Show with James Corden, and NPR's Live From Here.
ODESZA is currently on tour in support of their GRAMMY-nominated album A Moment Apart, having sold out shows at STAPLES Center in Los Angeles and Barclays Center in Brooklyn, in addition to main stage appearances at Coachella, Panorama, Lollapalooza and Austin City Limits. Later this month, ODESZA will head to Riviera Maya, Mexico for their first ever self-curated all-inclusive festival, SUNDARA, March 13-16.
ODESZA
Death Cab for Cutie
https://www.instagram.com/deathcabforcutie/
https://www.facebook.com/deathcabforcutie