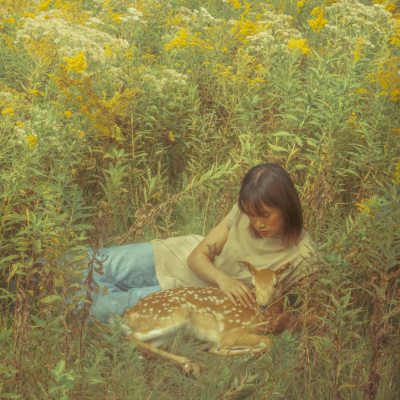 ODESZA & Yellow House Release 'Flaws in Our Design' Collaborative EP 
Today, ODESZA have digitally released their 'Flaws in Our Design' collaborative EP with Yellow House (Cape Town-based songwriter/producer/instrumentalist Emile van Dango), via Foreign Family Collective/Ninja Tune. A dreamy, transformative amalgamation of ODESZA's epic, symphonic compositions and Yellow House's psychedelic alterna-folk, 'Flaws in Our Design' is yet another example of the dexterity of ODESZA's talents & the endlessness of their creative vision.
The 'Flaws in Our Design' EP, out on vinyl September 29, is available for pre-order everywhere now on 140g Clear Sky Blue Vinyl, housed in yellow dust jacket inside a 12" old school uncoated sleeve. A limited edition cassette encased in a printed o-card sleeve will also be offered exclusively via ODESZA's online store.
Of the new EP, ODESZA's Harrison Mills & Clayton Knight shared that "We discovered Emile/Yellow House on SoundCloud and were immediately drawn to his voice and delivery. After finding success working on a few demos we flew him over from South Africa to work with us in our Seattle studio. From the jump, the music had that unmistakable energy of having discovered something special. We found ourselves drawn to a unique blend of electronic production and Emile's incredible ability to create nostalgic melodies and storytelling lyrics. From there we went about creating a number of tracks and exploring various different combinations of the two worlds.
Today's release follows an already busy 2023 for ODESZA. The duo attended this year's GRAMMY Awards in support of their nomination for Best Dance/Electronic Album for their 'The Last Goodbye' EP, which recently saw a deluxe edition release. The album also recently won Best Electronic Record at A2IM's Libera Awards. ODESZA also recently headlined Governors Ball, Bonnaroo and Electric Forest, and are also set to perform top-billing slots at Lollapalooza, Outside Lands, Austin City Limits and Life Is Beautiful. They are also recently announced the second leg of "The Last Goodbye Tour" kicking off this summer and featuring support from Bob Moses, Bonobo (DJ set), Big Boi, TOKiMONSTA, Drama, Neil Frances, QRTR & Olan, and The Midnight.
Earlier this month, for the first time ever, fans were able to experience the awe-inspiring ODESZA live show as an immersive concert film with "ODESZA: The Last Goodbye Cinematic Experience." Presented in cinemas worldwide, "ODESZA: The Last Goodbye Cinematic Experience" serves as a showcase for one of electronic music's most important modern-day innovators as never seen them before, providing an intimate look into the process of creating the group's wildly successful and record-setting return to the touring stage with "The Last Goodbye Tour."
'Flaws in Our Design' Track Listing
1. Dissolved in a Daydream
2. Easy Money
3. Waiting Forever (feat. Preston.)
4. Heavier
5. Undone
6. Flaws in Our Design
-------------
For more information on ODESZA, Please contact Josh Page and Alena Joyiens at Shore Fire Media.