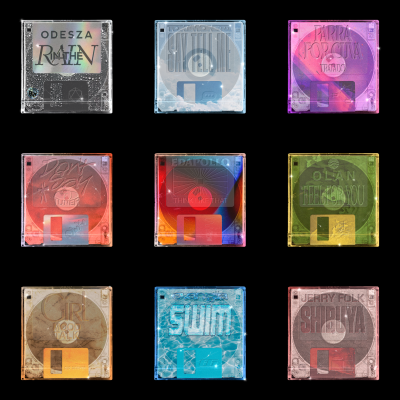 ODESZA's Foreign Family Collective To Release 'Rare.wavs (Vol. 2)' On September 13
Will Include ODESZA's New Single "In The Rain", Contributions From TOKiMONSTA, EVAN GIIA, OLAN & More
On Sept 13, GRAMMY-nominated duo ODESZA will harness the talent found on their own label and artist community, Foreign Family Collective, to release the label's second artist collective album 'Rare.wavs (Vol. 2)'. Including contributions from TOKiMONSTA, EVAN GIIA, OLAN, Parra for Cuva, Mood Talk, bad tuner, edapollo, Jerry Folk, and ODESZA's own new track "In The Rain" (which they have been teasing while on their current North American tour), 'Rare.wavs (Vol. 2)' is an amalgamation of both up-and-coming groundbreakers and modern day trailblazing legends that are all helping redefine electronic music both individually and collectively.
ODESZA's "In The Rain" will be released as a 7" single on limited edition clear vinyl, available HERE
PRESAVE "IN THE RAIN" HERE
Of the forthcoming album, Harrison Mills & Clayton Knight (ODESZA) said "We love the Rare.wavs project from Foreign Family Collective because it gives artists the chance to step outside of their comfort zone and try new directions, which may not work as part of a full record release of their own." They shared that their own new track "In the Rain," was "written on the road while performing our The Last Goodbye Tour. We wanted to make something fun and high energy that would particularly work well in a live environment." ODESZA is currently on the road for the second leg of the aforementioned tour, which follows recent festival headlining spots at Governors Ball, Lollapalooza, Bonnaroo, Outside Lands, Electric Forest, and will include headlining performances at Austin City Limits and Life Is Beautiful. Dates HERE.
Of her contribution, TOKiMONSTA said "When approaching this song, I wanted to touch back on my roots in LA. My early influences are varied, but very much anchored in underground hip-hop and electronic music. While those influences are apparent in my current work, I wanted this song to have a touch of nostalgia — a throwback to who I was a decade ago."
The collection is as eclectic as it is emotionally captivating, be it with a snapshot of unbridled joy on Mood Talk's "Girl" which Jamie Lloyd-Taylor said stemmed from wanting "to create a euphoric sunset moment – the moment you jump off a cliff into the ocean, then stick it in slow mo," a deep moment of self-excavation on OLAN's "Feel For You" which was birthed from a place to "make me feel good when I didn't think I had a lot of reasons to at the time," to even EVAN GIIA finding solace in her contribution "SWIM" that was inspired by the heartbreaking sudden loss of her uncle and serves as "a message to my family as we grieved… I am so excited to finally let this special song out into the world and to keep Patrick's memory alive forever."
"Community is the core of everything we do at FFC and we love how Rare.wavs is a chance for artists to come together in this spirit," said Kyle Kusanagi, head of A&R at Foreign Family Collective. He added "Thematically, this package is about creative freedom and offering artists an outlet to explore outside of their normal process. While each artist brought their own unique inspiration and style to the music, collectively the songs feel connected by the underlying pursuit of freely exploring new sounds, techniques, and ideas."
'Rare.wavs (Vol. 2)' Track Listing
"In The Rain" - ODESZA

"Say Tell Me" - TOKiMONSTA

"Tratado" - Parra for Cuva

"don't say (feat. pluko)" - bad tuner

"Think Like That" - edapollo

"Feel For You" - OLAN

"Girl" - Mood Talk

"SWIM" - EVAN GIIA

"Shibuya" - Jerry Folk
PRESAVE RARE.WAVS (VOL. 2) HERE
More Information on Foreign Family Collective:
Founded in 2015 by the duo behind ODESZA, Foreign Family Collective made its name in the indie electronic space releasing RÜFÜS DU SOL, Big Wild, Jai Wolf, Kasbo, GRAMMY nominated ford., Mild Minds among many others. FFC is not only the home to many amazing up - and - coming musicians, it's an outlet for visual artists including Kusanagi, Japanesedad, Skytea, Landis Tanaka and many more. Bringing music and visual creatives together, FFC has also produced and/or designed live events including ODESZA's legendary Coachella mainstage performance, pop up merchandise stores and SUNDARA, ODESZA's destination festival in Mexico. During the height of the Covid 19 lockdown in the spring/summer of 2020, FFC launched Intermission Broadcast, a regular mix series with mixes by Tycho, Hayden James, BRONSON among others. For more information on Foreign Family Collective, please contact Matt@foreignfamilycollective.com.
For more information on ODESZA, please contact Josh Page at Shore Fire Media.