On Air Fest Announces Full Lineup For On Air: The Podcast Experience, Now Featuring Immersive Installations From Radiolab, Sonos' Object of Sound, My Favorite Murder, On Being & The Heart
The Inaugural Event Takes Over Multiple Rooms at Brooklyn's Wythe Hotel From Feb 23-26, Open to The Public & All On Air Fest Attendees:
Newest Additions to On Air Fest Include Slow Burn: Roe v Wade, Audie Cornish with Kara Swisher, Not Lost with Brendan Francis Newnam and Guest John Cameron Mitchell, Dead Eyes' Connor Ratliff, Plus Live Podcast Tapings From That's How I Remember Itwith Craig Finn & Kevin Morby, Radiotopia Presents: Bot Love, Grown From The Moth, Sheroes & More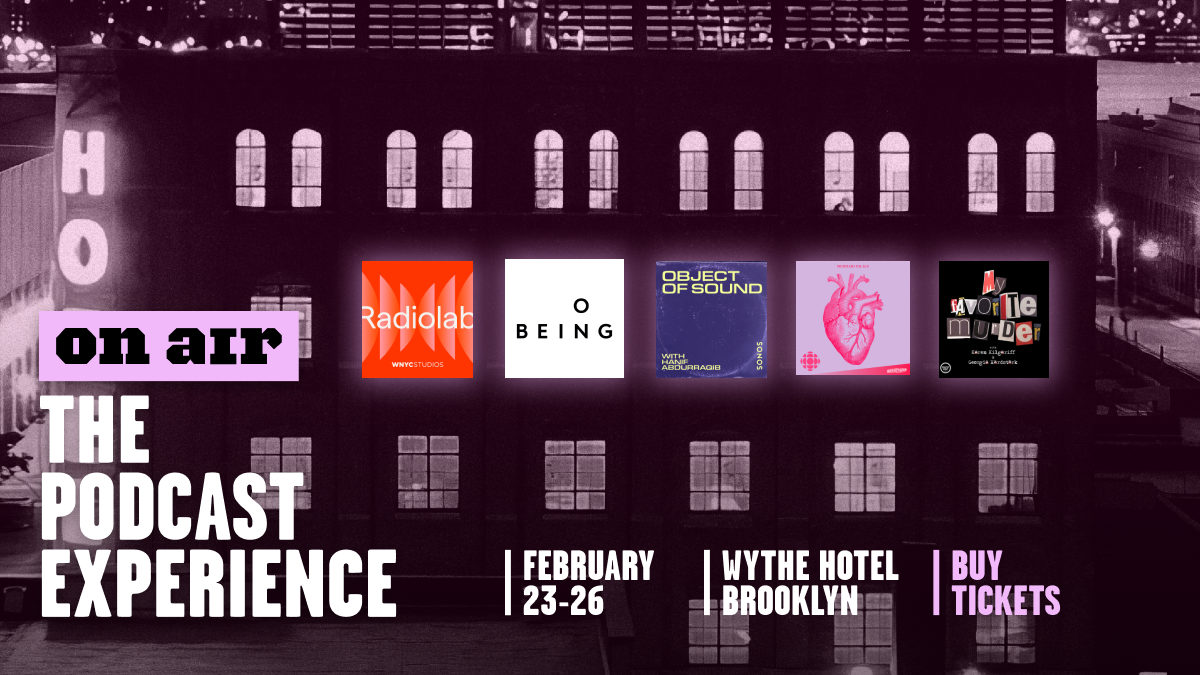 In addition to a lineup of world premieres, exclusive presentations and live tapings from Slow Burn: Roe v. Wade, CNN anchor and Audio Vanguard Awardee Audie Cornish in conversation with Kara Swisher, Dead Eyes' Connor Ratliff, the relaunch of the Peabody Award-winning On Being with Krista Tippett, Not Lost with guest John Cameron Mitchell, People's Party with Talib Kweli, Craig Finn and Kevin Morby, and more still to be announced, next month's 2023 edition of the culture-shaping On Air Fest will deliver the inaugural debut of On Air: The Podcast Experience. From February 23-26 at Brooklyn's Wythe Hotel, the first of its kind walkthrough installation will see a floor of multiple rooms taken over by the worlds of different podcasts and their creators, and today the full list of participating visionaries has been revealed.
Now joining On Air: The Podcast Experience are Radiolab and Hanif Abdurraqib's Object of Sound, as well as My Favorite Murder, On Being and The Heart, all of which will envelop fans, festival attendees and the public in an immersive space that further expands the creative possibilities of audio storytelling.
Designed to spark imagination, delight and a deeper connection, each show will create its own unprecedented and interactive exhibit: Radiolab will bring to life its Universe In Verse special, as hosts Lulu Miller and Latif Nasser guide visitors on a journey from the big bang to the farthest edges of the future, and all the beautiful mysteries of existence in between. My Favorite Murder of Exactly Right Media will recreate its storied "Pod Loft" with surprises at every turn, and original artifacts from the creators' personal archive. On Being invites guests to engage with the enduring human questions of our time, through a living, audible and tactile sculpture composed of the animating questions that inspire Peabody Award-winning podcast host Krista Tippett and her guests. Kaitlin Prest's The Heart will open up the private world of two lovers documented for 24 hours in that very same hotel room, and Object of Sound from Sonos will present a listening lounge curated by host and acclaimed music critic Hanif Abdurraqib. The room will feature crates of vinyl and visitors can contribute to a participatory playlist, all while listening to the music that shapes our culture today playing on Sonos' unparalleled speaker systems.
Find tickets and additional information here:
https://www.experiencepodcasts.com
On Air: The Podcast Experience marks the latest innovation and sonic evolution from On Air and the festival's producers at work x work, who continue to break new ground for the artform year after year. "Podcasting is a medium that should be unbound. The artists and storytellers defining the space are challenging conventions and reshaping our cultural landscape," says Creative Director and Founder, Scott Newman. "Interactive fan experiences have become commonplace in television and art and with On Air: The Podcast Experience we are bringing your favorite podcasts to life in a brand new way."
On Air: The Podcast Experience will run from February 23-26, open to all festival attendees and independent ticket holders. On Air Fest programming will span February 23-25 in both the Wythe Hotel's main hall and - for the first time ever - a newly added stage of live tapings called The Podcast Penthouse.
Stay tuned for single day schedules, plus another exciting wave of headliners and lineup additions coming soon, with tickets and more details available at onairfest.com/events/brookyln-2023/home.
About On Air Fest
On Air Fest is advancing the culture of audio. We bring together an expansive range of emerging and established voices to explore the creative possibilities of sound. Created and produced by work x work, On Air Fest has evolved into the premier cultural event for audio storytellers and inspired listeners. Throughout the year, we produce a range of cultural programming, from annex events, to our residency program, creative collaborations to cultural campaigns and podcasts. On Air Fest carves a place for artists and storytellers who are defining this moment in audio.
About work x work
work x work is a full-service creative agency amplifying the world's leading brands through storytelling, design, and experiences. Our innovative work has made us the go-to agency for organizations looking to participate in audio culture. In addition to design, strategy and events, we create multi-channel campaigns, original content and produce podcasting's premier cultural event, On Air Fest.
For more information, contact Matt Hanks, Greg Jakubik or Annie Mickum at
Shore Fire Media, (718) 522-7171