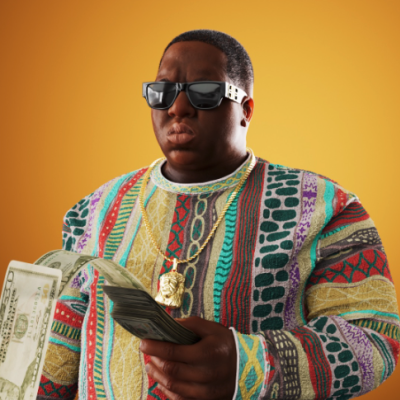 OneOf Announces Sky's The Limit: The Notorious B.I.G. NFT Collection In Partnership With The Christopher Wallace Estate
NFT Collection Enables Fans To Collectively License The Audio Recording Of The Notorious B.I.G.'S Most Famous Freestyle
Allow List Opens Today, Drop Goes Live July 26, 2022
June 22, 2022 – OneOf has announced Sky's the Limit: The Notorious B.I.G. NFT Collection, a first-of-its-kind NFT in partnership with The Christopher Wallace Estate. Bringing music to Web3 in a way that only OneOf can, the platform will host a generative profile picture (PFP) NFT collection that honors and celebrates The Notorious B.I.G. as one of the most influential rappers and cultural figures of all time.
The Sky's the Limit: The Notorious B.I.G. NFT Collection features unique 3D NFT characters inspired by his life, style and lyrics, and crucially gives each NFT holder the right to collectively license the audio of Biggie Smalls' most famous freestyle, filmed on a street corner in Brooklyn when he was just 17. Despite its legendary status, the freestyle has never been officially released or made available for other musicians to sample and use in their own songs. Until now.
All NFT holders automatically become part of a revolutionary new Sky's The Limit collective, with Web3 putting fans in the driver's seat of this piece of hip hop history. With the approval and oversight of the collective (and estate), musicians can license and include Smalls' iconic freestyle in their own recording. The song can be released on music streaming services with a "featuring The Notorious B.I.G." credit in the song title.
The Sky's the Limit: The Notorious B.I.G. NFT Collection will be available at: http://oneof.com/biggie
Today on OneOf, fans are able to sign up for the allow list. The collection will be available to purchase on July 26. NFT holders will also have first access to The Brook, a lifestyle, fashion, culture, music, entertainment metaverse experience launching soon with BIGGIE's hyper realistic avatar as a character.
"We named this collection 'Sky's The Limit' because we believe this is a watershed moment in NFTs where seminal artists like Biggie and their truest fans can drive culture and drive value together," said Joshua James, OneOf Co-Founder & COO. "We're thrilled to work with The Christopher Wallace Estate to honor Biggie's enduring legacy, in web3 and beyond, and we have some amazing surprises for NFT holders along the way."
"Biggie's music is a very important part of hiphop culture and it's global impact," said Wayne Barrow, Manager of Voletta Wallace/BIGGIE's estate. "Our business partner, Elliot Osagie of Willingie Inc, came up with the concept of coming together with OneOf to share the infamous freestyle that showcased to the world the icon that Biggie would soon become through an NFT, and sharing it with his fans in this way we are certain would make him proud."
This is the latest high profile partnership for OneOf, a creator-first NFT platform founded by music industry veterans that brings fans closer to their favorite artists than ever before. Backed by Quincy Jones and operating on a proof-of-stake network that uses 2 million times less energy than other platforms in the Web3 space, OneOf has hosted and created drops for some of the biggest artists and entities in music: Whitney Houston (including a never-before-heard demo recording made when she was 17), Doja Cat, a 3-year partnership with The Recording Academy and The GRAMMY Awards, and more. OneOf also just hosted the very first eBay NFT collection, as well as drops from Anheuser-Busch, Snapple and an on-going partnership with Sports Illustrated featuring some of the greatest athletes of all time.
ABOUT ONEOF
OneOf is a platform that supports NFTs on multiple energy-efficient blockchains, connecting fans and collectors to their favorite musical artists and brands. OneOf aims to bring the next 100 million non-crypto-native fans into Web3 by removing the technical frictions and allowing fans to pay for their NFTs with credit/debit cards as well as major cryptocurrencies. Minting an NFT on OneOf's platform uses over 2 million times less energy than proof-of-work networks, and for its users, purchasing NFTs costs $0 in blockchain gas fees. For more info https:/www.oneof.com
ABOUT THE NOTORIOUS B.I.G.
By the age of 24, Christopher Wallace aka "The Notorious B.I.G." changed both music and culture forever, solidifying his legacy as "the greatest rapper of all-time" according to Billboard and The Source. His 1994 full-length debut, Ready To Die, earned a quadruple-platinum certification from the RIAA, spawned the GRAMMY®Award-nominated "Big Poppa," and stands recognized at #1 on Rolling Stone's 200 "Greatest Hip Hop Albums of All Time" list, #133 on "500 Greatest Albums of All Time," and #8 on the "100 Best Albums of the Nineties" as well as being included on The Source's "100 Best Rap Albums of All Time List," Pitchfork's "Top 100 Favorite Records of the 1990s," and Time's "Top 100 Albums of All Time." Released posthumously following his tragic March 9, 1997 passing, Life After Death achieved a coveted RIAA Diamond Certification—one of few hip-hop albums to do so—and three GRAMMY® Award nods. In the current music landscape Biggie has amassed over 8 Billion Streams of his music.. The critically acclaimed biopic Notorious celebrated his life and attracted widespread acclaim and box office success. His influence reverberates throughout music, fashion, film, and beyond as one singular word describes his impact forever: NOTORIOUS.
Contacts:
Chris Taillie, Erica Goldish and Greg Jakubik
Shore Fire Media
Jennifer Styles
OneOf, Inc.