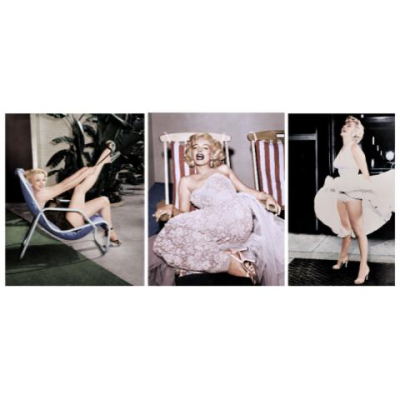 OneOf - Green Web3 Company & Globe Entertainment's Legends Of Film: Blonde Bombshell Collection Bring Iconic Marilyn Monroe Photographs To Web3
Allows Collectors To Purchase Redemption Token With Access To Physical Print With Digital Certificate Of Authenticity Verified On The Blockchain
Taken By Legendary Photographer Frank Worth
Sept 22, 2022 - Green Web3 platform OneOf has announced a new NFT collection featuring three iconic photographs of Marilyn Monroe, taken by legendary photographer Frank Worth. The drop is a continuation of OneOf's partnership with Globe Entertainment and Media (Globe), custodians of the world's most famous archives including Globe Photo Agency, Movie Star News and the Frank Worth Archive. Over the past month this partnership has brought famous photographs of Jimi Hendrix (Jill Gibson) and David Bowie (taken by Jeffrey Mayer) to Web3 for the first time.
The Legends of Film: Blonde Bombshell features breathtaking shots of Hollywood-darling Marilyn Monroe taken by photographer Frank Worth— friend and confidant to many of Hollywood's elite. Worth's personal relationships and loyalty to the stars he candidly shot kept him from publishing his images, and as a result, only a few of his extraordinary photographs were seen during his lifetime. Worth made a modest living as a freelance photographer in Hollywood during the 1940s and 50s, when most photographers were constrained by the powerful studio system. However, Worth used his personal relationships to sidestep these restrictions, permitting him to capture the greatest collection of intimate images and the glamor of the icons and the era—including one of the most legendary actresses of all time—Marylin Monroe.
This collection features three photographs: Marilyn Monroe in Desk Chair (1955), Marilyn Monroe in Bathing Suit (1949), and Marilyn Monroe on Set of The Seven Year Itch (1955). When these images were discovered after Worth's death, Christie's of London called them the most significant find in the past 50 years.
There are 149 editions of a single Redemption Token NFT, and buyers are able to select which of the three photographs they'd like at the time of redemption. The pre-sale launches today and the main sale starts at 3PM eastern on September 29.
The Marilyn Monroe by Frank Worth prints will be a OneOf exclusive 18x13 inches. Three lucky buyers will be given the opportunity to upgrade their print size to 20x24 inches (normally retails at $1,495) as well as receive a 1-Year video streaming service subscription.
The Redemption Token NFT serves as a trading token for the physical prints of Marylin Monre and the accompanying non-fungible certificate of authenticity (NFCOA). This redemption token can be used to resell this NFT on the OneOf Marketplace. Once the holder of the Redemption Token NFT decides to redeem their token for a print of Marylin Monre, they will have the ability to choose one of three print options and their token will be burned and replaced with the NFCOA, confirming their ownership of the physical print, and the print will be sent to their mailing address.
Thursday, September 22, 2022 – Launch Pre-Sale Drop
2:00pm ET – OnePass Exclusive @ $199
Friday, September 23, 2022 – Launch Pre-Sale Drop
2:00am ET – OnePass + Globe NFT holders Exclusive @ $199
2:00pm ET – Public @ $399
Thursday, September 29, 2022 – Launch Main Sale Drop at 3:00pm ET @ $1495 [if not sold out]
"These Frank Worth Archives photos of Marilyn Monroe are a treasure of Hollywood memorabilia," says Klaus Moeller, CEO of Globe Entertainment and Media. "Now fans can not only own these photos with digital proof but have the chance to win upgrades and perks."
"The amount of jaw-dropping photos in Globe's collection is astounding, and these Frank Worth photos of Marilyn Monroe are no exception," says Thomas Fiss, OneOf Vice President of Music NFTs. "With this partnership, collectors have a distinctly modern and safe way to own these photographs, in a large version physical format that's also verified by the blockchain."
OneOf kicked off their Globe partnership with Legends of Rock: Summer of Love at the Monterey Pop Festival. The collection celebrated Jill Gibson's icon Monterey Pop Festival photographs of rock icons including Jimi Hendrix, The Who and Ravi Shankar. For the first time ever, Jill published her famous Jimi Hendrix Rolling Stone cover shot from the festival. The Globe NFT collection continued with The Legends of Rock: David Bowie—Stardust in Santa Monica collection, featuring 130 limited prints of a photograph of David Bowie, taken by photographer Jeffrey Mayer during Bowie's Ziggy Stardust Tour stop at the Santa Monica Civic Auditorium on October 20, 1972—the day David Bowie would change music forever. It was captured during a rare moment, when David Bowie played harmonica on "Jean Genie."
ABOUT GLOBE
Globe Entertainment & Media Corporation (Globe) is the owner of one of the most iconic photographic archives in the world. With close to 25 million original negatives, transparencies and vintage prints, the collection includes many of the most well-known images of Pop Culture, Movies, Sports, Music and Historic Events – as well as many that have never been seen by the public.
ABOUT ONEOF
Deeply committed to a sustainable blockchain future, OneOf is a NFT platform that supports NFTs on multiple energy-efficient blockchains, to create sustainable, creator-and-fan-friendly experiences. Minting a NFT on OneOf's platform uses up to over 2 million times less energy than proof-of-work networks, and for its artist and brand partners, minting NFTs costs $0 in blockchain transaction fees. OneOf aims to bring the next 100 million non-crypto-native fans into Web3 by removing the technical frictions and allowing fans to pay for their NFTs with credit/debit cards as well as major cryptocurrencies. Committed to diversity, over 80% of the collections featured on OneOf comes from minority or female creators. In addition, OneOf donates portions of proceeds from every NFT collection to its artist or athlete partner's preferred charity.