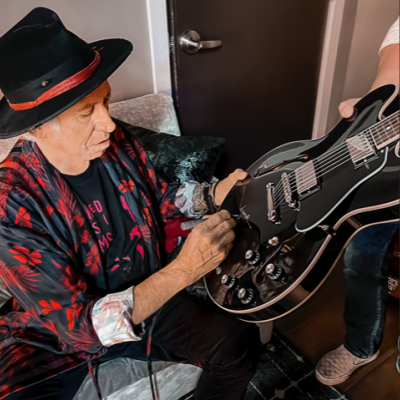 OneOf Partners with MusiCares® and Julien's Auctions to Mint First-Ever Keith Richards NFT
Exclusive Collectible Launched in Conjunction with MusiCares® Charity Relief Auction January 30th, 2022
OneOf - The green NFT platform built for music - has announced an exclusive partnership with MusiCares® and Julien's Auctions to mint the very first NFT from rock legend Keith Richards. Julien's Auctions is the official auction partner for MusiCares, the leading music industry charity that provides a support system of health and human services to music professionals across a spectrum of needs including physical and mental health, addiction recovery, preventative clinics, unforeseen personal emergencies, and disaster relief. Their annual charitable auction features a Gibson ES-335 acoustic electric guitar signed by Keith Richards along with a one-of-a-kind video NFT that will be minted through OneOf's sustainable technology. OneOf has recently launched debut NFT collections from the Whitney Houston estate, Doja Cat and more, in addition to partnerships with the Recording Academy®,iHeartRadio Music Festival and beyond.
The auction starts January 13th and bidding for the lot comprised of the guitar and NFT together will close in real time and in lot order starting at 1PM Pacific Time on January 30th, 2022. A press preview of the items featured in the MusiCares Charity Relief Auction - which includes the guitar signed by Richards as well as items from Dolly Parton, Paul McCartney, BTS, Katy Perry and Bono - will take place on Monday, January 24 from 10AM-3PM PT at Julien's Auctions, 257 N. Canon Drive in Beverly Hills.
Go here for more details:
Since launching this summer, OneOf has strived to partner with, and support, charitable causes as well as the music and art communities. This includes raising funds for the Right Here, Right Now Global Climate Alliance (a partnership with United Nations Human Rights), as well as OneOf's Whitney Houston Collection that dropped in November, in which a portion of record-setting proceeds benefited the Whitney Houston Foundation.
"We are honored to be the platform to mint the first-ever Keith Richards NFT," says Adam Fell, OneOf co-founder & President of Quincy Jones Productions. "Keith is music royalty and we applaud him and his team for championing eco-friendly blockchain technology that can empower musicians for generations to come."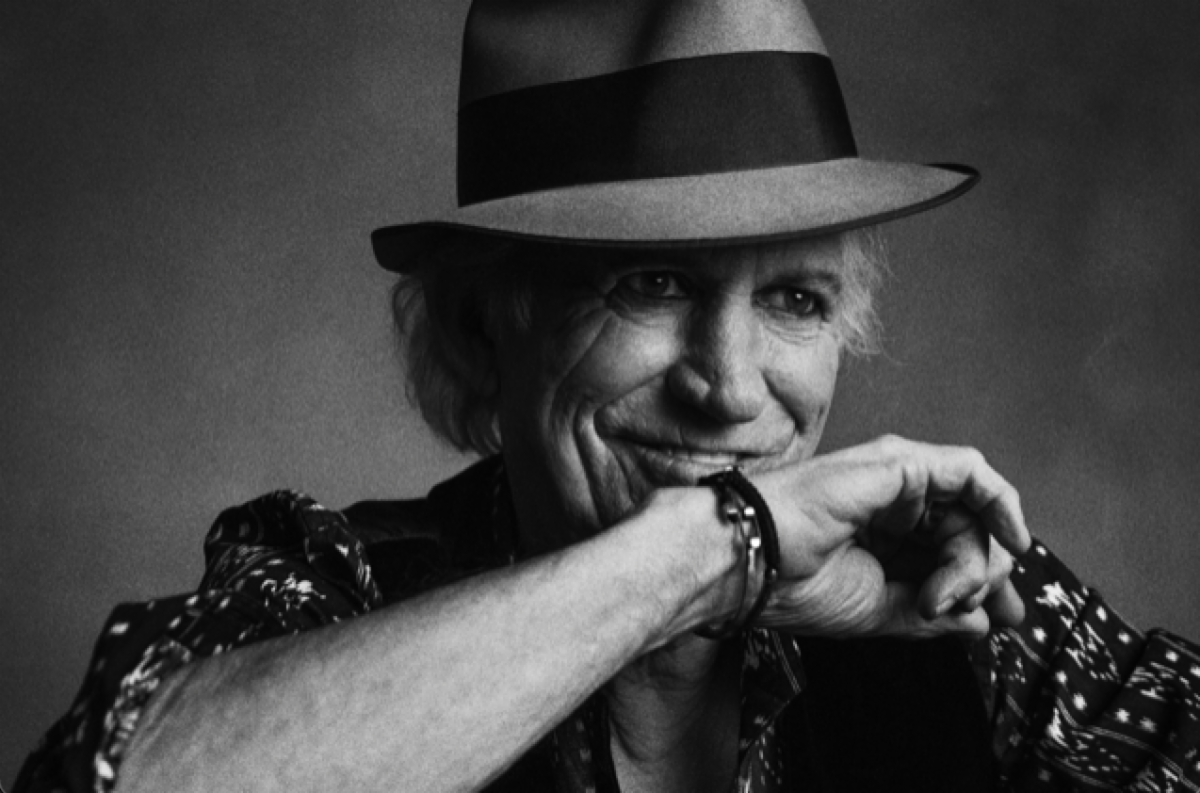 Photo Credit: Inez & Vinoodh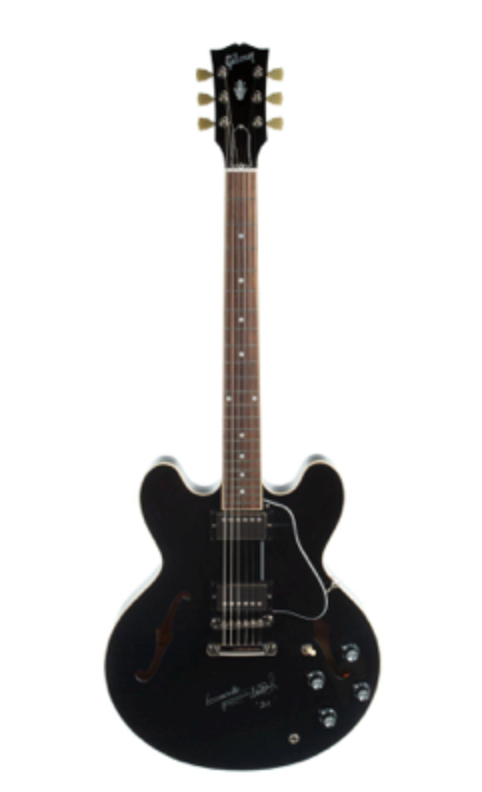 [Gibson ES-335 signed by Keith Richards]
Full auction description: KEITH RICHARDS SIGNED GIBSON ELECTRIC ACOUSTIC GUITAR AND VIDEO NFT 1 OF 1: A Keith Richards signed Gibson ES-335 in Ebony that includes a one-of-a-kind four second video authenticating his signature taken at Germano Studios. Photo and video credit © Jane Rose. The Gibson ES-335 is the cornerstone of the Gibson ES line-up. From its inaugural appearance in 1958, the Gibson ES-335 set an unmatched standard. With impeccable sounds across its wide-ranging tonal palette, the ES-335 can be found in the hands of jazz, blues, and rock players all over the globe. SKU ES33500EBNH1 S/N: 211310255. Donated by Gibson Gives (estimate $6,000-$8,000).
About OneOf:
OneOf is a NFT platform designed for the music community to create an environmentally sustainable, artist-and-fan-friendly experience. Built on the Tezos blockchain protocol, minting a NFT on OneOf's platform uses two million times less energy than other proof-of-work networks, and for its artist and creator partners, minting NFTs costs $0 in blockchain transaction fees. Dedicated to charitable causes, OneOf offers artists using their platform the option to donate portions of their NFT proceeds to charities of their choice. OneOf also enables fans to pay with credit and debit cards as well as cryptocurrencies.
About Julien's Auctions:
Julien's Auctions is the world record-breaking auction house to the stars. Collaborating with the famous and the exclusive, Julien's Auctions produces high profile auctions in the film, music, sports and art markets. Julien's Auctions has received international recognition for its unique and innovative auction events, which attract thousands of collectors, investors, fans and enthusiasts from around the world. Julien's Auctions specializes in sales of iconic artifacts and notable collections including Marilyn Monroe, John Lennon, Ringo Starr, Lady Gaga, Banksy, Cher, Michael Jackson, U2, Barbra Streisand, Les Paul, Neil Young, Elvis Presley, Frank Sinatra, Jimi Hendrix, Hugh Hefner and many more.
In 2016, Julien's Auctions received its second placement in the Guinness Book of World Records for the sale of the world's most expensive dress ever sold at auction, The Marilyn Monroe "Happy Birthday Mr. President" dress which sold for $4.8 million. Julien's Auctions achieved placement in the Guinness Book of World Records in 2009 for the sale of Michael Jackson's white glove, which sold for $480,000 making it the most expensive glove ever sold at auction. In 2020, Julien's Auctions received its third Guinness Book of World Record placement for the sale of Kurt Cobain's "MTV Unplugged" 1959 Martin D-18E acoustic-electric guitar, which sold for $6 million making it the world's most expensive guitar ever sold at auction. Based in Los Angeles, Julien's Auctions has a global presence bringing their auctions and exhibitions to targeted destinations worldwide including London, New York, Las Vegas, Japan and China. Live auctions are presented for bidders on-site and online via live streaming video and mobile technology. For more information on Julien's Auctions, go to www.juliensauctions.com. Connect with Julien's Auctions atwww.facebook.com/JuliensAuctions or www.twitter.com/JuliensAuctionsor www.instagram.com/juliens_auctions.
Julien's Auctions Contact:
Mozell Miley-Bailey
About MusiCares:
MusiCares helps the humans behind music because music gives so much to the world. Offering preventive, emergency, and recovery programs, MusiCares is a safety net supporting the health and welfare of the music community. Founded by the Recording Academy in 1989 as a U.S. based 501(c)(3) charity, MusiCares safeguards the well-being of all music people through direct financial grant programs, networks of support resources, and tailored crisis relief efforts. For more information please visit: www.musicares.org.
MusiCares Contact:
Jenn Kerr for MusiCares