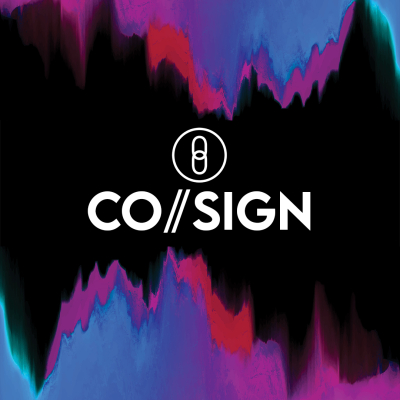 OneOf ReImagines The Fan Club With Web3: CO//SIGN NFT Program
Empowers Music's Next Generation Of Break-Out Stars And Their Fans
First Artists To Be Spotlighted On Quincy Jones-Backed Platform Include: Amindi, Rakeem Miles, mazie, Mack Keane, Elujay and Franc Moody
Weekly "Rookie Card" Drops Start This Wednesday At oneof.com
April 18, 2022 — As part of OneOf's mission to onboard millions into Web3, the platform has revealed CO//SIGN. CO//SIGN reimagines the fan club by embracing Web3 technology to highlight breakout and buzzworthy musicians at the bleeding edge of culture, providing them with creative, financial, and marketing support. This new program will empower the journey into Web3 for both the artist and their fanbase through a series of NFTs. Learn more about the program and first artists featured HERE.
Every artist that enters the CO//SIGN program will have their own unique "rookie" card-style NFT collectible for sale via oneof.com. A new artist will be featured each week, beginning this Wednesday. The artists will receive a large portion of the proceeds in perpetuity, creating a long-lasting revenue stream that can be used to fund their careers, from recording to touring. Fans can be assured that by purchasing these digital collectibles, they are putting money directly into their favorite artists' pockets.
With these limited edition non-fungible tokens, Web3 technology is facilitating an economic link between the artist and the fan, a truly modern version of the decades-old fan club. Fans have the opportunity to become early believers in these artists being spotlighted by OneOf's new program, and incentivized to spread the word on these breakout stars. Over time, fans holding the trading card collectibles will also be rewarded as the CO//SIGN artists pass career milestones. An added benefit to the artist is that as their trading cards are re-sold on OneOf's marketplace, they see a resale royalty from each transaction.
The CO//SIGN collection of trading card-style NFTs will continue to grow as more artists are featured, and it will be gamified for the fan community, with certain sets opening up access to rewards that will be announced.
The first group of artists includes Amindi, Rakeem Miles and mazie. Amindi (April 20) is an LA-based artist who draws on her first-gen Jamaican heritage to craft contagious and honest songs. Her music has been featured on Issa Rae's Insecureand Amindi has been covered by Complex, OkayPlayer, Consequence of Sound and The Fader, with Vice calling her a "true artist, one who refuses to be bound by anything that will limit her creative reach." Rakeem Miles (April 27) is the embodiment of creative genius expressed through his self-proclaimed "alternative hip-hop" sound and thought-provoking visual art. He has been featured by Complex and Billboard, and is the founder of the Weird n Awful Music Festival, which has included such headliners as Left Brain, Mike G of Odd Future, and Waka Flocka Flame among others. mazie (May 4) builds her music on contradictions and double negatives, pairing bleak, fatalistic lyrics with shiny, alt-pop arrangements as infectious as they are unpredictable. mazie spent her childhood studying classical and jazz vocals and she's been featured by Ones To Watch, Ladygunn, Newsweek, and the New York Times Playlist.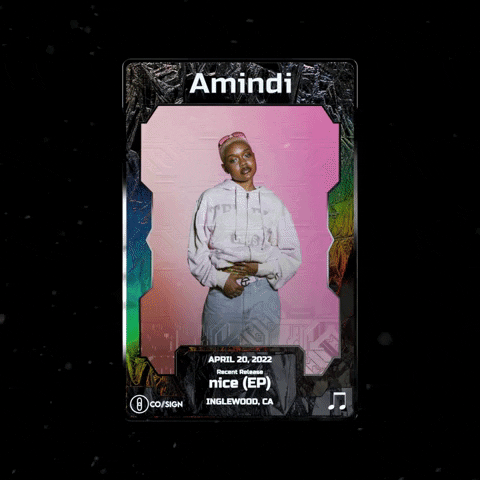 CO//SIGN will continue in May with Mack Keane, Elujay and Franc Moody. Mack Keane is a neo-soul and R&B-infused pop artist and storyteller whose inspirations range from Donny Hathaway and Steely Dan to OutKast and Frank Ocean; Mack has been featured by Nylon, Dancing Astronaut and Complex. Elujay is a singer/songwriter/producer/director/graphic designer hailing from Oakland, CA. His influences span from alternative, R&B, jazz, and soul, he has already completed three tours and was featured by Billboard and Revolt TV. Franc Moody's sound is contemporary funk, awash with electronic inspiration and throbbing grooves. Tracks like "Dopamine" and "Dance Moves" have more than 20 million streams and have performed at Glastonbury.
"The OneOf CO//SIGN program was designed to completely reinvent the decades-old fan club in a truly modern way with Web3 technology," says Adam Fell, Co-Founder of OneOf, longtime artist manager and President of Quincy Jones Productions. "Using the inherent scarcity of non-fungible tokens, a new economic partnership between the artist and the fan is created. CO//SIGN identifies breakout artists, and fans that are early adopters and believe in these burgeoning careers embark on the journey together. And like OneOf's other drops and platform as a whole, this was designed to be environmentally friendly and extremely easy to use."
The NFTs for each CO//SIGN musician will be designed by SillyGabe, a multidisciplinary digital artist specializing in audio-reactive visuals. Drawing inspiration from both elemental nature and sci-fi futurism, his world combines the natural world with the surreal.
A new CO//SIGN artist will be featured each Wednesday, with their NFT dropping at 3pm Eastern time on OneOf.com. Prices for the NFTs range from $10-$50 and new artists to be showcased by the program will be announced on a weekly basis beginning in June.
Through CO//SIGN, these culture-shifting artists join OneOf's blossoming ecosystem, which includes collectibles from Whitney Houston, Notorious B.I.G., Doja Cat, Cordae, Masego and dozens more.
About OneOf
Deeply committed to a sustainable blockchain future, OneOf is a NFT platform designed to create a sustainable, creator-and-fan-friendly experience. Built on the environmentally responsible proof-of-stake blockchain Tezos, minting a NFT on OneOf's platform uses up to over 2 million times less energy than other proof-of-work networks, and for its artist and brand partners, minting NFTs costs $0 in blockchain transaction fees. OneOf aims to bring the next 100 million non-crypto-native fans into Web3 by removing the technical frictions and allowing fans to pay for their NFTs with credit/debit cards as well as many top cryptocurrencies. Dedicated to charitable causes, OneOf offers partners using their platform the option to donate portions of their NFT proceeds to charities of their choice.
https://shorefire.com/roster/oneof