Green Web3 Company OneOf Announces Strategic Partnership With Iconic Photo Agency Globe Entertainment And Media, Bringing Historic Photos To Web3
Legends Of Rock: Summer Of Love At The Monterey Pop Festival Launches August 18, 2022
Featuring NFTs Backed By Physical Prints Of Jill Gibson's Jimi Hendrix And Monterey Photographs
August 18, 2022- Green Web3 platform OneOf announces a new partnership with Globe Entertainment and Media (Globe), custodians of the world's most famous archives including Globe Photo Agency, Movie Star News and the Frank Worth Archive. Through an ongoing partnership, the two companies will bring iconic images of musicians, movie stars, comic book characters and cultural events into Web3, bridging physical and digital worlds together. In celebration of the Monterey Pop Festival's 55th anniversary, OneOf and Globe have launched Legends of Rock: Summer of Love at the Monterey Pop Festival on August 18.
Featuring performances by Jimi Hendrix, The Who and Ravi Shankar, the seminal 1967 Monterey Pop Festival is regarded as the birth of the "Summer of Love" movement. Photographer Jill Gibson was there to capture it all over a three-day period. For the first time ever, Jill is publishing her famous Jimi Hendrix Rolling Stone cover shot from the festival.
Extremely limited to 99 editions of each photograph-backed-NFT, fans have a rare chance at owning rock and roll history. Each physical photograph (12" x 18") is printed on Hahnemuhle Photo Rag 188GSM, numbered and signed by Jill. Every purchase comes with a secure Digital Certificate of Authenticity inspired by Chris Vranian, America's foremost Rock and Roll Photography curator. In tech terms, this NFCOA (Non-Fungible Certificate of Authenticity) confirms the ownership of a limited-edition signed Jill Gibson print and NFT on the blockchain.
One lucky collector will also receive an original program from the Monterey Pop Festival.
"It's a delicate process, merging our analog relics with our digital future," says KLAUS MOELLER, CEO of Globe Entertainment and Media. "OneOf has a history of working with integrity while handling historic IP and we knew they would be the perfect partner to help us realize this vision."
"Globe is the home to some of the most iconic photographic archives in the world," says Thomas Fiss, OneOf Vice President of Music NFTs. "We're excited to share their storied history with the world through new immersive Web3 partnerships."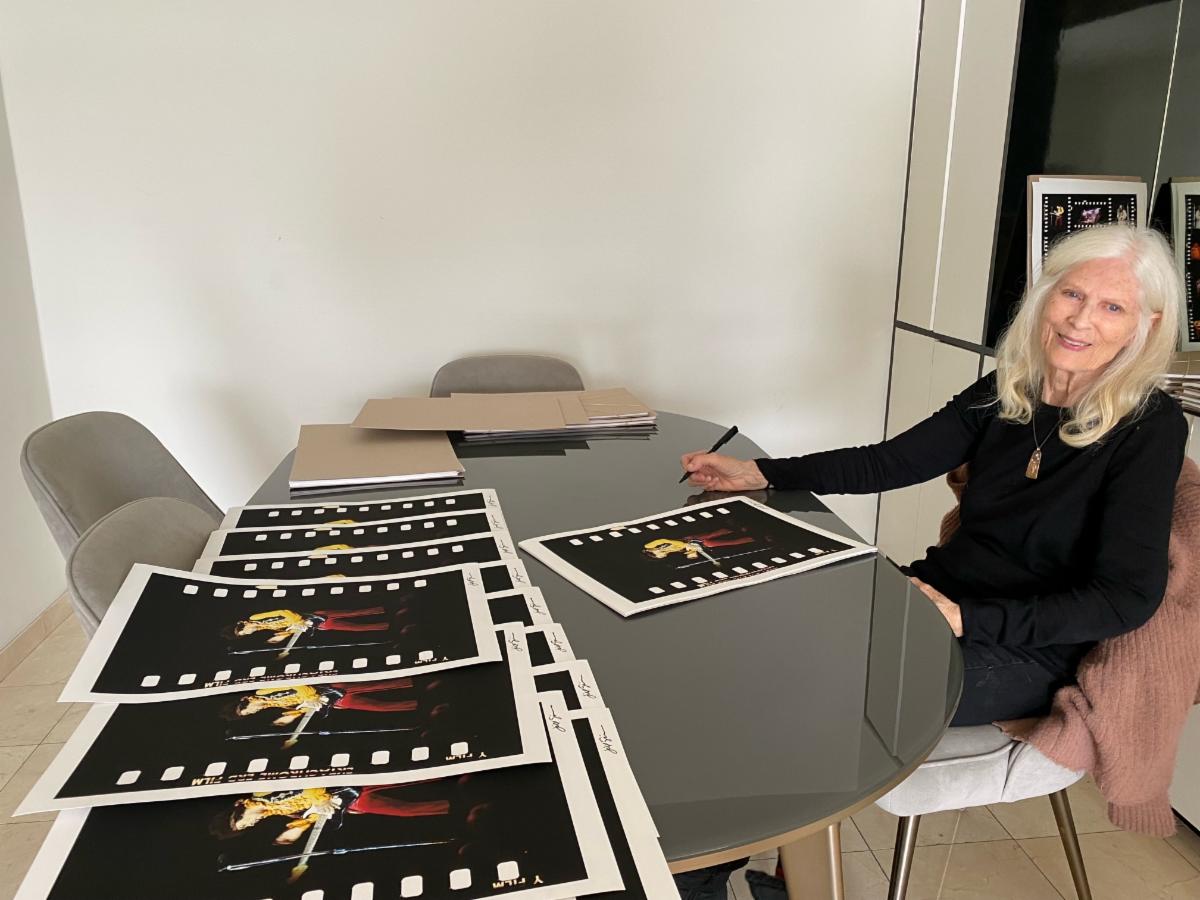 Jill Gibson signing the physical prints.
ABOUT GLOBE
Globe Entertainment & Media Corporation (Globe) is the owner of one of the most iconic photographic archives in the world. With close to 25 million original negatives, transparencies and vintage prints, the collection includes many of the most well-known images of Pop Culture, Movies, Sports, Music and Historic Events – as well as many that have never been seen by the public.
ABOUT ONEOF
Deeply committed to a sustainable blockchain future, OneOf is a NFT platform that supports NFTs on multiple energy-efficient blockchains, to create sustainable, creator-and-fan-friendly experiences. Minting a NFT on OneOf's platform uses up to over 2 million times less energy than proof-of-work networks, and for its artist and brand partners, minting NFTs costs $0 in blockchain transaction fees. OneOf aims to bring the next 100 million non-crypto-native fans into Web3 by removing the technical frictions and allowing fans to pay for their NFTs with credit/debit cards as well as major cryptocurrencies. Committed to diversity, over 80% of the collections featured on OneOf comes from minority or female creators. In addition, OneOf donates portions of proceeds from every NFT collection to its artist or athlete partner's preferred charity.