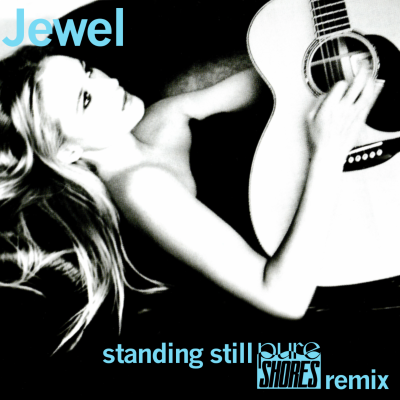 Out Now: Jewel Shares Effervescent New Remix of "Standing Still" with Swedish Pop Duo Pure Shores
New Collaboration Celebrates the 20th Anniversary of Jewel's Platinum-Selling Album This Way 
Stream "Standing Still (Pure Shores Remix)" HERE
Los Angeles, CA - December 3, 2021 - Grammy-nominated singer-songwriter and mental health advocate Jewel celebrates the 20th anniversary of her platinum-selling fourth studio album This Way with a radiant new remix of the hit single "Standing Still."
"Standing Still" broke the Billboard Hot 100 chart in the US upon its original release, while receiving worldwide acclaim reaching the top 40 in Australia, the Netherlands, and New Zealand. At the time, Jewel shared with Rolling Stone, "I wrote [the song] about the supposed irony of how much I move and travel and how I'm in constant motion and how that constant motion can make your love life stand still, and also really your emotional life."
The "Standing Still (Pure Shores Remix)" has a refreshing dancefloor-ready tone that gives light to the short days of the current season. The reimagined composition is a glowing reminder that Jewel's versatile vocals are accustomed for any musical setting, whether it be folk, acoustic, pop, EDM or otherwise.
Adding to Jewel's collection of remixes from earlier this year, "Standing Still (Pure Shores Remix)" follows the Pride month remixes of "Intuition" and "Stand" with Initial Talk and Bright Light Bright Light. Jewel shared the new music to honor the LGBTQ community, saying on social media, "My LGBTQ friends & family have enriched my life in innumerable ways - the humor, love & ferocity of spirit inspire me every day."
In recent news, Jewel has alluded to new music coming in 2022. For music updates and more, visit jeweljk.com and connect with Jewel on social media.
About Jewel:
Jewel went from a girl who grew up with no running water on an Alaskan homestead, to a homeless teenager in San Diego, to an award winning, multi-platinum recording artist who released one of the best-selling debuts of all time. Through her career Jewel has sold over 30 million albums worldwide and has earned 26 nominations for such awards as the GRAMMYs, American Music Awards, MTV Awards, VH1 Awards, Billboard Music Awards, and Country Music Awards, winning eight times. Jewel has been featured on the cover of TIME Magazine, Rolling Stone, has performed on Saturday Night Live, at the Super Bowl and the NBA Finals, for the Pope and the President of the United States. She has experimented with several genres over her career with top hits in Folk, Pop, Club, Country, Standards, Children's and Holiday music.
Today, Jewel continues to be a leader in the conversation around mental health, helping people tackle the silent symptoms of COVID-19—anxiety, depression, and isolation—to build community and connection for those who need it most. For more than 18 years, Jewel's non-profit, the Inspiring Children Foundation has helped at-risk youth cope with the same silent symptoms we are now seeing throughout the pandemic. Growing up in Alaska where she was indoors for eight months out of the year, she knows about isolation. After moving out at 15 due to an abusive household and suffering from debilitating panic attacks, Jewel became homeless by the age of 18 and developed agoraphobia, the fear of leaving one's home, a condition that experts worry some people will develop in the post-COVID-19 era. Mental health has been a significant passion of hers since being a homeless teenager with little access to resources. During that time, she began to develop a set of tools to rewire her brain and create new emotional patterns that were later validated by neuroscientist and associate professor in psychiatry at Brown University, Dr. Judson Brewer. After learning meditation and discovering and innovating her own mindfulness practices, Jewel was able to heal symptoms of her depression and go from surviving to thriving. These are the same tools she uses to help at-risk youth through her charity and the same tools she is offering online for free. For more information, please visit www.InspiringChildren.org. To access Jewel's free online tools, please visit www.JewelNeverBroken.com.
Connect with Jewel:
Website | Facebook | Twitter | Instagram | YouTube
About Pure Shores:
Swedish artists Marlene & Ji Nilsson became friends in 2009 and instantly bonded over their love of good dance floors in Stockholm. Based on their mutual love for the same type of music, they started writing together in 2012 and have been inseparable friends and collaborators ever since. Their individual artist projects have earned millions of streams and acclaim from the likes of Billboard, Vogue, Line of Best Fit and more. In 2019 they formed Pure Shores, a songwriter/producer team and a duo releasing dance pop music. In addition to their own artist projects and Pure Shores, they've had cuts with Giorgio Moroder, Don Diablo, KSHMR, Girls Generation among others.
###
For more information on Jewel, contact Shore Fire Media:
Allison Elbl
Cory Councill