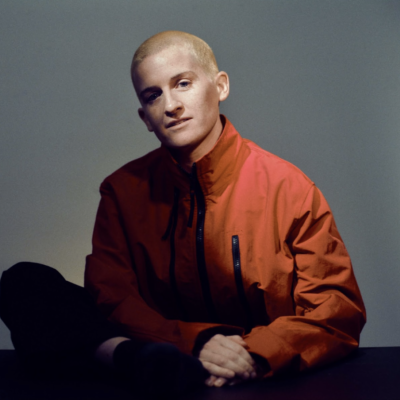 OUT TODAY: Barrie's 5K EP Is "Indie Pop Bliss"(Rolling Stone)
Enter Barrie's "Kaleidoscopically Vivid Inner World" (NY Times) & Listen To 5K, Including New Song "Ghost World," HERE
Read An Interview With Barrie About 5K & Removing The Competitive Aspects From Creativity Over At FLOOD
March 31, 2023 — Today, Barrie shares her new EP 5K, the latest iteration of her expansive indie pop vision. Inspired by her lifelong running habit and just the perfect length for most listeners to complete a five kilometer run in, its experimental elements — baroque instrumentation, baggy acid-house beats, reverberant beds of synthesizers — never rob these songs of their immediacy. It's a creatively free project that stakes out new emotional and sonic terrain for a songwriter who is quickly amassing a formidable catalog of undeniably adventurous pop music.
Praise For Barrie & 5K
"Indie pop bliss."
— Rolling Stone
"The work of an introvert with a kaleidoscopically vivid inner world."
—The New York Times
"Both literally and metaphorically, there's a lot on the line when we're running — but luckily, Barrie's emotionally vivid pop songs make that run much more energizing and rewarding."
— Consequence
"Daydream pop with lots of forward momentum."
— KUTX
Today's release includes the previously unheard song "Ghost World," a wiry and compact composition that juxtaposes tightly wound rhythms with daydream harmonies.
Says Barrie: "I haven't seen the movie 'Ghost World' in a very long time, so what I have left is an imagined-mixed-with-memory-version of it in my head. Impressions of it are mixed up with all of the late-90s teen movies I watched in middle school. While I was making this song, I envisioned a high school garage band from one of those worlds playing it. I wanted to write a song that anyone could play instrumentally with very few production tricks and a melody that felt good to sing."
After COVID struck down her plans for SXSW 2022, Barrie returned to Austin this year for a whirlwind run of ten shows, her band providing "angelic harmonies and dance moves that were perfectly in sync" (Vinyl Me Please). Says Consequence: "Moving in synchronicity with her backing vocalists and keyboards, Barrie proved well worth the wait with her captivating show."
Watch Barrie's SXSW NPR Live Session performance for KUTX here.
5K follows a big 2022 for Barrie that included her first ever run of headline shows, tours alongside Alex G (US) and Japanese Breakfast (UK/EU), and the release of her highly praised LP Barbara. Billboard deemed the LP "one of the most complete pop full-lengths of 2022" while Consequence lauded it as "an album that truly sounds like no other."
Read a recent interview with Barrie over at FLOOD.
Photos, lyrics, and more available here
Hi-res here
'5K' TRACK LIST:
1. Nocturne Interlude
2. Races
3. Unholy Appetite
4. Ghost World
5. Empty
FOLLOW BARRIE
https://twitter.com/barrieshhh
https://www.tiktok.com/@barrieshhh
https://www.youtube.com/c/barrieshhh
https://www.instagram.com/barrieshhh