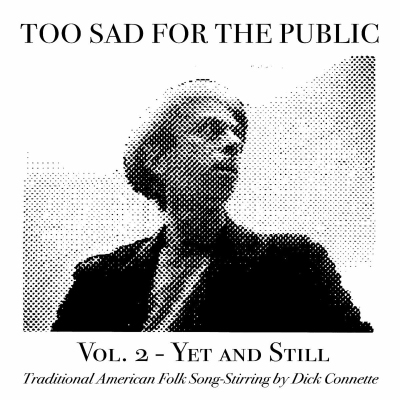 Out Today: Too Sad For The Public's Sublime + Idiosyncratic Folk Adventures
Listen Vol 2. Yet and Still (StorySound Records) HERE
Too Sad For The Public + Ana Egge Perform Live At Jalopy in Brooklyn On Saturday, July 29 // More Info HERE
Today, Too Sad For The Public release Vol. 2 - Yet and Still. Featuring performances from Rob Moose (Paul Simon, Phoebe Bridgers, yMusic), Chaim Tannenbaum (Loudon Wainwright III), and acclaimed folk singer Ana Egge, the project — helmed by StorySound Records (Loudon Wainwright, Gabriel Kahane, Margaret Glasby) founder Dick Connette — creates imaginative permutations on the idiosyncratic processes of American folk musics.
On Yet and Still, Connette reinterprets an array of commercial and field recordings and draws out altogether new shapes. The project takes 6 bars from an old Uncle Bunt Stephens solo fiddle 78, and expands it in 3 directions - a bluegrass fantasy, a string quintet, and a marching band blowout ["Uncle Bunting (pts1-3)"]; jazzily shifts the harmonic structures of Elizabeth Cotten's "Shake Sugaree" to lend it a more ominous shadowing; and cannily casts traditional New Orleans music both in a more minimalist rhythmic rendering and all-out street band mayhem (respectively, "Hey Now (pt2)" and Hey Now (pt1)").
The track "Old Forty" features lead vocals from Ana Egge, who poignantly portrays the sorrow that comes from the urge both for loving and leaving. A sparse, harmonic-laden guitar line is undergirded by slow-moving long low unison lines of synthesizers, bowed bass, and trombone — a deep sub-current that hints at oblivion.
Watch the video for "Old Forty" here.
"Railroad Bill (pt2)" gives a modern and hypnotic spin on a train robber ballad. Its galloping rhythm and harmonica choirs bring to mind a rustic, folklorically-minded version of NEU! — more naturalistic and rough-hewn but equally entrancing.
Watch the video for "Railroad Bill (pt2)," directed by LA-based collage artist Lewis Klahr, HERE.
On Saturday, July 29, Egge will join Connette and Too Sad For The Public for a special live performance of selections from Vol. 2 - Yet and Still.
WHAT: Too Sad For The Public
WHERE: Jalopy Theatre — 315 Columbia St, Brooklyn, NY 11231
WHEN: 6:00PM ET to 8:00PM ET
MORE INFO: https://www.viewcy.com/e/yet_and_still__dick
The new project is the culmination of an artistic crossroads that, 40 years ago, saw Connette choosing the openness and elasticity of American folk music over the insularity of NYC's downtown avant garde scene. From there, Connette threw himself into American folk music, compiling his own musical Rosetta's Stone: He calls it the Greatest Hits of Folk Music, and it comprises 35 cassettes, 15 CDs, and 7 mp3 playlists of both commercial and field recordings that connected with something deep within him.
This compilation played roles in all sorts of projects Connette undertook: Geoff Muldaur's Bix Beiderbecke tribute Private Astronomy, Loudon Wainwright III's GRAMMY-winning Charlie Poole project High Wide & Handsome, and his own output with singer Sonya Cohen in the group Last Forever. When Sonya died in 2015, Connette carried on with Too Sad for the Public.
Listen to Vol 2. Yet and Still here.
Vol. 2 - Yet and Still Tracklist:
1. Uncle Bunting (pt1)
Rob Moose - mandolin, violin, banjo, guitar, bass
2. Shake Sugaree
Ana Egge - vocal, guitar
Dick Connette - piano
Lorenzo Wolff - bass
Ethan Eubanks - drums
3. Hey Now (pt1)
Steven Bernstein - trumpet, vocal
Frank Greene - trumpet, vocal
Curtis Fowlkes - trombone, vocal
Jeffery Miller - trombone, vocal
Michael Blake - tenor saxophone, vocal
Erik Lawrence - baritone saxophone, vocal
Marcus Rojas - tuba, vocal
Billy Martin - drums/percussion, vocal
4. G. Burns in the Bottom (pt1)
Ana Egge - lead vocal, guitar
Lucy Wainwright Roche - backing vocal
Suzzy Roche - backing vocal
Dick Connette - harmonium
Dan Levine - euphonium
Lorenzo Wolff - baritone guitar, bass
Bill Ruyle - footsteps, cymbal pair, bass drum
5. Uncle Bunting (pt2)
Chaim Tannenbaum - lead vocal, harmonica
Ana Egge - backing vocal
Rayna Gellert - backing vocal, violin, viola
6. Old Forty
Ana Egge - vocal, guitar
Dan Levine - trombone
Dick Connette - synth
Lorenzo Wolff - synth, bass
7. Railroad Bill (pt1)
Ana Egge - vocal, guitar
Dick Connette - piano, maracas
Lorenzo Wolff - baritone guitar, bass
Ethan Eubanks - shakers, drums
8. Uncle Bunting (pt3)
Steve Elson - piccolo, baritone sax, tenor sax
Curtis Fowlkes - trombone
Marcus Rojas - euphonium, tuba
Ethan Eubanks - orchestral bells, drums
9. Hey Now (pt2)
Ana Egge - lead vocal
Lucy Wainwright Roche - backing vocal
Suzzy Roche - backing vocal
Lorenzo Wolff - bass
Kory Grossman - percussion
Jeff Kraus - percussion
Paul Pizzuti - percussion
Ethan Eubanks - tambourine, drums
10. Railroad Bill (pt2)
Chaim Tannenbaum - vocal, harmonica
Ana Egge - rhythm guitar
Lorenzo Wolff - lead guitar, rhythm guitar, synth, bass
Dick Connette - cymbal crunch, synth
Ethan Eubanks - shakers
Bill Ruyle - bass drum rim clicks
11. Train Your Child
Rayna Gellert - vocal, violin
Kieran Kane - guitar
12. G. Burns in the Bottom (pt2)
Jacob Garchik - trombone, euphonium
Clark Gayton - trombone, euphonium
Dan Levine - trombone, euphonium
Marcus Rojas - tuba, euphonium
Jerome Jennings - tambourine, drums