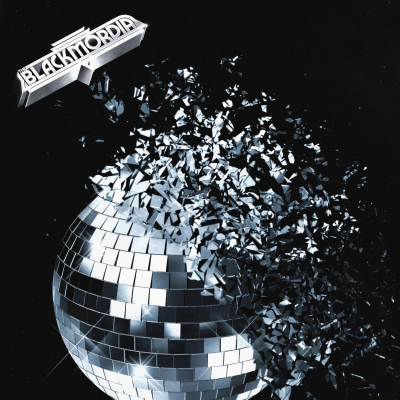 Parisian Rock Band The Blackmordia Release New Disco Infused Single "54"
Band Has Toured With Kiss, Nothing But Thieves, And Bring Me The Horizon
Marks New Era For The DIY Five Piece
Friday, March 31st: Today, French rock band The Blackmordia, release their newest single "54" via Throne Music. Fully flamboyant and inspired by the legendary and most famous nightclub in the world (Studio 54), the genre-bending, disco-infused track feels right at home in a club. With pop-driven riffs and pleading, husky vocals, listeners can hear the influences of Depeche Mode new wave, alongside the band's native French influence of Daft Punk.
"This song is talking about wanting to be yourself," says The Blackmordia founder & drummer Sofianne Seddiki. "It's about dressing the way you want, feeling sexy, taking drugs, having fun, being free sexually without caring about what others are thinking – In the same way people were living life in the Studio 54 era."
Listen to "54" here: https://lnk.to/54TheBlackmordia
"54" comes hot on the trail of their last arena-threatening hit, "XX," a M83-meets-Empire of the Sun space rock anthem. Watch the "XX" video featuring discotheque neons, roaring flames, and provocative leather here: https://www.youtube.com/watch?v=C_uVlSzrVhs
Originally formed in Paris in 2014 by a 14-year-old Seddiki, the band consists of bassist Luke Hastoas, guitarist/singer Enzo Munari, and guitarist/synth player Max Kurtz, and vocalist/frontman Peter Moisan. A DIY band at heart, The Blackmordia has been making waves internationally supporting legendary acts like KISS, Bring Me The Horizon, Nothing But Thieves on their European arena tours, and are gearing up for the release of their debut album later this year.
Hell bent on not wanting to "be a band that seemed like any other," the five-piece rock band uses a melting pot of influences to create their synth-rock sound. They blend the goth-pop vibes of The Cure, the new wave rush of Depeche Mode, the pure power hedonism of Judas Priest, and the slick neon futures of their native French Touch influences.
"People think that Daft Punk and Def Leppard don't mix," says Seddiki. "We disagreed, so we did it. A lot of our songs are very pop-ish, but our visuals are very strong and inspired by the hard rock bands of the '80s. That's a contrast we love. Look at Justice – they're electro, but when I saw their first album cover I thought they were a metal band."
Dripping with glitter and glamor, the new singles set a clear path to glam rock stardom for the French quintet. Stay tuned for more music this year.
ABOUT THE BLACKMORDIA:
Punk, pop, pomp, and a whole lotta poise – these are the ingredients that make up the arena-threatening French electro-rock outfit The Blackmordia. With a singular vision and bags of attitude, they tread that curious line between not giving a f**k and wanting to mean everything to everyone. Since their creation in 2014 by drummer Sofianne Seddiki, the band has toured across Europe with rock legends KISS, metalcore pioneers Bring Me The Horizon, and new-age alt band Nothing But Thieves. Now, the quintet has set their sights on being a band like no other, blending the goth pop influences of The Cure with their native French Touch origins in an amalgam of sexy rockstar moxie. That same independent spirit drives The Blackmordia engine, having formed their own record label Throne Music to prevent any outsider A&R interference. This is all being done on their terms. They're not a band that does things by half measures.
CONNECT WITH THE BLACKMORDIA:
INSTAGRAM / TWITTER / FACEBOOK
PRESS CONTACTS:
Mikaela Duhs/ mduhs@shorefire.com
Rebecca Shapiro / rshapiro@shorefire.com