Peacock & NTWRK Team Up For Exclusive "Bel-Air" Inspired Sneaker Collection, Set-Used Props & Live-Stream Episode
Proceeds To Benefit Coded By Kids – Philly Based Nonprofit 
Peacock's Popular Reimagined "Fresh Prince" I Drama Series Celebrates Upcoming Season 1 Finale March 31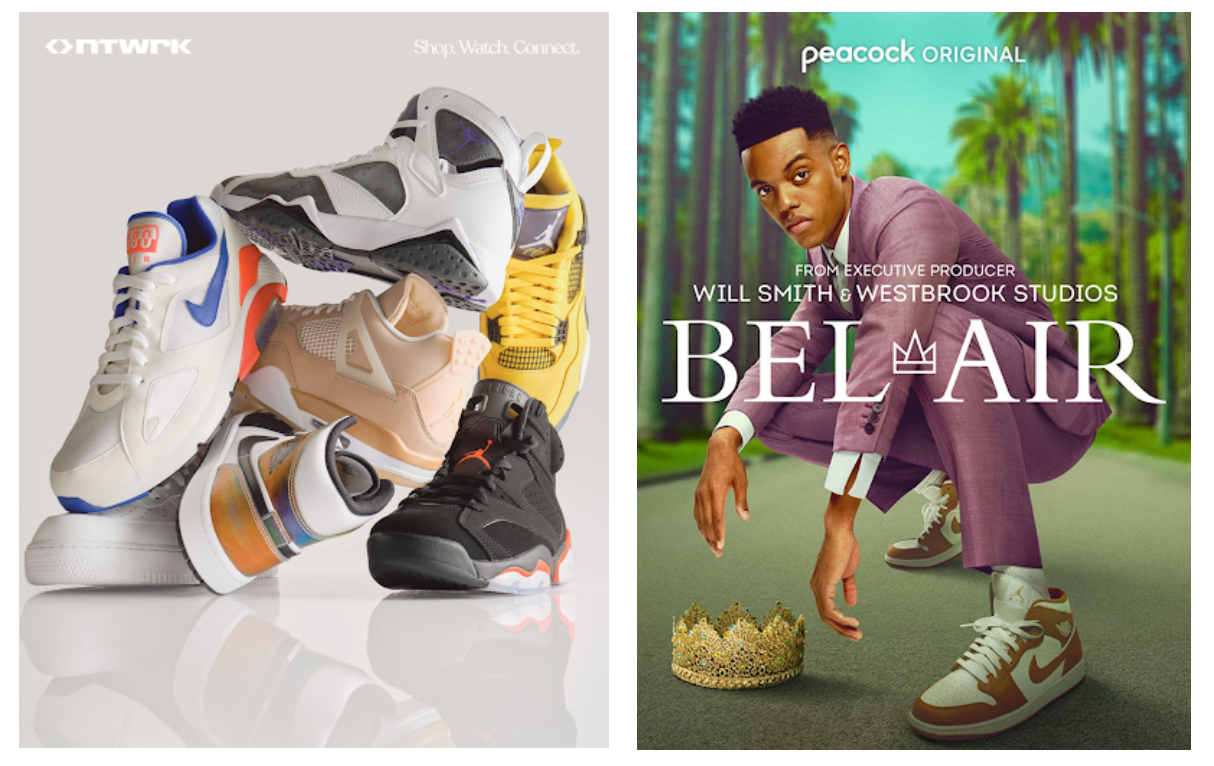 MARCH 30, 2022 - NEW YORK, NY - Peacock & NTWRK today announced that it is teaming up with NTWRK, North America's leading livestream shopping app, to release an exclusive collection of Bel-Air-inspired sneakers, set-used props and wardrobe, and fan collectibles. The sneaker collection and collectibles will be available via a special drawing exclusively on the NTWRK app on March 30th at 2:00 PM Pacific Time.
NTWRK will be showing a first look of the "Bel-Air Kicks Collection" during a livestream episode from a mansion party in Los Angeles via the NTWRK app. During the live show, host Eutel Wallace will dive deeper into the backstory of Peacock's acclaimed Bel-Air series, engage viewers with a "Fresh Prince" trivia competition, and educate viewers about Coded By Kids while detailing the charitable initiative behind the drawing and product drops. During the livestream, Wallace will also reveal the winning drawing entries for the one-of-a-kind sneaker collection.
NTWRK will be selling a collection of exclusive set props and wardrobe pieces, with pricing available on the NTWRK app.
The NTWRK exclusive Bel-Air products include:
Bel-Air Kicks Collection: This pack includes the Air Jordan 6 Retro Infrared, Air Force 1 High '07, Air Max 180 "Ultramarine", Air Jordan 4 "Lightning", Air Jordan 4 "Shimmer" Mid, Air Jordan 1 "Heat Reactive" Mid, and the Air Jordan 7 Retro "Flint" Mid.
Bel-Air Collectibles Pack: Each pack includes an official Bel-Air hat, hoodie, and pin. Recipients will be selected from a drawing on NTWRK, with an entry costing $1.
Bel-Air Set Collection: For the ultimate Bel-Air fan, each piece of official set-worn props and wardrobe items lets a lucky buyer own a piece of Bel-Airhistory, while giving back to a great cause.
**Will Smith Bel-Air Basketball Jersey and Practice Jersey: Will Smith's navy blue game jersey and practice pinkie from Bel-Air Academy
**Will Smith Bel-Air Academy Blazer: Will Smith's Bel-Air Academy uniform blazer, with contrast lapel piping and paisley lining
**Will Smith Bel-Air Academy Uniform: Will Smith's Bel-Air Academy uniform, complete with white button down shirt and scarlet sweater vest with crossed keys detailing
**Carlton Bel-Air Academy Lacrosse Jersey: Carlton Banks' white Bel-Air Academy lacrosse game jersey
**Carlton Bel-Air Academy Cardigan: Carlton Banks' heather gray Bel-Air Academy 3-button cardigan with the school's official crest
Peacock's Bel-Air premiered on Sunday, February 13 with new episodes streaming every Thursday through the season finale on March 31. Set in modern-day America, the one-hour drama series imagines the beloved sitcom The Fresh Prince of Bel-Air through a new, dramatic take on Will's complicated journey from the streets of West Philadelphia to the gated mansions of Bel-Air.
Executive produced by Will Smith, and inspired by Morgan Cooper's viral trailer that reimagined the iconic, culture-defining '90s sitcom, Bel-Air takes a fresh and raw approach to this world of swagger, style, and aspiration, while exploring Will's complex journey through a current lens. The new series features an ensemble cast that introduces Jabari Banks as Will and a creative team that includes Cooper, who serves as director, co-writer, and executive producer, and co-showrunners and executive producers T.J. Brady and Rasheed Newson.
ABOUT PEACOCK
Peacock is NBCUniversal's streaming service. Peacock delivers a world-class slate of exclusive originals, on-demand libraries of hit TV shows, plus critically acclaimed films from the vaults of Universal Pictures, Focus Features, DreamWorks Animation, Illumination, and Hollywood's biggest studios. In addition, Peacock taps into NBCUniversal's unmatched ability to deliver a broad range of compelling topical content across news, sports, late-night, Spanish-language, and reality. NBCUniversal is a subsidiary of Comcast Corporation.
ABOUT NTWRK
Named one of Fast Company's "Brands That Matter" and "Most Innovative Companies" as well as Ad Age's "Hottest Brands," NTWRK is the premier North American livestream shopping platform where "entertainment meets e-commerce" (Forbes). Built on a digitally-innovative model of daily product drops, livestream shopping festivals, and exclusive partnerships with world-renowned brands and creators, NTWRK has fostered an organic global community of artists and fans since its launch in 2018. Under the motto "Shop, Watch, Connect" NTWRK provides a curated digital shopping experience that resonates with Gen-Z and millennial consumers.
For more on NTWRK, contact: