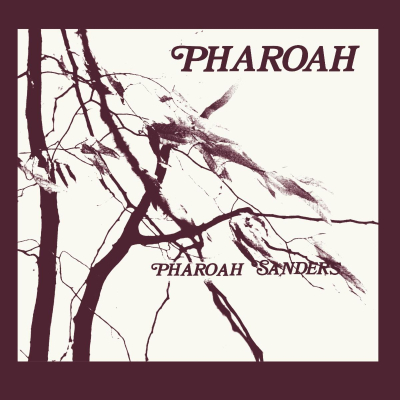 Pharoah Sanders, like never before
Pharoah, the new box set and first official remastered reissue of Pharoah Sanders' seminal record from 1977, including "Harvest Time" out now on Luaka Bop
"Pharoah Sanders Beckoned the Gods on the Intimate 'Pharoah'..." — The New York Times
"...captures a feeling of unearthly magic…" — Pitchfork, 8.9 Best New Reissue
Promises Hollywood Bowl Performance Honoring Sanders + featuring Shabaka Hutchings, Caribou, Four Tet and more debuts Sept 20
The Harvest Time Project: A Live Tribute to Pharoah Sanders also to debut in New York at National SawdustOct 14
('Pharoah' box set cover art)
https://luakabop.lnk.to/pharoah
High-res photos & Album art:
photobio.luakabop.com/PharoahSanders/
It's Harvest Time, declares the Luaka Bop release of Pharoah, the fresh box set and first official remastered reissue of Pharoah Sanders' seminal record from 1977, out now and quickly cementing itself as a must-hear jazz release of 2023. The New York Times, in its Critic's Notebook feature, calls it "a touchstone" release hailing the music as "intimate and serene," while Pitchfork says it's "unearthly magic" and granted it their Best New Reissue designation.
Télérama is calling the album "superbe" — and MOJO deems Phaorah a "serene masterpiece" in their dazzling 5-star review. UNCUT dedicated a 6-page spread in its latest November issue as did The New York Review of Books in an extensive cultural examination, further confirming this fall's celebration of the cosmic jazz legend. "It's a work of atmospheric, almost tactile beauty, whose pleasures lie in the texture of the playing as much as the melody itself: the liquid warmth of the guitar, the vibrations of the harmonium, the saxophonist's vibrato and breath, the cycle of sound and sound's decay," writes The New York Review of Books.
The Pharoah box set is unique in more than just its unearthing of artifacts and re-mastering of tracks though. It looks closely at this chapter of Pharoah's life in a way that has never been done before. Through interviews, photographs, and ephemera that have never been shared, including never before seen photographs, and live show recordings, the set is also a one-of-a-kind examination of Pharoah's personality and his intention for this crucial record.
Made evident through the work, and liner notes by Harmony Holiday is also just how much Pharoah is "a love letter" to Bedria, his wife at the time of recording. Her presence is all over the album—she was the only one of Pharoah's wives to ever play on a record of his, and it's clear from his wild, improvised vocals on "Love Will Find a Way," that Bedria was the inspiration for much of the music. The result of "Love Will Find a Way," after all is a 14-minute vocal incantation and fevered improvisation dedicated to a relationship that always had something spiritual about it. The remastering of the album helps this piece shine on the record for perhaps the first time.
Also happening this fall and celebrating the life and music of Pharoah Sanders is the one-time-only performance of his 2021 album Promises also by Floating Points and the London Symphony Orchestra at the Hollywood Bowl on September 20th. Created over five years and full of ambient, drone-y textures and passages, it became one of the most talked about works of that year, and went on to top a number of Best Albums of 2021 lists including Time Magazine. Pitchfork called it a "celestial event" and awarded it a 9.0, and Best New Music, one of the highest reviewed records of that year.
The meditative 9-part instrumental, experimental suite captured the imagination of music fans during an uneasy, strange time, released at the beginning of 2021. Speaking with The Guardian for one of the very first times about his dear friend and collaborator, Floating Points Sam Shepherd imagines Sanders is in the cosmos,..."hearing music in all of the sounds that he hears. He'll be sitting in the garden listening to the crickets and he'll pull out music from that. He listens deep."
Pharoah's part will be performed by Shakaba Hutchings, the British musician known for his solo work and his projects The Comet Is Coming and Sons of Kemet. Shabaka has recently said that he's setting down the saxophone to focus on other creative endeavors, and this will be one of his final saxophone performances for the time being. The Hollywood Bowl show Promises lineup also will feature Dan Snaith (Caribou), Kieran Hebden (Four Tet), Sun Ra Arkestra and many, many more. And read more in another one of Shepherd's first interviews about the music here at Billboard.
And next month, Saturday October 14th, National Sawdust will host the first occurrence of the Harvest Time Project, an ever-evolving concert which will happen around the world, featuring a selection of different musical ensembles who will come together in different iterations to reinterpret Pharoah Sanders' seminal composition "Harvest Time."
Featuring Jeff Parker in NY along with the original Pharoah guitarist Tisziji Muñoz and Joshua Abrams as musical director, each performance will diverge from the others as much as Pharoah's own wildly different live performances.
Tickets and more information can be found here: https://www.nationalsawdust.org/event/the-harvest-time-project-a-tribute-to-pharaoh-sanders
Forty-five years later, the remastering of the India Navigation Pharoah album seeks to correct for the technical difficulties that plagued the recording process and to finally do the music justice, hemming closer to what Pharoah envisioned. For "Love Will Find a Way" and "Memories of Edith Johnson," the result is a revelation. Alongside the remastered India Navigation album, Luaka Bop has included two previously unreleased live recordings of "Harvest Time." Performed during an intense European tour in the late summer of 1977, these exciting live versions turn the original composition on its head.
For seasoned listeners and new acolytes both, Pharoah will never sound the same.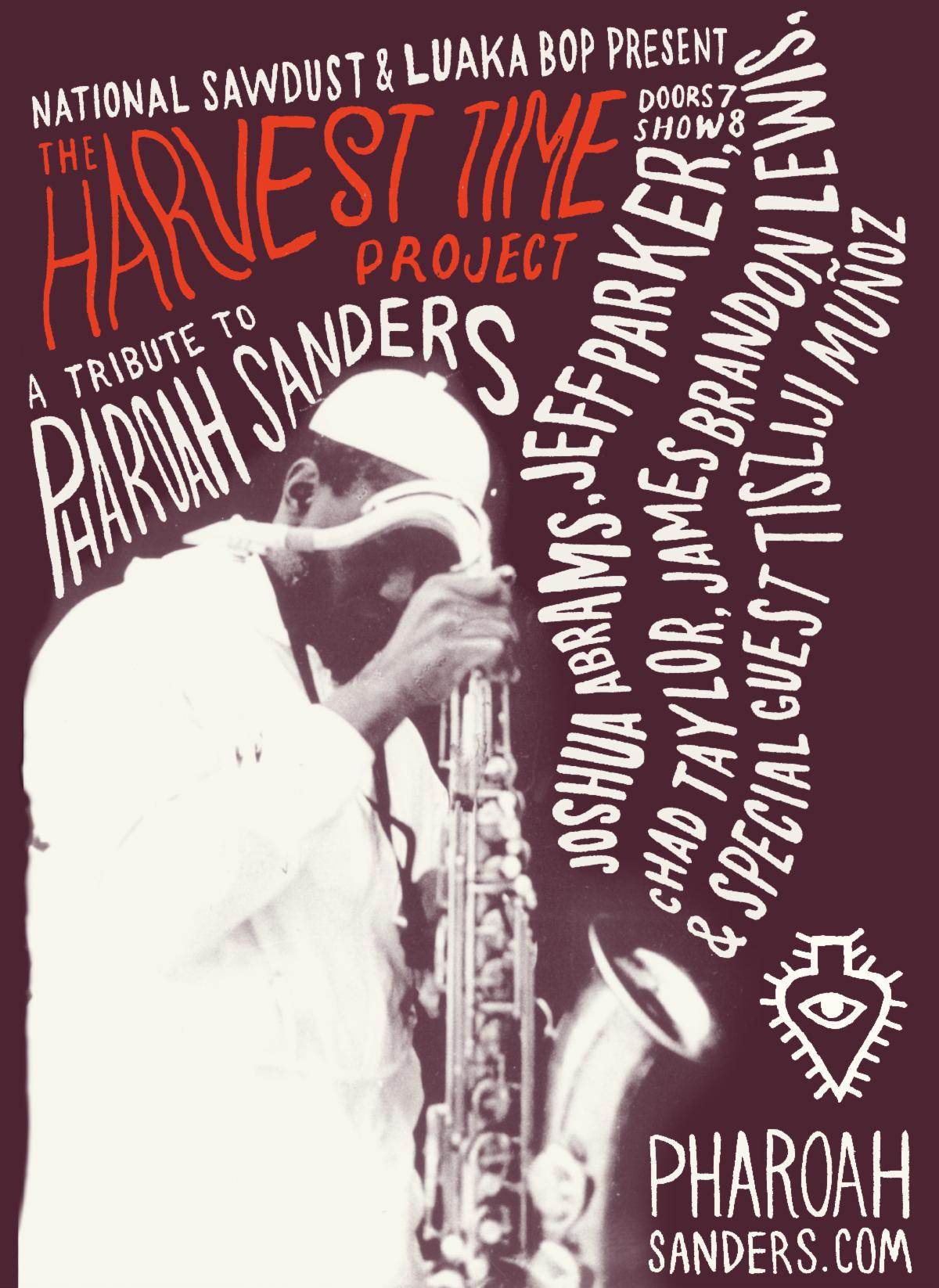 National Sawdust tickets: https://www.nationalsawdust.org/event/the-harvest-time-project-a-tribute-to-pharaoh-sanders
Pharoah Sanders (October 13, 1940 – September 24, 2022)
Born in Little Rock, Arkansas at the height of the Jim Crow era, Pharoah Sanders was one of the last icons of his generation when he passed last fall, on September 24, 2022. He was handpicked by John Coltrane and played on his late-career masterpieces, and thereafter released a string of expansive recordings under his own name for the Impulse! label, which have been cited as a pivotal influence by everyone from Prince to Iggy Pop to Marvin Gaye. Over a career that spanned fifty years, Pharaoh recorded some of the most revered — and controversial — albums in jazz history, embracing a wild, anarchic sound that would reverberate across genres for decades to come, eventually winning a GRAMMY in the late '80s.
In 2016, the National Endowment for the Arts bestowed him with its prestigious Jazz Master title, the genre's highest honor. His last album Promises, released in 2021 with Floating Points and the London Symphony Orchestra, was heralded as "a late-career masterpiece," and was awarded Album of The Year in several national newspapers around the world, including #1 in TIME Magazine and The New York Times, and #2 in The New Yorker who called it "...an extraordinary intimate experience…".