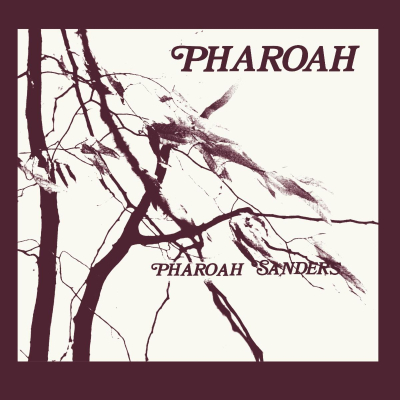 Finally! * Pharoah Sanders "Pharoah" (1977)
Luaka Bop Announces Release of Pharoah out September 15
A forthcoming box set marks the first official re-issue of Pharoah Sanders' seminal record from 1977, accompanied by never-before-heard live recordings, archival material and extensive liner notes and photography
A bold experiment, a failed session and a love story that became one of Pharoah's most beloved recordings, the much-bootlegged Holy Grail is one of the great works of 20th century jazz
The Harvest Time Project: A Tribute to Pharoah Sanders is a bespoke, ever-evolving concert based on the album's composition "Harvest Time," which will happen around the world, with each performance featuring different musical ensembles playing together at the same time
World premiere will take place at Le Guess Who? (Nov 12), featuring Irreversible Entanglements, Domenico Lancellotti and the original Pharoah guitarist Tisziji Muñoz, under the musical direction of Joshua Abrams
Special workshop performance will take place at National Sawdust (Oct 14), in honor of Pharoah's birthday
The result of extensive research conducted throughout Europe and North America to be shared with the public throughout the fall on PharoahSanders.com/HarvestTime
One of the most important and innovative recording artists in jazz or otherwise, GRAMMY-award winning saxophonist Pharoah Sanders played with John Coltrane, influenced Prince and Marvin Gaye, and recently recorded one of the great modern jazz records with electronic producer Floating Points
July 11 – With Pharoah Sanders' blessing, this forthcoming box set, due September 15 on Luaka Bop, will present the definitive, remastered version of Pharoah, his seminal record from 1977, along with two previously unreleased live performances of his masterpiece "Harvest Time." An accompanying 24-page booklet includes a treasure trove of rarely seen photographs, archival materials, interviews with many of the participants, and a conversation with Pharoah himself.
This record's origin story is as elusive as Pharoah was about everything Pharoah. It was born out of a misunderstanding between him and India Navigation producer Bob Cummins, and was recorded when he was at a crossroads in his career with a group of musicians so unlikely that they were never all in the same room again. There was the guitarist Tisziji Muñoz who was also a spiritual guru, the organist Clifton "Jiggs" Chase who would go on to co-write and produce Grandmaster Flash & The Furious Five's "The Message," and a classically trained pianist—his wife at the time, Bedria Sanders—who played the harmonium despite never having seen one. At times ambient and serene, at others funky and modal, Pharoah radically departed from his earlier work. It would become one of the artist's most beloved records and one of the great works of the 20th century.
The simple misunderstanding that resulted in this album's wholly unrepeatable sound was this: Pharoah wanted to make a certain kind of studio album, and Bob Cummins didn't have the experience or place to pull it off. Bob suggested they make a duo record together, but Pharoah had other ideas. The first time Pharoah showed up at Bob's studio, he brought a veritable rock band with him—electric guitar, organ, bass, drums—and surprised Bob with the number of people. Needless to say, the recording didn't go well as well as either hoped. Pharoah was so disappointed with the sound that it hung in the balance whether the record would ever be released. But Pharoah and Bob agreed to try again, and the second time they met, Pharoah played the composition that has since been recognized as one of his greatest artistic achievements, "Harvest Time."
There are no drums on "Harvest Time," just guitar, bass, harmonium, and saxophone. Bedria thinks the composition was spontaneous. Tisziji remembers it that way too, recalling that Pharoah just turned to him and told him to start. "Pharoah said, 'Man, you know, come up with something.' So I came up with something and it stuck," Tisziji said. "He would also often ask me for a harmony instrument; let the harmony play, set a vamp so that the guys can blow on it. So, I set that vamp up, he was fine with it, very simple. Bass player got into it, we all got into it, and I guess it became a masterpiece for people. Write two chords. Write the two-chord masterpiece in C minor. Beautiful, perfect."
Then, Pharoah asked Bedria to name it. "I guess it's just what came to my head because it was in the fall, you know," she said. "It was harvest time in September. That's my favorite time of the year."
In her liner notes, Harmony Holiday calls Pharoah "a love letter" to Bedria. Her presence is all over the album—she was the only one of Pharoah's wives to ever play on a record of his, and it's clear from his wild, improvised vocals on "Love Will Find a Way," that Bedria was the inspiration for much of the music.
Born in Little Rock, Arkansas at the height of the Jim Crow era, Pharoah Sanders was one of the last icons of his generation when he passed last fall, on September 24, 2022. He was handpicked by John Coltrane and played on his late-career masterpieces, and thereafter released a string of expansive recordings under his own name for the Impulse! label, which have been cited as a pivotal influence by everyone from Prince to Iggy Pop to Marvin Gaye. With Coltrane, Sanders recorded some of the most revered — and controversial — albums in jazz history, embracing a wild, anarchic sound that would reverberate across genres for decades to come. Sanders' subsequent solo output was similarly bold and influential, eventually winning a GRAMMY in the late '80s.
In 2016, the National Endowment for the Arts bestowed him with its prestigious Jazz Master title, the genre's highest honor. His last album Promises, released in 2021 with Floating Points and the London Symphony Orchestra, was heralded as "a late-career masterpiece," and was awarded Album of The Year in several national newspapers around the world, including #1 in TIME Magazine and The New York Times, and #2 in The New Yorker who called it "...an extraordinary intimate experience…".
Luaka Bop, who developed the collaboration with Pharoah Sanders and Floating Points, had been in discussion with Sanders about reissuing Harvest Time for several years, finally coming to an agreement in the spring of 2022. More than forty years after the record's initial release, his attitude toward it hadn't changed very much. He was like that as an artist, always critical of his playing and unsure of his accomplishments. Over the years, Pharoah's silence around the record had created a kind of mystique—fans saw it as the Holy Grail of his recordings, which eventually resulted in a trove of bootlegs. This brought Pharoah a great deal of stress, and often made it impossible for him to discuss the record. In the late summer of 2022, they were making real progress in piecing together its story: For the first time, he began to open up about the making of the record and was eager to talk—and even encouraged them to speak with others about it, too, something that he'd never done before. There was even talk about Pharoah performing it live, or going back to Europe to play again. Shortly after, and unexpectedly at the time, he passed away.
This box set looks closely at this chapter of Pharoah's life in a way that has never been done before. Through interviews, photographs, and ephemera that have never been shared, Pharoah's personality and his intention for this record come alive. Some of this, which is the result of extensive research throughout Europe and North America by a dedicated research team, will be shared with the public throughout the fall on PharoahSanders.com/HarvestTime, with pieces by Harmony Holiday, Marcus J. Moore, and Pierre Crépon, who wrote essays that accompany this box set, among many others.
Forty-five years later, the remastering of the India Navigation album seeks to correct for the technical difficulties that plagued the recording process and to finally do the music justice, hemming closer to what Pharoah envisioned. For "Love Will Find a Way" and "Memories of Edith Johnson," the result is a revelation. Alongside the remastered India Navigation album, Luaka Bop has included two previously unreleased live recordings of "Harvest Time." Performed during an intense European tour in the late summer of 1977, these exciting live versions turn the original composition on its head.
In 2023 and 2024, this release will be supported by a series of unique performances around the world of The Harvest Time Project: A Tribute to Pharoah Sanders, a bespoke concert featuring the original guitarist and a selection of different musical ensembles who will come together in different iterations to reinterpret the composition "Harvest Time." Each performance will diverge from each other as much as Pharoah's own wildly different performances. The world premiere will take place at Le Guess Who? (Nov 12), featuring Irreversible Entanglements, Domenico Lancellotti, and special guest Tisziji Muñoz, under the musical direction of Joshua Abrams. A special workshop performance will take place at National Sawdust (Oct 14), in honor of Pharoah's birthday.
For seasoned listeners and new acolytes both, Pharoah will never sound the same.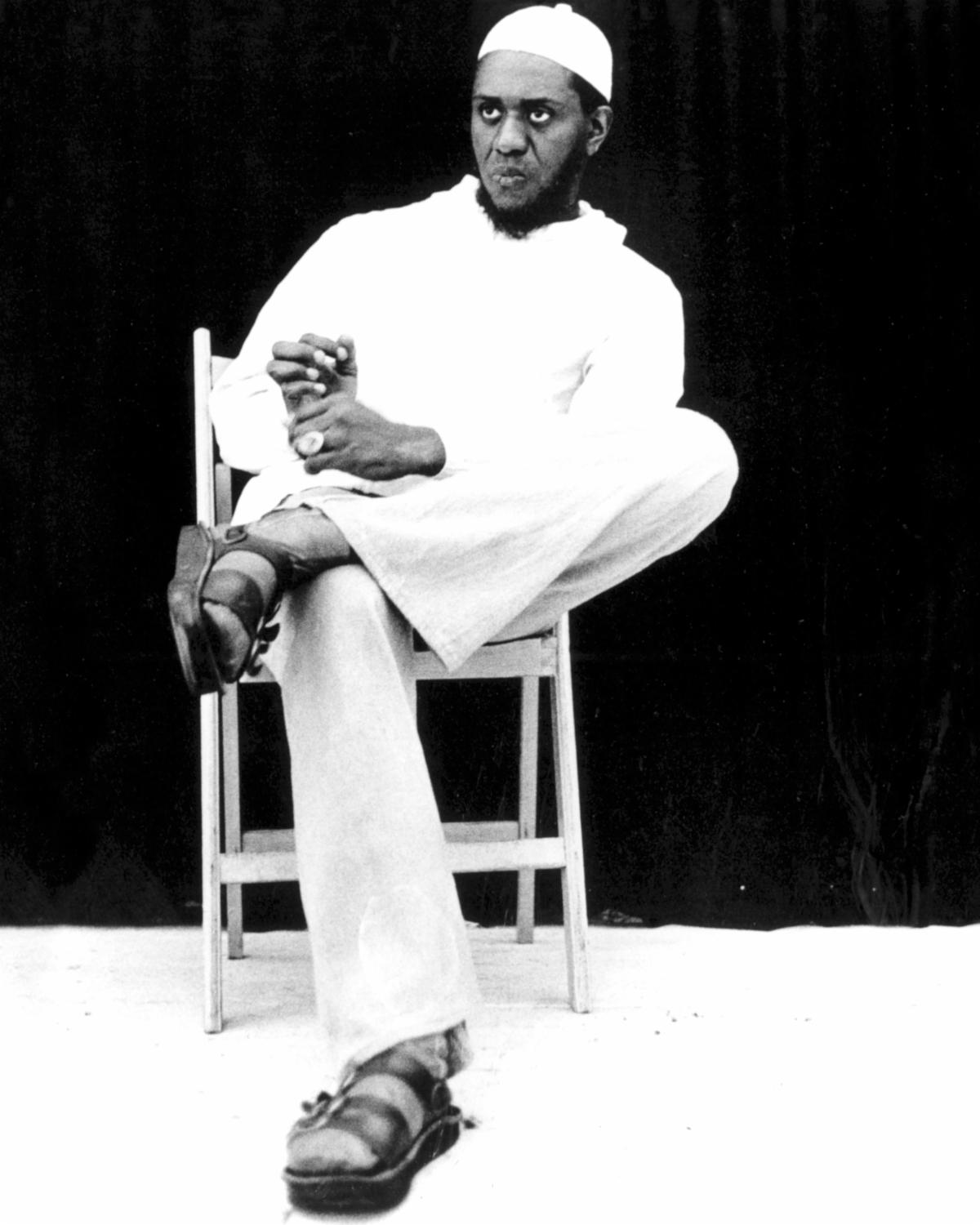 Pharoah Sanders, Jazz Middelheim, Antwerp, August 1977. Photograph by Rob Miseur / Courtesy of Centro Studi A. Polillo - Siena Jazz.
*This is kind of an inside joke. For the last twenty years, Pharoah had turned down every request to reissue this album. Until now.