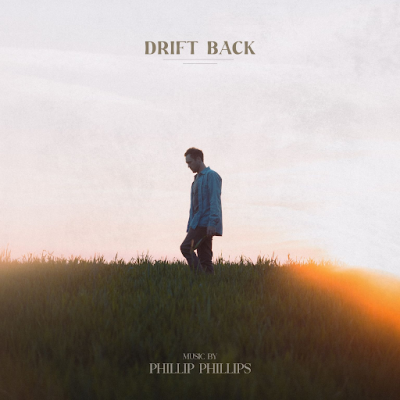 Phillip Phillips to Release Album, Drift Back, On June 9th
Listen To New Song "Before I Loved You" 
(New York, NY) March 31, 2023 – Multi-Platinum singer-songwriter Phillip Phillips announces new album Drift Back, to be released on June 9th. The 10-song album is Phillip's first in five years, and his first full-length release since becoming a father. This fourth album for the American Idol Season 11 winner is a self-reflective record that boasts an assortment of emotive indie-rock, and ethereally anthemic mid-tempo tracks along with Phillip's signature stirring ballads. Drift Back is produced by Phillip's longtime producer, the Nashville-based Todd Clark, a trusted collaborator since Phillip's debut and the song "Long Time" on the album is produced by Tim Bruns.
Listen to the new song "Before I Loved You" HERE.
"This album is a love album, but it's not all happy. Love takes work—you have to stick it out through moments of difficulty to get to the beauty on the other side," says Albany, Georgia-based Phillip Phillips. "The title speaks to me taking a step back to figure things out, and then drifting back to my life and my fans." Phillip first rose to prominence as the winner of American Idol season 11 which set an Idol record when 132 million votes were gathered for the finale, and Phillip was declared the winner. His heartfelt songwriting, ruggedly-warm sensibilities, and his true musicianship wowed millions. Since then, Phillip has emerged a multi-platinum selling recording artist who has released three chart-topping albums, and, along the way, accumulated over 1.1 billion on-demand streams and over 1.2 billion Pandora streams.
Phillip has taken his expansive brand of earthy, guitar-fueled rock to stages across the globe, and toured with John Mayer, Gavin DeGraw, the Goo Goo Dolls, and has shared the stage with Bruce Springsteen.
Phillip's last album was released in 2018, but he didn't stop writing and collecting life experiences over the past five years. Drift Back poetically chronicles this poignant and transformative time, including watching his son being born, parenting a toddler, and keeping a marriage vibrant.
Drift Back opens with the exhilarating, "Dancing With Your Shadows," an arena-ready, indie-rock track bursting with pent-up emotionality. Here, Phillip contrasts upbeat musicality with a harrowing narrative of watching a loved one struggle with an elusive sickness. The achingly beautiful, "Love Come Back To Me," glows with twinkling melodic guitars and features Phillips heartwarming falsetto flutter. It's a confessional ballad about Phillip's quest for inner happiness. On the acoustic ballad, "Long Time," Phillip explores his own insecurities about being the best version of himself for his wife and son. The standout single, "Before I Loved You," is a goose-bump inducing, ambiently-textured love ballad featuring Phillip's sweetly weary vocals soaring skyward.
Phillip Philips Tour Dates
June 16 - Detroit, MI - Aretha Franklin Amphitheatre *with Michael Franti and Spearhead
June 20 - Pittsburgh, PA - Mountain View Amphitheater *with Michael Franti and Spearhead
June 24 - Westport, CT - Levitt Pavilion *with Michael Franti and Spearhead
Phillip Phillips Links:
Phillip Phillips Approved Photos Here
Media Contacts: Shore Fire Media
Rebecca Shapiro | rshapiro@shorefire.com
Kerri Brusca | kbrusca@shorefire.com
Haley Griffin | hgriffin@shorefire.com