Qobuz & Blue Note Records Present: Discovering Elvin Jones' Revival: Live at Pookie's Pub
RSVP HERE to Watch Live at 2 pm ET on Thursday, December 15th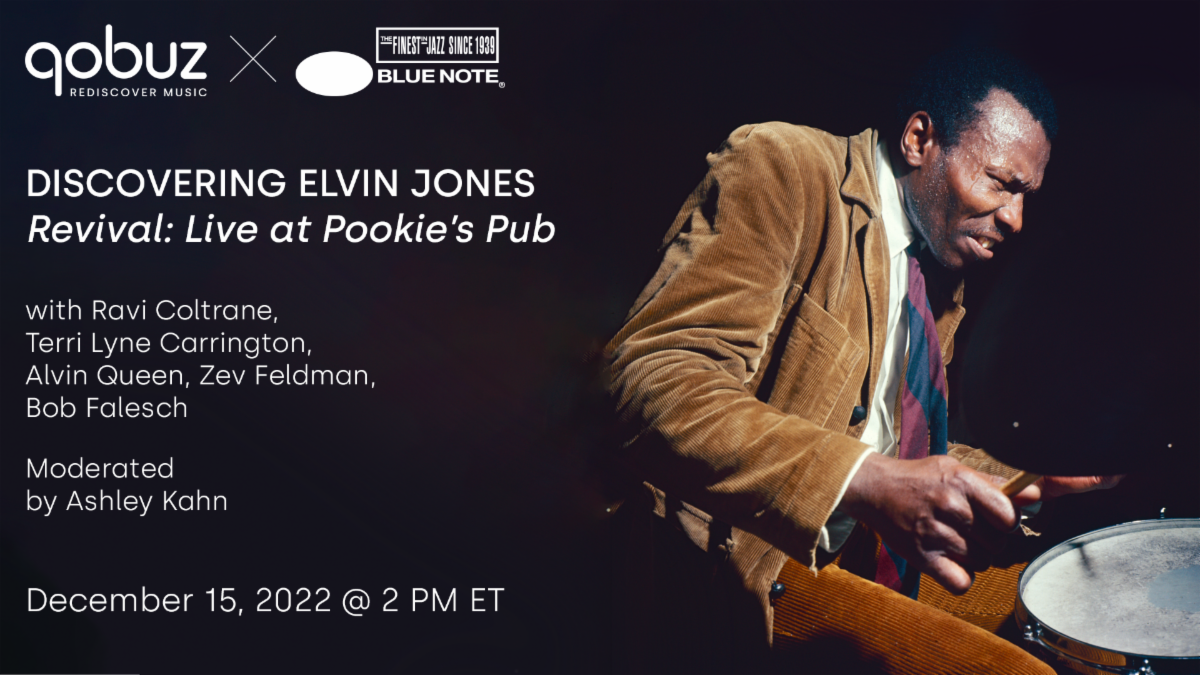 At 2pm ET on Thursday, December 15th, Qobuz and Blue Note Records will present a livestream panel discussion about Revival: Live at Pookie's Pub, the recently released, never-before-heard 1967 album from the late, legendary jazz drummer and bandleader Elvin Jones.
The discussion will celebrate Jones and his enduring musical imprint, focusing on Revival: Live at Pookie's Pub, and his extended residency in 1967 at the little-known bar (Pookie's Pub) after leaving John Coltrane's band the year before. Deriving from the long-buried (and likely sole) recording to result from that seven-month-long run, Revival is a snapshot of the period in Jones' life when, at the age of 39, he revived his health and career by developing his role as a bandleader, and forged the sound and the path he'd follow for the rest of his life. For one of the most influential drummers in jazz's modern era, those seven months were a hugely important chapter that was never chronicled—until now.
The panel will include saxophonist and former Jones sideman Ravi Coltrane (son of John Coltrane), GRAMMY-award winning drummer and Berklee College of Music professor Terri Lyne Carrington, Nilva Records founder and jazz drummer Alvin Queen, and Blue Note's consulting producer of archival and historical recordings Zev Feldman, who co-produced the record. Also on the panel will be Bob Falesch, who recorded the music on the album as a young jazz fan visiting New York City in 1967. It will be moderated by jazz author and NYU professor Ashley Kahn, who contributed liner notes to this album.
Listen to Revival: Live at Pookie's Pub on Qobuz, the music lovers' high quality streaming and download platform HERE.
This in-depth conversation will stream live across multiple channels, including Facebook and YouTube, and will be available afterward for on-demand streaming. RSVP HERE.
Ashley Kahn said: "Modern drumming would not sound like it does—not just in jazz, but in rock, funk and all styles—without the influence of Elvin Jones's rolling thunder. This virtual roundtable shows how his impact is still sounding strong, and why this recording throws a needed spotlight on a time when he was stepping out as a bandleader in his own right."
As part of their "boutique in a superstore world" approach to music streaming, and special emphasis on jazz fans, Qobuz has been producing roundtables with the biggest names in the jazz world since 2020. Previous events in the series have celebrated the works of Miles Davis, John Coltrane, and Charles Mingus, and, outside of events, Qobuz has also released exclusive Hi-Res music with some of the current-day jazz greats, such as Christian McBride and Makaya McCraven.
About Qobuz
Founded in 2007 and a pioneer of high quality sound, Qobuz is the French music streaming and download platform for those who want to live and share their passion for music. Available in 25 countries around the world, in Europe, USA, Australia, New Zealand, Latin America and Japan (High-Resolution download service only), Qobuz offers an exceptional range of exclusive editorial content written by a team of experts. With its catalog of more than 90 million tracks, Qobuz also has the richest choice of high-resolution (Hi-Res) titles. Qobuz is licensed for Hi-Res audio by the Japan Audio Society (JAS). For more information, visit qobuz.com.
About Elvin Jones
Elvin Jones was one of the most influential drummers in jazz history. He was born in Pontiac, Michigan on September 9, 1927, the youngest of 10 children that also included two elder brothers—Thad and Hank—who would also become jazz legends. After moving to New York City, Jones worked with the likes of Miles Davis, Charles Mingus, and Sonny Rollins before joining forces with John Coltrane and becoming a member of the saxophonist's seminal quartet. During the 1960s, Jones recorded on numerous classic Blue Note albums including Freddie Hubbard Ready for Freddie, Wayne Shorter Speak No Evil, Joe Henderson Inner Urge, Larry Young Unity, and McCoy Tyner The Real McCoy. After leaving Coltrane's group, Jones signed with Blue Note as a leader in 1968 and began recording a series of remarkable albums for the label through the early 1970s that included Puttin' It Together, The Ultimate, Poly-Currents, Genesis, and Mr. Jones.
About Blue Note
Blue Note Records was founded when a German immigrant named Alfred Lion produced his first recording session with two boogie woogie pianists on January 6, 1939 in New York City. Blue Note has gone on to represent The Finest In Jazz, tracing the entire history of the music from Boogie Woogie, Hot Jazz and Swing, through Bebop, Hard Bop, Post-Bop, Soul Jazz, Avant-Garde, and Fusion, and into Jazz's numerous modern day incarnations. Blue Note's legendary catalog includes a true Who's Who of Jazz history: Thelonious Monk, Bud Powell, Miles Davis, John Coltrane, Cannonball Adderley, Horace Silver, Art Blakey, Jimmy Smith, Dexter Gordon, Grant Green, Lou Donaldson, Donald Byrd, Lee Morgan, Freddie Hubbard, Joe Henderson, Herbie Hancock, Wayne Shorter, McCoy Tyner, Ornette Coleman, and many more.
Blue Note has since established itself as the most respected and longest running Jazz label in the world, remaining home to some of the most prominent stars and cutting-edge innovators in Jazz today while at the same time broadening its horizons to include quality music in many genres. Under the leadership of current President Don Was, Blue Note has renewed its dedication to Lion's original vision that "any particular style of playing which represents an authentic way of musical feeling is genuine expression." Lion's words still ring true and provide a blueprint that includes Robert Glasper's visionary melding of Jazz, R&B, and Hip-Hop; eclectic singers from Norah Jones to Gregory Porter; and the full spectrum of instrumental Jazz artists from legends like Wayne Shorter and Charles Lloyd to future legends including Ambrose Akinmusire, Joel Ross, and Immanuel Wilkins. Blue Note Records is one of the flagship labels of the Capitol Music Group and Universal Music Group.