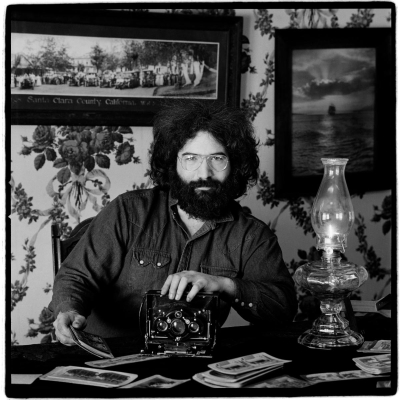 Qobuz Launches Full Jerry Garcia Solo Catalog in Highest Quality
Jerry Garcia Family gives Qobuz stamp of approval, entire live and studio discography now on app
Listen to Qobuz' exclusive Jerry Garcia playlist HERE
Qobuz, the music lovers' Hi-Res streaming and download provider, has officially launched the full Jerry Garcia solo catalog in-app and online. Working directly with the Jerry Garcia Family, the complete discography arriving on Qobuz—both live and studio recordings—is majority Hi-Res, and all in the best available resolution.
Jerry Garcia's daughter, Trixie Garcia, said "Our family is dedicated to sharing our Dad's music throughout the world in the highest quality possible. Jerry loved creating music and today we continue to expand his legacy, to both new and experienced fans, with the launch of his catalog on Qobuz. Sit around with friends and enjoy Jerry's music knowing the common dedication and effort to providing fans with the best quality possible!"
Qobuz Head of Music Content Sujan Hong said "Jerry Garcia moved so effortlessly between genres, exploring those spaces with such a high level of creativity and technicality. It's a pleasure to be able to share this catalog with veteran fans to newly experience in Hi-Res audio, and with newcomers to discover for the first time."
Check out Qobuz' exclusive Round Records playlist of Jerry Garcia Essentials HERE
Between the full Jerry solo catalog, the full Grateful Dead streaming catalog, and all of the exclusives on offer (editorial features, PDF liner notes, human-curated playlists, etc), Qobuz is the ultimate destination for Deadheads looking for the most immersive, "like you were there" listening experience they can get.
Listen to Qobuz' "Grateful Dead Essentials: Studio" playlist HERE, and the "Grateful Dead Essentials: Live" playlist HERE.
And keep an eye out on June 30th for the next release from the Garcia vault, GarciaLive Volume 20: June 18th, 1982 Cape Cod Coliseum, the 20th release in the GarciaLive archival series (pre-order link HERE). First track "Valerie" is already available on Qobuz.
For more information on Qobuz and other partnerships they've had with labels and artists (Zappa Records, Tower of Power, King Crimson, Christian McBride, etc) to release music in the highest quality available, email Hannah Schwartz at Shore Fire Media: hschwartz@shorefire.com
About Qobuz
Founded in 2007 and a pioneer in high-quality sound, Qobuz is a French music streaming and download platform for anyone who wants to fully experience and share their passion for music. Available in 25 countries around the world, including Europe, the United States, Australia, New Zealand, Latin America, and Japan (for high-resolution download service only), Qobuz offers a range of exclusive editorial content written by a team of experts. With a catalog of over 100 million tracks, Qobuz also has the richest selection of high-resolution (Hi-Res) references on the market. Qobuz is a licensed Hi-Res Audio provider by the Japan Audio Society (JAS).
For more information: www.qobuz.com.