Qobuz to Exclusively Release The Zappa Band's Upcoming Live Albums in 24-bit Hi-Res
The live albums are a continuation of Qobuz' partnership with Zappa Records and ongoing commission series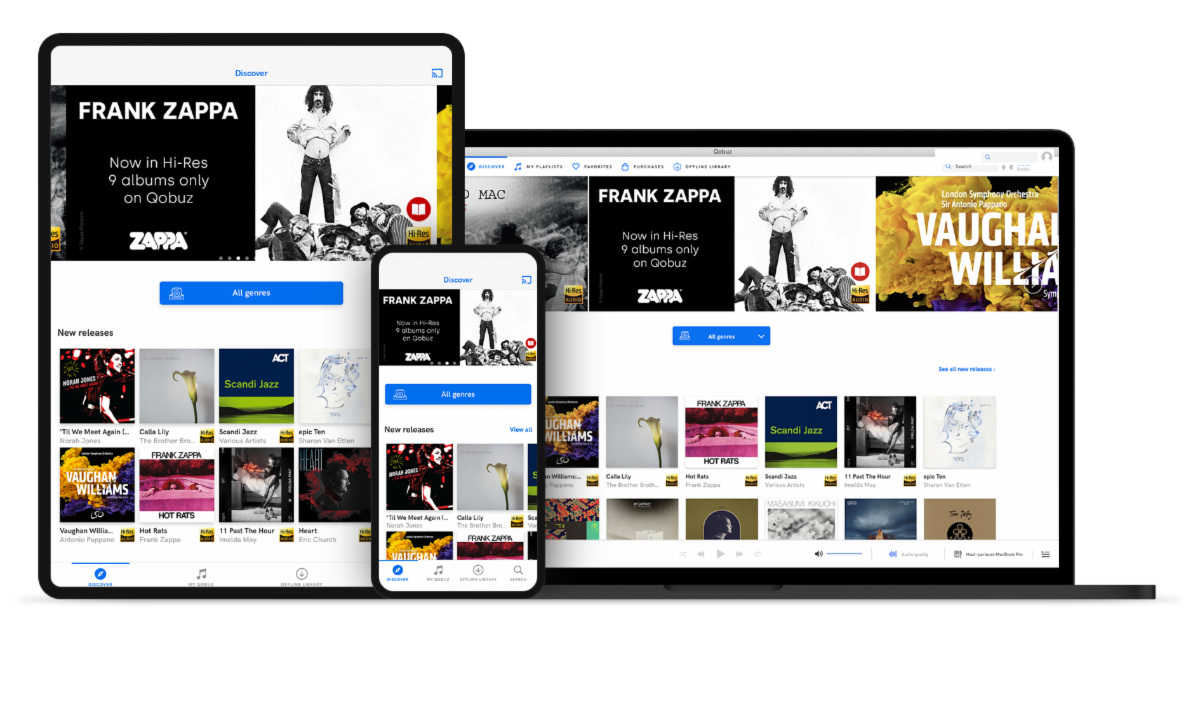 Qobuz, the music lovers' Hi-Res streaming service, will be exclusively releasing live albums from The Zappa Band's upcoming tour with King Crimson this August through September. These live albums to be recorded at each stop of the tour are the next chapter in the ongoing partnership between Qobuz and Zappa Records.
The Zappa Band live albums come on the heels of Qobuz' exclusive release of Captain Beefheart's Trout Mask Replica, as well as a collection of Frank Zappa albums including Sheik Yerbouti, Apostrophe('), and Hot Rats, in Hi-Res for the first time. Ahmet Zappa said, "Furthering our continued partnership with Qobuz, we are pleased to announce the upcoming exclusive digital availability of the awesomeness that is The Zappa Band while on tour with King Crimson this August and September."
The albums are also the latest of Qobuz' ongoing series of exclusive, commissioned works for hard-core music lovers. Earlier this year, Christian McBride recorded a new EP in full 24-bit/192kHz Hi-Res quality, The Q Sessions. The avant-garde, classical UK label Mercury KX recently put out its latest EP, 'MKX x SXSW,' performances from SXSW recorded in Hi-Res quality, exclusively available on Qobuz. And it's all on top of Qobuz' usual aficionado offerings: liner notes, exclusive "Panorama" essays written by experts, artist deep-dives, exclusive playlists and conversations, and more. Qobuz' offerings for music fans are even going "live" this summer, at the Secretly Group Paved Paradise traveling block party, where speakers will be playing the latest and greatest indie tune over Qobuz in parking lots all over America.
Rolling Stone aptly said just recently, "With the largest library of high-fidelity and high-resolution music, Qobuz might be the best streaming service for audiophiles."
Dan Mackta, Qobuz USA Managing Director said of the partnership, "It's an honor for Qobuz to be entrusted with the recordings of these shows. The musicianship and audio quality will be thrilling for fans both old and new. "
Each night's recordings will be available on Qobuz, in full 24-bit Hi-Res, about a week after the performance occurs. The first recording is due within a week of the first show of the tour (August 5th). Search for "The Zappa Band" in the Qobuz app.
About Qobuz
Founded in 2007, Qobuz, a pioneer of high-quality sound, Qobuz is the French music streaming and download service that meets the needs of demanding music lovers and audiophiles. Available in 18 countries around the world, in Europe, the United States, Australia, and New Zealand, Qobuz offers an exceptional range of exclusive editorial content written by a team of experts. With its catalog of more than 70 million tracks, Qobuz also has the richest choice of high-resolution (Hi-Res) references on the market. Qobuz is the only multi-genre platform to achieve Hi-Res certification— - a label awarded by the Japan Audio Society (JAS). For more information: qobuz.com
About Zappa Records
Zappa Records [Zappa.com] is an independent record label based in California that specializes in the "World's Finest Optional Entertainment." The label was founded in 1977 by Frank Zappa and is part of the Zappa Trust.
About The Zappa Band
Frank Zappa alumni play his music live again! The Zappa Band is Mike Keneally (1987-1988), Ray White (1976-1984), Robert Martin (1981-1988) and Scott Thunes (1981-1988). Each musician played in the studio and on the road with Zappa during his career. Three of these alums played on "ZAPPA 88: The Last U.S. Show," the most recent offering from Zappa Records & Universal Music. The Zappa alums are joined by Joe Travers and Jamie Kime, who are no strangers to FZ's music, to round out the ensemble. The Zappa Band will be opening for King Crimson and playing a 45 minute set to open each show.
For more information on Qobuz, please contact Mark Satlof (msatlof@shorefire.com) or Kelly Sheng (ksheng@shorefire.com) at Shore Fire Media.
For more information on Zappa Records, please contact Jeff Newelt (jeff@zappa.com).