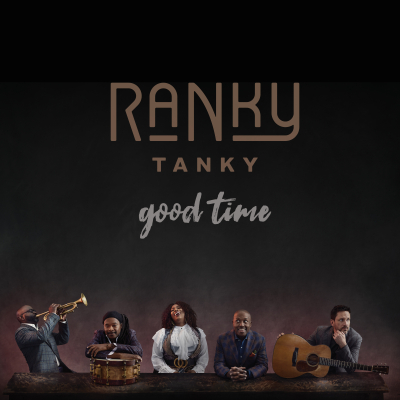 Ranky Tanky Spread Gullah Music To The Masses With Good Time, Out Today (Resilience Music Alliance)
U.S. Tour Kicks Off This Sunday (July 14) With Album Release Show In New York's Central Park
TAKE A TRIP THROUGH RANKY TANKY'S CHARLESTON IN THEIR EXUBERANT "GOOD TIME" VIDEO VIA GARDEN & GUN:
https://gardenandgun.com/articles/watch-ranky-tankys-new-music-video-good-time/
Ranky Tanky – South Carolina's global Gullah ambassadors and the Billboard chart-toppers making "soulful honey to the ears" (NPR) – have released their new album Good Time today via Resilience Music Alliance. After weeks of teasing new music and already releasing a pair of EPs this summer, the five-piece brings it all home on Good Time. The full-length includes the entirety of those two previous releases, as well as the brand-new title track and a version of "Worried Now" (made famous by The Carter Family and then Woody Guthrie) that caused No Depression to note "nobody matches Ranky Tanky's country/folk/funk/soul treatment." Good Time's twelve songs fuse West African influences with the traditions of the American South, carrying on the musical heritage of the band's Gullah community in coastal South Carolina.
To celebrate the release, Ranky Tanky have shared a joyous new video for the title track via Garden & Gun. The visual explores Charleston's Gullah community through the band's eyes, visiting a selection of local mainstays before an epic rent party-turned-raucous celebration at the legendary Commodore jazz club. Garden & Gun says "If it doesn't get you moving, you might want to check your heartbeat...an embodiment of pure joy." Watch here: https://gardenandgun.com/articles/watch-ranky-tankys-new-music-video-good-time/
Ranky Tanky (which is a Gullah phrase for "get funky") are Quentin Baxter (Drums), Kevin Hamilton (Bass), Quiana Parler (Vocals), Clay Ross (Guitar) and Charlton Singleton (Trumpet). The group's members are predominantly jazz and gospel musicians raised within the Gullah tradition and are lifelong friends brought together by their years in the Charleston music scene. After releasing their self-titled debut album in 2017, the group quickly gained attention for being "in a league of their own" (NPR, All Things Considered), topping the Billboard Jazz charts, performing on the TODAY Show and sitting down with Terry Gross for a Fresh Air interview. They will keep the momentum going into the fall as the subjects of an extensive feature in Oxford American's South Carolina Music Issue.
On the heels of the new album, Ranky Tanky will tour throughout North America this summer. This Sunday, they play a special tour kick-off show at Central Park SummerStage in New York City. A full list of dates is below.
GOOD TIME TRACKLIST
1. Stand By Me
2. Freedom
3. All For You
4. Let Me Be
5. Sometime
6. Good Time
7. Beat Em Down
8. Green Sally
9. Old Bill
10. Pay Me My Money Down
11. Worried Now
12. Shoo Lie Loo
RANKY TANKY TOUR DATES
July 14 – Central Park SummerStage – New York, NY
July 17 – Dartmouth Green – Hanover, NH
July 20 – Ventura Music Festival – Ventura, CA
July 21 – Musical Instrument Museum – Phoenix, AZ
July 23 – Dimitriou's Jazz Alley – Seattle, WA
July 24 – Dimitriou's Jazz Alley – Seattle, WA
July 27 – Calgary Folk Music Festival – Calgary, Canada
Sep 13 – The Tarkington at the Center for the Performing Arts – Carmel, IN
Sep 21 – Door Community Auditorium – Fish Creek, WI
Jan 23 – Newman Center for the Performing Arts – Denver, CO
Jan 25 – Soka Performing Arts Center – Aliso Viejo, CA
Mar 12 – Gaillard Center w. Charleston Symphony Orchestra – Charleston, SC
April 16 – Oxford American Archetypes & Troubadours Series – Little Rock, AR
April 17 – Germantown Performing Arts Center – Germantown, TN