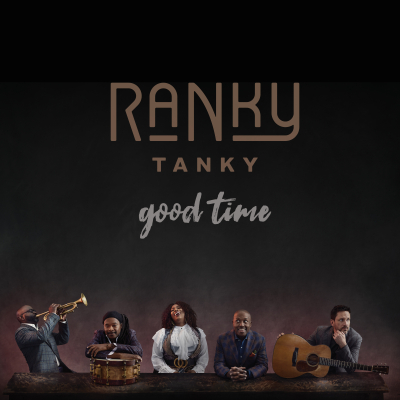 Ranky Tanky Makes Grammy History For The Gullah Community With Best Regional Roots Album Nomination
Since their formation, the Charleston five-piece Ranky Tanky have established themselves as global ambassadors for their tight-knit local community, bringing the West African-influenced sounds of the South Carolina Lowcountry around the world - including the TODAY Show stage and the top of the Billboard genre charts. Now, Ranky Tanky will take the next step in that journey, bringing Gullah music to the GRAMMYs for the first time ever with the news that their most recent release Good Time has been nominated for Best Regional Roots Album this year.
Gullah is a centuries-old sound that has been carried down through generations in the Sea Islands of the Southeastern United States, originated by African Americans in coastal South Carolina and Georgia during slavery and faithfully preserved by their descendants up through the present day. In Ranky Tanky's hands, Gullah music has been described as "soulful honey to the ears" (NPR), and now this essential yet too little known corner of the African American story will finally be represented on Music's Biggest Night.
Watch Ranky Tanky perform their original Gullah song "Freedom" from Good Time on The TODAY Show: https://bit.ly/2NhkwOI
Ranky Tanky's Charlton Singleton explains the origins of the Gullah community, Gullah music and how the group has boldly kept their West African heritage thriving through generations: https://www.youtube.com/watch?v=_YaNvLYGlx8
Most recently, Ranky Tanky were the subjects of a 10-page profile in Oxford American as part of an issue dedicated to the musical history of South Carolina. The feature concludes that "Ranky Tanky's offering to American music history is distinct – it encases the traditional in carefully built, geometric layers of funk that protect us from forgetting this music, no matter where or how we are moved from this land." Read the profile in full here: https://www.oxfordamerican.org/magazine/item/1863-sing-across-the-ocean
Previously, Ranky Tanky have been praised by NPR for "bringing freshness and uplift to overlooked Americana," and Garden & Gun have said "if Ranky Tanky doesn't get you moving, you might want to check your heartbeat." Around their 2017 self-titled debut album, Ranky Tanky sat down with Terry Gross on Fresh Air to discuss all things Gullah. Listen to that informative interview here: https://www.npr.org/2017/12/12/569965570/ranky-tanky-leans-on-the-music-and-culture-of-slave-descendants
Ranky Tanky will continue to tour Good Time into 2020, including a late January run through Southern California, and a much anticipated hometown show with the Charleston Symphony Orchestra on March 12.
RANKY TANKY TOUR DATES
December 6 - Carver Community Cultural Center - San Antonio, TX
December 7 - Max M. and Marjorie S. Fisher Music Center - Detroit, MI
January 13 - Sony Hall - New York, NY
January 14 - City Winery - Boston, MA
January 18 - Harbison Theatre at Midlands Technical College - Irmo, SC
January 23 - Newman Center for the Performing Arts - Denver, CO
January 25 - Soka Performing Arts Center - Aliso Viejo, CA
January 28 - La Jolla Music Society - San Diego, CA
January 29 - Freight & Salvage Coffeehouse - Berkeley, CA
January 30 - Kuumbwa Jazz Center - Santa Cruz, CA
January 31 - Sweetwater Music Hall - Mill Valley, CA
February 8 - Clemens Fine Arts Center - Paducah, KY
March 12 - Gaillard Center - Charleston, SC (w. The Charleston Symphony Orchestra)
March 20 - Bailey Hall - Davie, FL
April 4 - South Miami-Dade Cultural Arts Center - Cutler Bay, FL
April 5 - Straz Center - Tampa, FL
April 16 - The Oxford American Archetypes & Troubadours Series - Little Rock, AR
April 17 - Germantown Performing Arts Center - Germantown, TN
April 22 - Bayou Theater - Houston, TX
April 24 - Texas Tech University Allen Theatre - Lubbock, TX
April 25 - Dominican University - River Forest, IL
July 17 - Bürgerhaus Unterföhring - Unterföhring, Germany