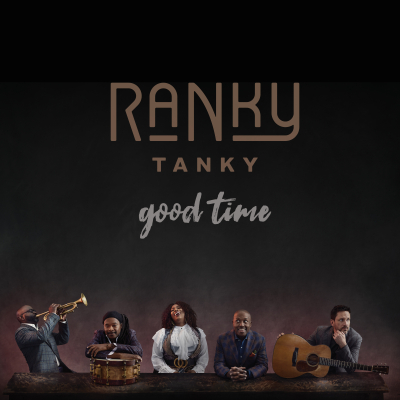 Ranky Tanky's Gullah Music Revival Enters A New Chapter With Good Time, Out July 12 On Resilience Music Alliance
STREAM FIVE SONGS FROM THE ALBUM NOW ON THE GROUP'S STAND BY ME EP: https://ffm.to/_standbyme

CENTRAL PARK SUMMERSTAGE PERFORMANCE CONFIRMED FOR JULY 14
Three years ago in the South Carolina Lowcountry, five longtime musician friends got together to explore the centuries-old sound of Gullah music - the artistic output of the tight-knit local community known for boldly celebrating and preserving their West African heritage through generations. In the short time since, Charleston's Ranky Tanky have become Gullah music's primary global ambassadors, bringing a sound described as "soulful honey to the ears" (NPR) to the top of the Billboard charts (classified as Jazz, although Gullah could easily be described as half a dozen other genres), spreading their message via a Fresh Air interview with Terry Gross, a show-stopping performance on the TODAY Show, and more.
On July 12, Ranky Tanky returns with their sophomore album Good Time – a twelve-song collection culled together by the road-tested group over two years of near constant touring, and for the first time featuring brand-new original songs in the Gullah tradition. Today, the group share the first five songs from Good Time with a streaming-only EP called Stand By Me. A second EP with additional songs will be released in the coming weeks.
Listen to Stand By Me here: https://ffm.to/_standbyme
Pre-Order Good Time here: https://ffm.to/_goodtime
Ranky Tanky are Quentin Baxter (Drums), Kevin Hamilton (Bass), Quiana Parler (Vocals), Clay Ross (Guitar) and Charlton Singleton (Trumpet). The group's members are predominantly jazz and gospel musicians raised within the Gullah tradition, and are lifelong friends brought together by their years in the Charleston, South Carolina music scene. It was Clay Ross, notably not a member of the Gullah community, who fell in love with the music's distinctive sound and convinced the others to pursue it more seriously.
The traditional music they've played over the years is inspired by their respective childhoods and church upbringings, fused with the work of local heroes like legendary gospel singer Bessie Jones, the Georgia Sea Island Singers and music drawn from Alan Lomax's field recording from the late 1950s and early 1960s. Good Time features original songs from Ranky Tanky for the first time, including "Stand By Me," and "Freedom," which the group performed on the TODAY Show earlier this year. Watch that performance here: https://www.youtube.com/watch?v=6_eu0_ZFgIk&feature=youtu.be
Ranky Tanky (which is a Gullah phrase for "get funky") will tour North America and Europe this summer, including a July 14 performance at Central Park Summerstage in NYC. See below for a full list of dates.
PRAISE FOR RANKY TANKY:
"In a league of its own...Ranky Tanky brings freshness and uplift to overlooked Americana." - NPR, All Things Considered
"To listen to Ranky Tanky is to be taken to church, yes, but it is also to be reminded of your secular humanity." - Garden & Gun
"There's no better voice to capture [Gullah music] than Quiana's and no better band to give it a modern twist." - Afropop Worldwide
"Whether you hear Ranky Tanky in a concert hall or under moss-draped live oaks, it's a powerful moment." - Charleston Magazine
"Oh gosh, that sounds so great." - Terry Gross, Fresh Air
GOOD TIME TRACKLIST
Stand By Me Freedom
All For You Let Me Be Sometime Good time Beat Em Down Green Sally Old Bill
Pay Me My Money Down Worried Now
Shoo Lie Loo
RANKY TANKY TOUR DATES
July 3 – CaixaForum Barcelona – Barcelona, Spain
July 4 – CaixaForum Zaragoza – Zaragoza, Spain
July 5 – Copenhagen Jazz Festival – Kobenhavn, Denmark
July 6 – Wassermusik 2019 – Berlin, Germany
July 7 – Rudolstadt Festival – Rudolstadt Festival
July 11 – CaixaForum Madrid – Madrid, Spain
July 12 – North Sea Jazz Festival – Rotterdam, Netherlands
July 14 – Central Park SummerStage – New York, NY
July 17 – Dartmouth Green – Hanover, NH
July 20 – Ventura Music Festival – Ventura, CA
July 21 – Musical Instrument Museum – Phoenix, AZ
July 23 – Dimitriou's Jazz Alley – Seattle, WA
July 24 – Dimitriou's Jazz Alley – Seattle, WA
July 27 – Calgary Folk Music Festival – Calgary, Canada
Sep 13 – The Tarkington at the Center for the Performing Arts – Carmel, IN Sep 21 – Door Community Auditorium – Fish Creek, WI
Jan 23 – Newman Center for the Performing Arts – Denver, CO
Jan 25 – Soka Performing Arts Center – Aliso Viejo, CA
Mar 12 – Gaillard Center w. Charleston Symphony Orchestra – Charleston, SC April 16 – Oxford American Archetypes & Troubadours Series – Little Rock, AR April 17 – Germantown Performing Arts Center – Germantown, TN