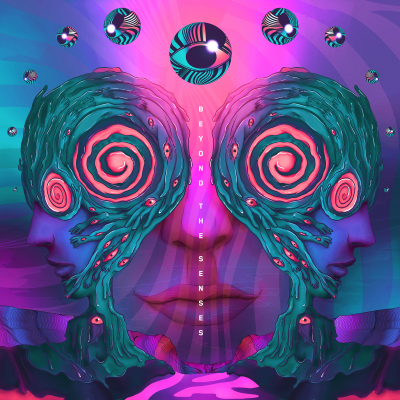 REZZ Announces New EP 'Beyond The Senses' (7/24, AWAL) And Unveils New Track "Dark Age"
REZZ To Perform New Music At EDC Las Vegas This Saturday, 5/18
LISTEN TO "DARK AGE" HERE:
https://bit.ly/2VZVwyx
Canadian DJ & producer REZZ has announced her highly-anticipated new EP 'Beyond The Senses,' out July 24th through AWAL. REZZ has also revealed the lead single from 'Beyond The Senses' entitled "Dark Age," which Billboard called "haunting and industrial...the song stomps with all of Rezz's signature electric charge." Listen to "Dark Age" here: https://bit.ly/2VZVwyx
A strong introduction to REZZ's forthcoming project, "Dark Age" blends intricate melodies with the producer's penchant for rich bass textures and eerie tones. "'Dark Age' was the first song I completed for this project and I think best fits the vibe of the title and visual components which will be integrated into my new show," says REZZ.
'Beyond The Senses' is a compelling 6-track production which marks a new musical chapter for REZZ. "This EP exudes more depth in my songs' melody and structure. It also introduces new types of vocals which I haven't worked with in the past," she says.
REZZ's EP will give listeners the opportunity to reimagine what it means to consume music through a VR component. Each of the six tracks on 'Beyond The Senses' will have its own VR world for fans to explore, created in partnership with The Wave XR and Strangeloop.
"The purpose of 'Beyond the Senses is to have listeners imagine life beyond the limitations of their basic human senses," says REZZ. "Each piece of the project (the music, the tour visuals, and the virtual reality component) will work together to reflect the concept of living beyond your senses."
Wave XR is a platform that creates virtual nightclubs for fans and DJs to come together globally, while Strangeloop Studios is a visual production company that has worked on live shows for the likes of The Weeknd, Flying Lotus (3D), Kendrick Lamar, Pharrell and Zeds Dead.
REZZ will be play EDC Las Vegas this Saturday, May 18th before headlining select US cities later this month, including a show at New York's Brooklyn Mirage on June 21st. She will return to Colorado's famed Red Rocks Amphitheater on September 22nd for her annual REZZ Rocks takeover.
With its innovative use of VR and splicing of different electronic genres, 'Beyond The Senses' is a multi-sensory experience which portrays REZZ as one of the most forward-thinking artists in the global dance music world.
Pre-order 'Beyond The Senses'
https://rezz.lnk.to/BeyondTheSenses
REZZ - 'Beyond The Senses' Tracklist
1. REZZ - Dark Age
2. REZZ - Falling feat. Underoath
3. REZZ x Deathpact - Kiss of Death
4. REZZ x Eddie - Stress
5. REZZ x Sayer - Your Soul Will Never Be Released
6. REZZ - Lonely feat. The Rigs
More information on REZZ