Rhiannon Giddens Received Inaugural Legacy Of Americana Award At The Americana Honors And Awards At The Ryman On Wednesday
Extended there is no Other (Nonesuch) Available On Vinyl Out Today
Featured In Ken Burns' Country Music Series Debuting This Sunday On PBS
At the Americana Honors and Awards in Nashville on Wednesday, Rhiannon Giddens received the inaugural Legacy of Americana Award, the latest acknowledgement in what has been a tremendous year for the artist. She also performed twice and was nominated in two categories. Today, an extended version of her recently released album featuring multi-instrumentalist Francesco Turrisi, there is no Other, is available on vinyl, and Ken Burns' Country Music series - which features interviews with Giddens - premieres on PBS this Sunday.
The extended vinyl edition of there is no Other (Nonesuch) is a 2xLP set with an expanded booklet of liner notes and four additional songs not on the original release from early May, all of which will also be made available on all streaming services today. there is no Other has been met with tremendous praise, prompting Pitchfork to say: "few artists are so fearless and ravenous in their exploration."
On Wednesday at the Americana Awards, Giddens was honored with the inaugural Legacy of Americana Award. The award was issued in partnership with the National Museum of African American Music to Giddens and Frank Johnson, the preeminent and highly influential enslaved folk musician. She also performed twice during the show - as Artist of the Year nominee, and with Our Native Daughters, who were nominated for Group of the Year and released an album in February on Smithsonian Folkways.
To round off this whirlwind week, the Ken Burns docu-series Country Music begins airing this Sunday on PBS. Giddens' commentary appears throughout the docuseries. She is also a featured performer on "Country Music: Live at the Ryman Concert," which aired last Sunday, and is available to stream on PBS.com until October 19.
Giddens will be touring worldwide through November. An extensive there is no Other run with Turrisi starts in September, including dates at the Metropolitan Museum of Art in the Temple of Dendur in NYC on October 4 and 5 and at Pico Union in Los Angeles on October 19 and 20.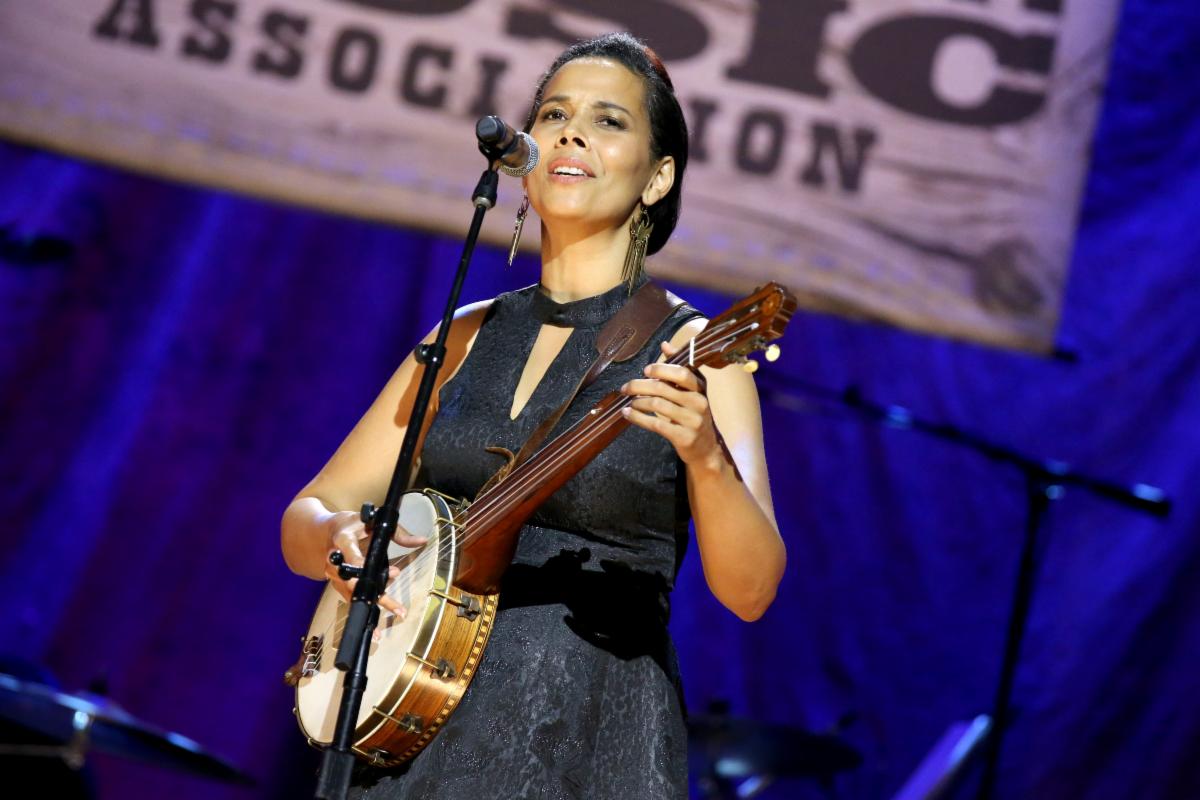 photo credit: Getty Images for the Americana Music Association
"Is there anything Rhiannon Giddens can't sing?…[she] sings with inflections that bridge mountains and deserts" – New York Times
"The sonic equivalent of a long still shot in natural light...the first true Rhiannon Giddens record" – New Yorker, profile story May 2019
"Rhiannon Giddens is the 21st century's revelator" – NPR
"At a time when it seems that the old tropes of country and folk have been completely exhausted, along comes a new artist with the capacity to offer a tectonic shift of perspective, and provide a whole new window through which to view our shared musical past" – American Songwriter, July 2019 cover story
"The most distilled and sui generis display of the unique artistry that defines her still-blossoming career" – Rolling Stone
"Few artists are so fearless and so ravenous in their exploration" - Pitchfork
"(Shows) the ease with which the boundaries of genre and nationality can be broken through music. There, this album dwells: in the quiet times where people live fully with each other…Giddens turns her exquisite voice and sensibility toward this psychic territory" – NPR Music
"For an album recorded in only five days, it wallops with impact. Giddens is going supernova, and it's a blistering thing" – Guardian, 5 out of 5 stars / Folk Album of the Month
"Together, they create a mystical bridge between cultures, traditions, and tones" – Rolling Stone Country
"The album is a striking campaign for connection that exquisitely blends European, Arabic, African American and Mediterrean sounds" - Paste
"This is acoustic roots music at its most glorious, and Giddens is fast becoming the genre's brightest star in the firmament" – Uncut, 9 out of 10
"Timeless and utterly of this time. Filigree and ferocious in equal measure" – Irish Times, 5 out of 5 stars
"Americana's queen goes global" - WNYC
"These songs are as much about place as they are time, and it's impressive how seamlessly Giddens and Turrisi can blend Arabic, African, Italian, and Americana sounds" – No Depression
"There's an intellectual thrill in hearing how the lyrical and musical themes intertwine - but it's also a visceral album, equally enchanting and eerie" – AllMusic
there is no Other fall tour – Rhiannon Giddens with Francesco Turrisi:
9/19 – Birmingham, AL – Alys Stephens Center *
9/20 – Atlanta, GA – City Winery (sold out) *
9/21 – Nashville, TN – City Winery (sold out) *
9/22 – Asheville, NC – Diana Wortham Theatre (sold out) *
9/23 – Charlotte, NC – McGlohon Theatre at Spirit Square *
9/25 – Raleigh, NC – North Carolina Museum of Art *
9/26 – Washington, DC – Kennedy Center Terrace (sold out) *
9/27 – Princeton, NJ – McCarter Theater *
9/28 – Wilmington, DE – Grand Opera House *
9/29 – Burlington, VT – Flynn Center for the Performing Arts *
10/1 – Brownfield, ME – Stone Mountain Arts Center (sold out) *
10/2 – Boothbay Harbor, ME – The Opera House at Boothbay Harbor (sold out) *
10/3 – Cambridge, MA – Sanders Theatre (sold out) *
10/4 – New York, NY – Metropolitan Museum of Art (sold out) *
10/5 – New York, NY – Metropolitan Museum of Art *
10/19 – Los Angeles, CA – Pico Union (sold out) *
10/20 – Los Angeles, CA – Pico Union (sold out) *
10/23 – Kent, OH – The Kent Stage *
10/24 – Toronto, ON – The Royal Conservatory (sold out) *
10/25 – Ann Arbor, MI – The Ark (sold out) *
10/26 – Chicago, IL – City Winery (sold out) *
10/27 – Chicago, IL – City Winery (sold out) *
10/29 – Bloomington, IN – Buskirk-Chumley Theater *
10/30 – Iowa City, IA – The Englert Theatre *
10/31 – Minneapolis, MN – The Dakota (sold out) *
11/1 – Minneapolis, MN – The Dakota (sold out) *
11/2 – Stoughton, WI – Stoughton Opera House (sold out) *
11/3 – Stoughton, WI – Stoughton Opera House (sold out) *
11/21 – London, UK – Wormwood Scrubs prison performance *
11/22 – London, UK – London Jazz Festival *
11/23 – Brighton, UK – St. Georges Church *
11/24 – Basingstoke, UK – The Anvil *
11/26 – Bath, UK – Forum *
11/27 – Buxton, UK – Opera House *
11/28 – Liverpool, UK – Grand Central *
11/29 – Gateshead, UK – The Sage *
12/1 – Edinburgh, UK – Usher Hall *
12/3 – Utrecht, Netherlands - TivoliVredenburg *
12/4 – Hamburg, Germany – Fabrik *
12/5 – Darmstadt, Germany – Central Station *
12/6 – Cologne, Germany – Kulturkirche *
12/8 – Leuven, Belgium – Het Depot *
12/9 – Paris, France – Café de la Danse *
12/10 – Amsterdam, Netherlands – De Duif *
2/7/20 – Palo Alto, CA – Stanford Live *
2/13/20 – San Francisco, CA – Miner Auditorium * (sold out)
2/14/20 – San Francisco, CA – Miner Auditorium *
2/15/20 – San Francisco, CA – Miner Auditorium *
2/16/20 – San Francisco, CA – Miner Auditorium *
* Rhiannon Giddens with Francesco Turrisi