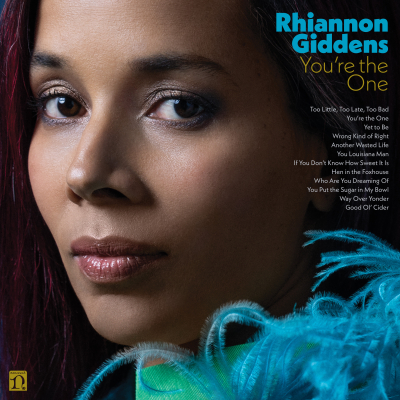 2023 Pulitzer Prize Winner Rhiannon Giddens Releases "You Louisiana Man" From New Album You're the One, out August 18 on Nonesuch Records
June 21, 2023 - Pulitzer Prize winner Rhiannon Giddens has released a new single from her forthcoming album You're the One (August 18 / Nonesuch Records). "You Louisiana Man" blends Giddens' celebrated voice and banjo work with horns, organ, fiddle, and accordion to create a Zydeco-funk jam. Her first album of all original songs was announced in May and has been covered by NPR's All Songs Considered, the New York Times Playlist, Pitchfork, Variety, Rolling Stone, SPIN, and more. It was produced by Jack Splash (Kendrick Lamar, Solange, Alicia Keys, Valerie June, Tank and the Bangas). Giddens also recently announced the biggest headlining shows of her career, including performances at the Ryman Auditorium in Nashville in September, plus the Barbican Centre in London, the Beacon Theatre in New York City, and the Ace Theater in Los Angeles next spring (dates below).
Watch / listen to "You Louisiana Man" here: https://rhiannongiddens.lnk.to/youretheone
The studio video was filmed while the album was being recorded at Criteria Recording Studios in Miami, FL. Says Giddens, "This was the first song we recorded together in the studio, and it was the one that set the tone for the rest of the week. Like kids on the first day of school, we were feeling out everyone in the room musically and in that moment it all clicked. My folks, Jack's folks- we all listened to each other and found this beautiful place at the center of all our different sounds."
You're the One features twelve songs, written over the course of Giddens' career, that burst with life-affirming energy, drawing from the folk music that she knows so deeply, as well as its pop descendants. It was recorded with a band composed of Giddens's closest musical collaborators from the past decade alongside musicians from producer Splash's own Rolodex, topped off with a horn section, making an impressive ten- to twelve-person ensemble. The collaborators include Italian multi-instrumentalist Francesco Turrisi plus multi-instrumentalist Dirk Powell, bassist Jason Sypher, and Congolese guitarist Niwel Tsumbu. The album features electric and upright bass, conga, Cajun and piano accordions, guitars, a Western string section, and Miami horns, among other instruments, capturing the inclusive spirit that channels through all of her work.
Giddens—the GRAMMY and MacArthur-winning singer, composer, and instrumentalist—was recently awarded the Pulitzer Prize in Music for the opera, Omar, with libretto and music by Giddens in collaboration with Michael Abels (Get Out, Nope). Additionally, she just served as the musical director for this year's Ojai Music Festival.
As Pitchfork once said, "Few artists are so fearless and so ravenous in their exploration"—a journey that has led to NPR naming her one of its 25 Most Influential Women Musicians of the 21st Century and to American Songwriter calling her "one of the most important musical minds currently walking the planet." Giddens' previous album They're Calling Me Home won the GRAMMY for Best Folk Album in 2022, making her a two-time winner and eight-time nominee. Over the last two years, in addition to the debut of Omar, Giddens also made her PBS' Great Performances debut with the Nashville Ballet in Black Lucy and the Bard, which she composed and performed the music for with Francesco Turrisi, and released a children's book inspired by a song she wrote for Juneteenth called Build a House. She is also recently became creative director of the Silkroad Ensemble, created a 10-part video series about the banjo on Wondrium, and launched a new series on PBS called My Music. Giddens has collaborated with Yo-Yo Ma, Elvis Costello, and Daniel Lanois; appeared on the Kennedy Center Honors Awards for Joan Baez; and appeared on CBS Sunday Morning, Jimmy Kimmel Live!, the Late Show with Stephen Colbert, the Tonight Show with Jimmy Fallon, CBS Saturday Morning, and the recent GRAMMY Salute to Paul Simon on CBS.
TRACK LIST:
Too Little, Too Late, Too Bad

You're the One

Yet to Be (feat. Jason Isbell)

Wrong Kind of Right

Another Wasted Life

You Louisiana Man

If You Don't Know How Sweet It Is

Hen in the Foxhouse

Who Are You Dreaming Of

You Put the Sugar in My Bowl

Way Over Yonder

Good Ol' Cider
TOUR DATES:
July 6: Festival dei Due Mondi, Spoleto, Italy~
July 12: Umbria Jazz, Perugia, Italy~
July 15: Pori Jazz Festival, Pori, FI$
July 17: Wigmore Hall, London, UK$
September 13: University of Iowa, Iowa City, IA^
September 14: The Sheldon, St. Louis, MO^
September 15: Ryman Auditorium, Nashville, TN^
September 17: Athenaeum Center, Chicago, IL*
September 18: Michigan Theatre, Ann Arbor, MI*
September 19: St. Cecilia Music Center, Grand Rapids, MI^
September 20: Royal Conservatory, Toronto, ON^
September 22: House of Blues, Boston, MA^
September 23: University of Maine, Orono, ME^
September 24: FreshGrass MASS MoCa Festival, North Adams, MA
September 26: Keswick Theater, Philadelphia, PA^
September 27: University of Maryland, College Park, MD^
September 28: Carolina Theater, Greensboro, NC^
September 30: University of North Carolina at Wilmington, Wilmington, NC^
October 1: Modlin Center at University of Richmond, Richmond, VA+
October 2: Paramount Theatre, Charlottesville, VA*
November 17: Zellerbach Hall, Berkeley, CA@
February 10, 2024: Maison de la culture de Creteil, Creteil, France
February 11, 2024: Doornroosje Main Hall, Nijmegen, Netherlands
February 13, 2024: Paradiso, Amsterdam, Netherlands
February 14, 2024: Ancienne Belgique, Brussels, Belgium
February 17, 2024: Elb Philharmonie, Hamburg, Germany
February 18, 2024: Lido, Berlin, Germany
February 19, 2024: Kulturkirche Ost, Köln, Nordrhein-Westfalen, Germany
February 21, 2024: Barbican Centre, London, UK
February 23, 2024: Pavillion Theatre, Glasgow, UK
February 25, 2024: Vicar St., Dublin, Ireland
March 16, 2024: Beacon Theatre, New York, NY
April 25, 2024: Ace Theatre, Los Angeles, CA
~ with Francesco Turrisi
$ with Christian McBride & Francesco Turrisi
% with Dirk Powell & Justin Robinson
^ with Adia Victoria
* with Charly Lowry
+ with The Legendary Ingramettes
@ Silkroad Ensemble with Rhiannon Giddens
https://shorefire.com/roster/rhiannon-giddens
For more information please contact Chris Taillie and Matt Hanks at Shore Fire Media