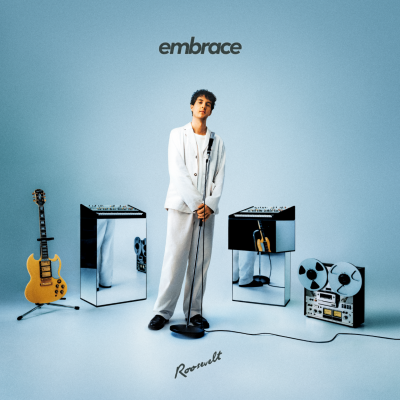 Roosevelt Announces Revelatory New Album 'Embrace' 
Out September 22nd via Counter Records/Ninja Tune 
Stream New Single "Paralyzed" HERE
US Tour Kicks Off Sept 21 - Tickets HERE
Today, celebrated producer, DJ, songwriter, and multi-instrumentalist Roosevelt has announced his highly-anticipated forthcoming album 'Embrace' (out Sept 22nd via Counter Records/Ninja Tune) and released the thrilling advanced single "Paralyzed." The follow up to his acclaimed 2021 LP 'Polydans', 'Embrace' is a sonically vibrant and deeply personal creative statement from the German maestro, who is quickly building a reputation as one of the world's most innovative musical talents.
The announcement of 'Embrace' is accompanied by the release of "Paralyzed", the third advanced preview of the new album following the recent releases of "Luna" and "Ordinary Love". Continuing where the previous singles left off, "Paralyzed" finds Roosevelt in a lovelorn state as he croons to a past flame: "Can feel our love is fading / So lead me to your door / All I can say / Feels off now / I'm paralyzed by your love" while layers of shimmering synths envelop a funky dance floor-ready bassline.
Watch the "Paralyzed" music video HERE
Written, recorded, and produced entirely by Roosevelt (the stage name of Marius Lauber), 'Embrace' features deeply personal lyrics and emotive instrumentals unlike anything heard on past Roosevelt releases. Lauber took his home studio on the road with the intent of fully immersing himself in the writing process like never before. Working with improvised setups in cities around the world, Lauber has crafted an album that sounds equally intimate and expansive, with kaleidoscopic synthesizer arrangements and addictive disco basslines throughout. The album's title stems from Lauber's realization that upon turning 30, many of his childhood friends had settled for "real jobs" while he was still on the road living an artist's lifestyle - the title "Embrace" functions as a note to the artist himself, a reminder to accept the unpredictable twists and turns that life has in store.
Speaking about "Paralyzed", Roosevelt noted: "During a writing session in Barcelona, I was heavily influenced by early 80s disco, especially its bass lines, and listened a lot to singers like Melba Moore or Gwen Guthrie - there's something in these bass lines that is both uplifting and sad, which is something I'm always drawn to. Paralyzed grew from spontaneously playing a bass line, and when layering the rest of the instrumentation, I tried to give it that bittersweet feeling these old disco tracks have to me."
Tracklist:
Ordinary Love

Rising

Luna

Yucca Mesa

Paralyzed

Lake Shore

Realize

Fall Right In

Forevermore

Alive
Later in 2023, Roosevelt will be heading out on his biggest North American Tour to date, headlining 35+ dates including New York, Los Angeles, San Francisco, Denver, Chicago, Atlanta, Toronto and more. Pulling from his diverse catalog and inspired by his own experiences DJing, the Roosevelt live show will feature fluid transitions between songs and a three-piece backing band. Full dates HERE.
Roosevelt's busy 2023 follows past high-profile collaborations with Nile Rodgers, Classixx and Washed Out, and major remixes for the likes of Taylor Swift, CHVRCHES, Glass Animals, and Charlotte Gainsbourg.
For more information on Roosevelt, please contact
Josh Page at Shore Fire Media.