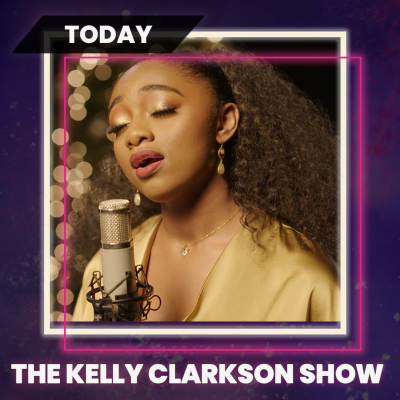 Samara Joy Brings the Holiday Cheer to The Kelly Clarkson Show with "Warm in December" Performance
23-year-old GRAMMY Best New Artist Nominee is "Helping Jazz Take a Youthful Turn" (New York Times)
December 13, 2022: Samara Joy, 2x GRAMMY nominee for Best New Artist and Best Jazz Vocal Album, performed her holiday single "Warm in December'' on The Kelly Clarkson Show today. The 23-year-old "once in a generation" vocalist playfully reinvigorates the swinging holiday standard with her "rich, buttery vocals" (Billboard), "breathtaking technique" (Boston Globe), and "youthful exuberance" (WRTI).
Watch Samara Joy perform "Warm in December" on The Kelly Clarkson Show HERE.
Read more about Samara Joy's latest studio album Linger Awhile - nominated for Best Jazz Vocal Album at the 65th Annual GRAMMY Awards® - via a recent New York Times profile HERE.
Last week, Samara performed "Nostalgia (The Day I Knew)" for The Late Show with Stephen Colbert. Check out the performance HERE.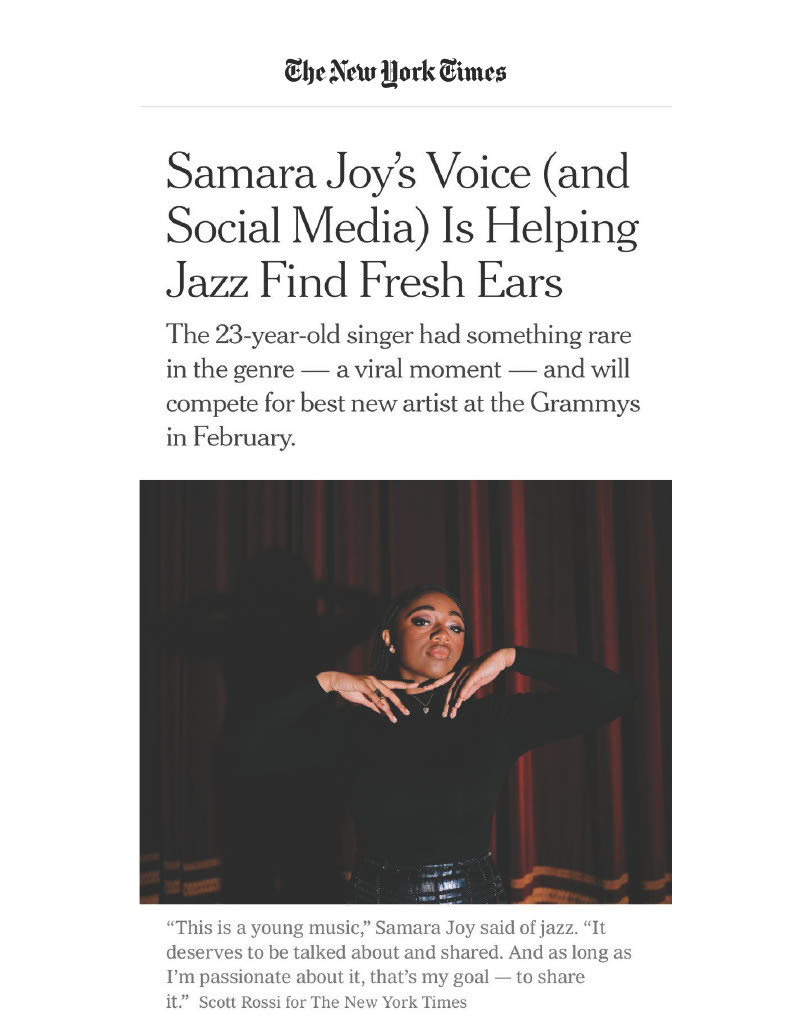 Samara Joy, born and raised in the Bronx, has dazzled crowds at jazz clubs, festivals, and cultural institutions across the globe, performed on NBC's Today Show with Hoda and Jenna, and earned glowing public endorsements from the likes of Regina King, LaKeith Stanfield, and many others. While she is influenced by the greats like Ella Fitzgerald and Carmen McRae, Samara takes a contemporary approach to her art and performance as evidenced by her massive TikTok following. Her Verve Records debut album Linger Awhile - named one of the Best Jazz Albums of 2022 by The New York Times - is a 10-song collection of beloved tunes, updated for a new generation. Recorded at Sear Sound in New York City by Chris Allen and produced by Matt Pierson, Linger Awhile features exemplary musicianship by Pasquale Grasso (guitar), Ben Paterson (piano), David Wong (double bass), and Kenny Washington (drums).
In addition to several New York City performances with the Jazz at Lincoln Center Orchestra as a special guest on their Big Band Holidays tour, Samara will be presenting "Samara Joy: A Joyful Holiday!" in four markets, where her family members will also be featured. Full tour schedule below.
Samara Joy 2022 Tour Dates
December 14-18 - New York, NY - Big Band Holidays w/J@LC Orchestra
December 20 – Alexandria, VA – The Birchmere (Samara Joy: A Joyful Holiday!)
December 21 – Philadelphia, PA – The Ardmore (Samara Joy: A Joyful Holiday!)
December 22 – Arlington, MA – Regent Theater (Samara Joy: A Joyful Holiday!)
December 23 – Saratoga Springs, NY – Universal Preservation Hall (Samara Joy: A Joyful Holiday!)
Praise for Samara Joy's Linger Awhile:
"[A] glowing, auspicious debut."
- Nate Chinen, NPR
"Silky-voiced rising jazz star."
- New York Times, Fall Preview 2022
"Riveting, infectious."
- New York Times, Best Jazz Albums of 2022
"A classic jazz singer from a new generation."
- NPR All Things Considered
"Whatever you're doing right now… just stop for one second because you're going to be blown away by [Samara Joy's] beautiful voice."
- Hoda Kotb, The Today Show
"A young vocalist creating the standards of today… embodying vocalists like Sarah Vaughan and Carmen McRae, while creating a distinct style of her own."
- NPR Jazz Night in America
"One of the most compelling jazz singers on the scene."
- Kelly Clarkson, The Kelly Clarkson Show
"Joy established not only her musical acumen — delivered with a warm, capacious vocal instrument, breathtaking technique, and unmannered charm — but also a singular point of view, informed by tradition but not bound by it."
- The Boston Globe
"It sounds like the greats reached out and touched her vocal cords and anointed her as the next in line."
- NPR Here & Now
"Every so often a new vocalist blows everyone on the jazz scene away with their distinctive style, charm, and dexterity. Samara Joy is that new voice that's giving new purpose to the music… her songwriting acumen is equally arresting as her singing."
- JazzTimes
"[Samara Joy is] brightening the musical palette for today's youth."
- Performer Magazine, Oct/Nov cover story
"Strikingly warm vocal timbre, keen phrasing, and superb song selection… youthful exuberance with an old soul."
- WBBO + WRTI, Fall Preview 2022
"A jazz purist who embodies generations of great Black female singers across idioms."
- Andscape
"Listening to [Samara Joy's] beautiful voice may transport you back to an earlier era to voices like Sarah Vaughan or Billie Holiday... Yet, despite the hype, Samara remains grounded and has a musical wisdom beyond her years."
- WNYC The Takeaway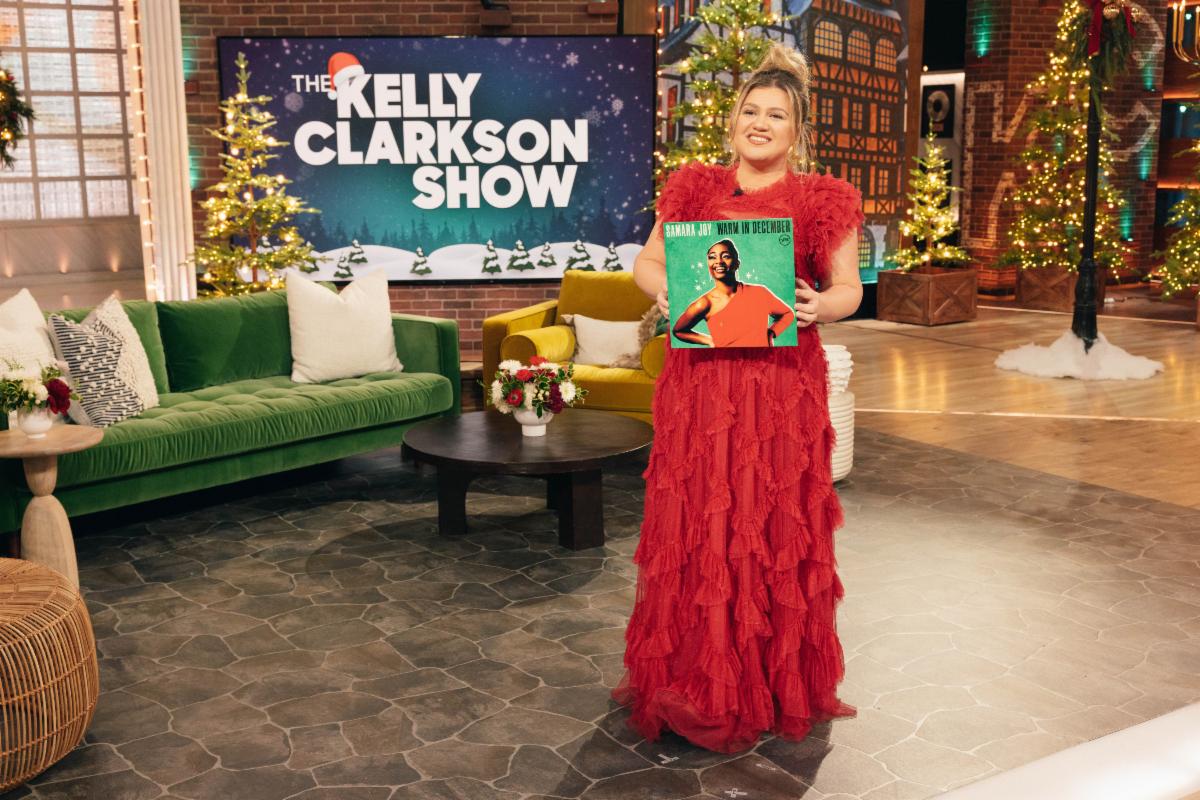 Connect with Samara Joy:
Website / TikTok / Instagram / Facebook
Press Contacts:
Matt Hanks - mhanks@shorefire.com
Allison Elbl - aelbl@shorefire.com
Taylor Perry - tperry@shorefire.com